TED Fellow Nina Tandon has engineered human heart tissue in the lab — that actually beats. Though it may sound like a plot from a science fiction universe, someday, surgeons could use this tissue in the same way that mechanics use spare parts in cars.
But there is another potential use for this lab-created tissue — it could be used to test pharmaceuticals.
The process for testing new drugs is clunky at best. As Susan Solomon shares in her TED Talk, below, drug discovery on average takes 13 years, costs $4 billion, and has a 99% failure rate. Drugs are tested in the lab, then in animals, then in human trials that often aren't big enough to be conclusive. Human beings have a near infinite number of differences — a truly amazing thing, until different bodies start reacting in unpredictable ways to the same treatment.
In today's talk, filmed at TED Global 2012, Tandon explains that induced pluripotent stem cells — essentially, cells that have been tricked into acting like embryonic stem cells — can be grown into skin tissue, brain tissue, heart tissue, you name it. This means that a model of a person's body could be stored on a chip. In the future, clinical trials could be conducted on these chips.
The reason we currently test on animals, usually rats, is because each creature is a complete ecosystem, which allows researchers to see how a drug for the heart may affect the liver and how an antidepressant might affect the lungs. But Tandon shares that tissue engineering is beginning to team up with microfluidics, and that researchers are starting to build maps of the human body that will allow examination of the same interactions.
Once a drug is approved, engineered tissues could have another application — helping to create personalized treatments. Because a patient's tissue samples could exist on a chip, doctors could test exactly how different drugs would work for them. In the future, we could have a world where patients will be able to pick out treatments the way they do a pair of jeans that work best for them.
"Tissue engineering is poised to help revolutionize drug screening at every single step of the path," says Tandon in her talk. "Disease models making for better drug formulations; massively parallel human tissue models helping to revolutionize lab testing, reduce animal testing and increase human testing in clinical trials; and individualized therapies disrupting what we even consider to be a market at all. We're dramatically speeding up that feedback between developing a molecule and learning how it acts in the human body."
To hear more about this fascinating area of research, watch Tandon's talk. Below, four more talks with ideas for bettering the medical research process.
Susan Solomon: The promise of research with stem cellsSusan Solomon: The promise of research with stem cells
Susan Solomon founded the New York Stem Cell Foundation (NYSCF) to give researchers a safe-haven to study stem cells, which she calls "our bodies' own repair kits." In this talk from TED Global 2012, Solomon shares how they are using a machine that creates stem cell lines — 2,500 of them by the end of the year. The idea is to eventually produce a comprehensive array of 25,000 stem cell lines — which act like avatars for a wide sample of people — that researchers would have access to as they develop new drugs.
Ben Goldacre: What doctors don't know about the drugs they prescribeBen Goldacre: What doctors don't know about the drugs they prescribe
In this talk from TEDMed 2012, Ben Goldacre shares a scary fact of our medical testing apparatus — that a large number of the trials conducted on any given drug never get published, meaning that doctors do not have all the information necessary when they write prescriptions. Goldacre sounds a warning bell that medical research shouldn't be conducted by companies hoping to turn profit from drugs, and that there should be no option not to publish the results of any medical trial.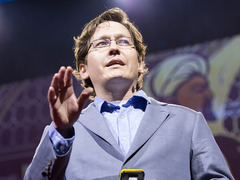 John Wilbanks: Let's pool our medical dataJohn Wilbanks: Let's pool our medical data
When signing on for a medical trial, participants are given "informed consent," a document that carefully lays out the scope and risks of the research. It's a great thing, intended to shield participants from abuse and trickery, but has one unfortunate consequence. Because of informed consent, medical data has become siloed. In this talk from TED Global 2012, John Wilbanks shares an idea for pooling medical data and making it available to anyone wishing to test a hypothesis.
Jay Bradner: Open-source cancer researchJay Bradner: Open-source cancer research
Jay Bradner's lab made an exciting medical discovery — a molecule that might inform cancer cells. But instead of patenting it, they published the finding and even mailed samples out to other labs. At TEDxBoston 2011, Bradner shares what he sees as a flaw in our current medical research system — that information that could benefit us all can be claimed and owned.