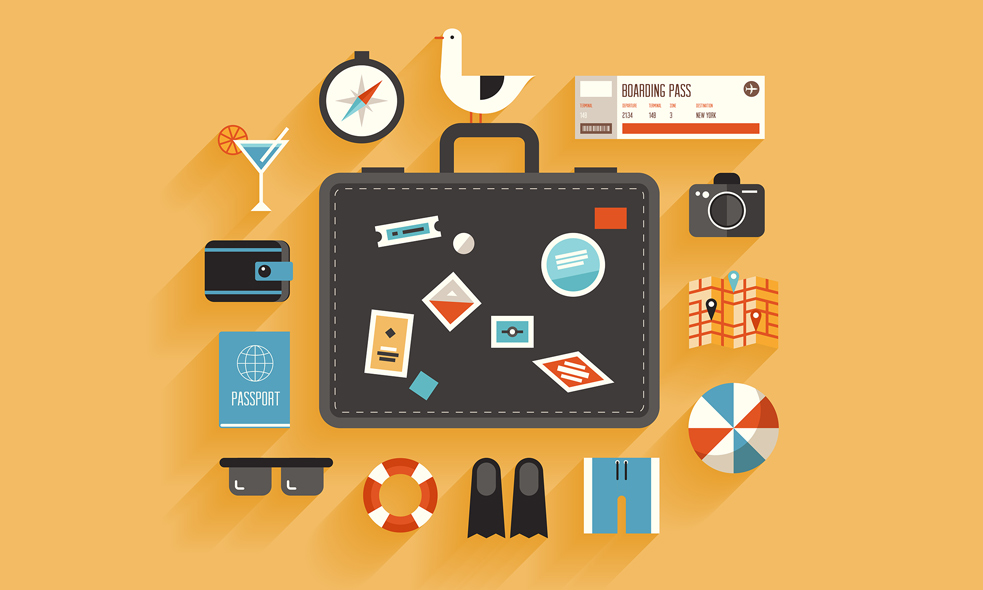 TED staffers travel a lot — to TEDx events all over the globe, to TED conferences in Canada, Brazil, the UK …. so we love to trade travel tips for making the most of work and fun trips. Here are 40 of our best — including some oddball but practical ideas for vacation travel (to use up those miles).
For planning your trip…
Use an Incognito Window to book flights. "You know how you check the price of a flight, then go back a day later — and the price has gone up? That seems to happen less often if you use the Incognito function in Chrome. I also love Kayak, because it gives you advice on whether to book your ticket or wait for a better price." — Kate Torgovnick May, writer
Try Airfarewatchdog.com. "You put in a destination, and get emails with updates on fares so you know when there are deals. Geneva is my spot, and I get excited when I see a round-trip flight for $650 instead of $1,200." — Hailey Reissman, TEDx blogger
Consider a stop in Iceland. "I want to try Icelandair, because they let you do a layover in Iceland for up to seven days for free. Reykjavík sounds cool." — Olivia Cucinotta, intern
Do your research. "I always Google Map the place I'm going, to see the streets. Then I switch to Earth view, so I can look at the topography, understand nearby towns and see if there are any blue spots that might be secluded beaches. I also see if National Geographic, Outside or The New York Times Travel has written anything and jot down all the stuff I want to do. If it's a city, I also see if Anthony Bourdain has eaten anything cool there." — Thaniya Keereepart, product lead
Crowdsource suggestions. "Sitting down for two hours to figure out what you want to do really can improve your trip 30 to 40%. If you're too busy, post on Facebook asking about things to do and places to eat. Everyone loves to recommend their favorites." — Tom Rielly, community director
Follow local Instagrammers. "Check out what they photograph. The locations are often geotagged, and can give you really interesting ideas you wouldn't find in a guidebook." — Chelsea Catlett, intern
There are good and bad hotel rooms. "Research your hotel on TripAdvisor to see which rooms people prefer, and request that room. Don't speak to a reservations office that might be in a call center — always ask for the front desk. My trick: if the operator asks if I'm calling about a reservation, I say, 'No, I have a question for the front desk.'" — Tom Rielly
New town? Plan for one night in a known spot, then keep your options open. "I book my first night's stay ahead of time, but keep things open from there. When I arrive, I walk all over and find a local spot to move to. I did this when I went to Jericoacoara on the coast of Brazil and found the loveliest guest house run by this not-tech-savvy-at-all bohemian Italian lady. Score. This works best when you're traveling off-season." — Thaniya Keereepart
Get Global Entry clearance if you travel a lot. "I found out about the Global Entry program last year, and knew I needed to sign up. It's like TSA PreCheck for international travelers. Instead of standing in line for a customs officer after an international flight, you use an ATM-like machine to process re-entry into the United States. It takes your photo, scans your fingerprints and prints a receipt in minutes — and you don't have to fill out those little declaration cards on the plane. The program has a lengthy application process, but membership lasts five years. It works for international flights and grants TSA PreCheck status for domestic flights. It's only $15 more than TSA PreCheck." — Isaac Wayton, video editor
Organize your itinerary. "TripIt is a must. You send all your confirmation emails in, and it creates one well-organized trip itinerary, and alerts you if flights are delayed or gates are changed." — Gavin Hall, CTO
Research local transportation before you go. "You can never be sure if you'll have the Internet on your trip, so research this ahead of time. I like Lonely Planet's Thorn Tree forum for transit tips, but you can also just type in 'how to get from X to Y' in Google. Sometimes you'll end up with a bus or train schedule, or sometimes you'll land on some blog post that tells you to grab the van at the corner of the market and wait until it's full. Either way, write down the names of the companies that operate the transportation — along with a few sentences in the native language on how to ask for directions." — Thaniya Keereepart
Conspire with your travel companions. "If you are traveling with friends, especially for the first time, have a conversation in advance about how you like to do things. For example, I hate being rushed at art museums, but other people get really bored, so we make a plan to meet later. Ask how long people like to stay at the beach, what their budget preferences are for meals. And make a pact that if one of you is frustrated, you talk about it right away. It can save so much drama." — Tom Rielly
Hype yourself up. "Watch a movie or read a book based in your destination. Preferably fiction. It makes the place feel romantic." — Anyssa Samari, video team
For getting packed…
Make a reusable packing list. "I made a standard packing list for myself — one for week-long trips and one for three-day trips. It lists all the articles of clothing, toiletries and random things I like to have with me. I cross things off as I put them in my suitcase. It makes packing a 15-minute process." — Kate Torgovnick May
Or try a universal one. "The Universal Packing List is great: You put in your travel dates, climate information and the activities you're doing and it spits out a list. It's often way too long, but it will remind you to take at least two things you didn't think of." — Tom Rielly
Color-coordinate your clothing. "To save space in your suitcase, pack a neutral color palette. You'll need to have Jedi-like determination to skip the colorful pieces, but if you layer, you can get maximum outfit combos." — Janet Lee, distribution team
Roll your clothes. "It's a flight attendant trick. And pack wear-it-last-time clothes you can discard during the trip to have more space for souvenirs." — Lisa Bu, distribution team
Consult the weather. "I've been to Los Angeles during a cold snap and Scotland in a sunny period. Things aren't always what you expect, so know the high and lows for when you'll be there. And always pack an umbrella, poncho and cozy sweater, just in case." — Kate Torgovnick May
Get easily identifiable luggage. "I like soft suitcases because they're lighter and you can stuff more in them. Ones with four wheels are easy to maneuver. Pick a crazy color or unusual pattern, so you can spot it easily on the luggage carousel." — ChiHong Yim, video team
Pack for adventure. "I say: bring as little as possible — only as much as can fit on your back, in case you need to go everywhere by motorcycle. Always have Dramamine and a headlamp." — Shoham Arad, TED Fellows team
Mark everything. "Take your business card or a piece of paper with your mobile number and email on it. Write, 'Staying at the [fill in hotel] in [fill in city].' Put one in everything you have — your luggage, your camera case, your glasses cases, your wallet, your phone case, even in the back of your passport. People want to give things back, if you make it easy." — Tom Rielly
Be a power ninja. "Put all of your cords, chargers and earbuds in a small bag so they're all in one place and stay in good shape. Clear toiletry cases are especially good for this, so you can make sure you have everything before you leave." — Susan Zimmerman, executive assistant
Get set on prescriptions. "Refill prescriptions and over-the-counter meds well in advance. Your pharmacist can give you a vacation override to refill early. Write down the generic names of your prescriptions — the brand name might be different abroad. And bring spare prescription sheets signed by your doctor. International pharmacists often have more latitude in prescribing without a doctor — just look for the green cross." — Tom Rielly
For making the most of your stay….
Ask your barista for recommendations. "On the first day of a trip, I go to a local coffee shop, and tell the barista, 'I have this many days in the city. What should I do?' As locals, they know big, seasonal events and small, local things. They can help you prioritize." — Jody Mak, partnership team
Spend your jet lag day at a niche-y museum. "You just got to Paris and you need to stay awake all day, but you don't want to go to the Louvre yet because your brain is too foggy. It's a perfect day to go to the Musée de la Chasse et de la Nature, a small, atmospheric museum all about nature and courtly hunting. It's basically full of dog and horse paintings and old furniture; it's the perfect speed for your jet-lagged brain. In Berlin, try the postal museum; in London, the permanent collection of the V&A; in Prague, the National Museum." — Emily McManus, editor, TED.com
Check out a comedy show. "When I'm traveling to a new place, I catch a comedy show — improv, stand-up or a funny play. Humor is a fascinating lens into a culture and hearing jokes gives a lot of insight. A friend and I went to see comedy in Johannesburg, South Africa, and learned a lot about the post-apartheid social structure that no book would have told us." — Morton Bast, editorial team
Try geocaching. "One of the best ways to see a new place is Geocaching, a real-world treasure hunt using GPS on your phone. People hide geocaches all over the world — they can contain anything from tiny scrolls for you to sign to boxes where you take trinkets. Geocaching has taken me off trails to beautiful vistas, to urban locations I might have walked past, and about a quarter of a mile into a drainage pipe underground." — Kelly Stoetzel, content director
Take a cooking class. "You learn about the food, which automatically teaches you a bit about the culture and history. And you make friends, who might want to go on adventures with you." — Kate Torgovnick May
Have a restaurant option list. "I like to make a list of food options for different areas and neighborhoods, so that wherever I am, I have thoughts — and the freedom to improvise." — Anna Kostuk, partnership team
Try EatWith.com. "Check it to see if there's a dinner party held by a local near you. You can meet really great people. If nothing's happening while you're there, see if a friend of a friend of a friend can have you over for dinner." — Janet Lee
Use an offline navigation app to save on data. "I like OsmAnd, but there are plenty of free choices for both iOS and Android. There's no need to pay for an international 3G connection; with just your GPS on, you can navigate any destination and find the nearest ATM, supermarket or subway. One note, though: using your GPS will drain your phone's battery fast, so you may want to get a portable charger." — Krystian Aparta, translation team
Download some good travel apps. "I've heard good things about Native. You pay about $25 a month and it's like a virtual travel agent you text for help. And while it's very limited in locations right now, Detour is a cool idea. It's an audio tour that gives you a starting point in a city, and guides you through — telling a story along the way." — Gavin Hall
Take advantage of Google Translate. "Google Translate's app can work offline. If you point it at a menu in a different language and take a photo, it shows it to you in English. I used it in Brazil when ordering food. And for those who want to stay off devices: Lonely Planet's phrasebooks come in handy." — Gavin Hall and Thaniya Keereepart
Avoid the temptation to overplan. "Try not to cram too much into your schedule — do one or two destinations a day. If there's something you want to do but can't, just think about how you now have a good reason to come back." — Lisa Bu
Get lost. Say yes. "Don't be afraid to create situations where you need to rely on locals. Always get on the boat. Always say yes to swimming." — Laurie House, video editor, and Shoham Arad
Plan your photo documentation. "I just went on tour as a replacement singer in a band. One of the band members took a picture of every door of every venue we played. Together, those photos are so cool. But it's something you have to think about ahead of time." — Emilie Soffe, TED-Ed editorial
Make a playlist to remember your trip. "I was just reminding myself to Shazam things on my upcoming trip to Budapest, even songs I know. At the end of the trip, I'll have a playlist stored in the app of all my sound memories. I still listen to the playlist I made of Berlin in 2009." — Susan Zimmerman