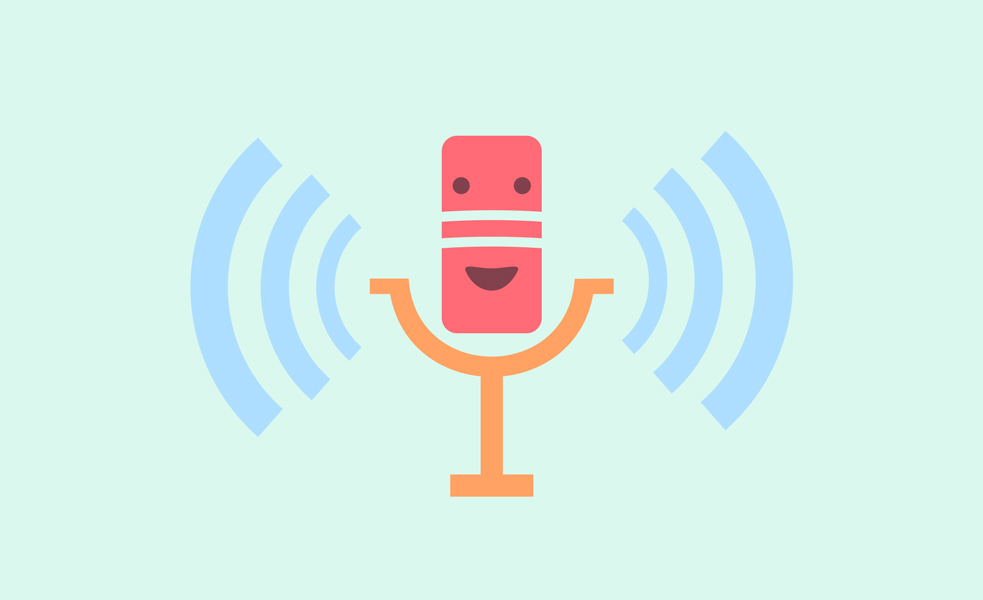 There's something so cool about finding a new podcast to love — each little download opens a door to new ideas, new jokes, new ways of seeing the world. Working at TED, as you might guess, many of us have strong opinions about this. Beyond the podcasts we all love: This American Life, Radiolab, The Moth, Serial, and of course our own TED Radio Hour  — here's our list of 45 you might not know you needed to listen to right this minute.
For great storytelling
Snap Judgment
"It's a 56-minute whirlwind that always seems to go by too fast," says Ellyn Guttman, of our TED Books team, about this hard-to-describe NPR podcast hosted by Glynn Washington. "It's similar to This American Life but edgier," adds Kim Nederveen Pieterse of our Partnerships workgroup. "It questions race, identity and 'the system' through personal storytelling and music."
Criminal
This podcast bills itself as "stories of people who've done wrong, been wronged or gotten caught somewhere in the middle." Photographer Ryan Lash says, "After binging on Serial for the third time, this show satisfies my cravings."
The Story Collider
Science meets stories in this podcast from former TED staffer Ben Lillie. "Sometimes scientists share funny moments from their lab; other times they explain how they became fixated on niche topics. Sometimes it's non-scientists telling science-y stories," says writer Kate Torgovnick May. Recent episodes include "Who Looks Like a Scientist?," about an offhanded sexist remark overheard by TED Fellow Renée Hlozek, and "Questioning a Hero," with TED speaker Ed Yong — on what happened when he interviewed Sir David Attenborough. 
State of the Re:Union
"I've been listening more and more," says Alex Rudloff of TEDx. The concept of this NPR show: it takes a snapshot of America, community by community. "It's got a grassroots, local focus. And Al Letson's a great storyteller who, coincidently, hosted TEDxJacksonville."
Love + Radio
This podcast weaves fact and fiction, pulling together interviews and stories that relate to a theme. "Radiolab featured their segment 'The Living Room,' in which a woman learns intimate details of her neighbors' relationship because they never close their curtains," says TED-Ed animator Lisa LaBracio. "It's a podcast that introduces you to the strangest of strangers, but also gives a gentle reminder that we're all a little bit strange."
Invisibilia
Many members of our staff love this NPR podcast, which explores the intangible forces that shape our lives. Cloe Shasha of our Content team says, "It's just fascinating to consider the mysteries of our perception and assumptions." Emily Pidgeon of Design Services adds, "I've devoured every episode because they get into emotions, thoughts and perceptions in a way that's captivating. If I could, I would erase my memory and relisten." 
The Truth
This show harkens back to the radio plays of yesteryear. "They do a great job with storytelling and production. It's a lot of fun to listen to — sometimes sad, sometimes funny, always entertaining," says Jai Punjabi of our Technology team.
Mystery Show
A soon-to-launch podcast hosted by Starlee Kine, Mystery Show promises to solve a real-life mystery every episode. A trailer has Kine talking to one person about the mustached woman who helped her out of a bind, and to another who has been pondering a mystery for 20 years. "The show doesn't launch until May 22," says Thu-Huong Ha of our Editorial team. "But Starlee's trailer is characteristically quirky, intriguing and giggle-inducing." 
Benjamen Walker's Theory of Everything
"Each episode feels like a stream of consciousness variety show mixed with music, philosophy and a dose of skepticism," says LaBracio. "I love the range of topics that he covers and the surprises that he uncovers along the way. One of TED-Ed's artists, Celeste Lai, works on it now too."
For a more thoughtful life
On Being
A classic podcast from Krista Tippett. "This weekly conversation grapples with the many facets of human connection and existence," says TED Prize director Anna Verghese. "It explores value, faith and meaning." Lisa Bu of our Distribution team recommends this podcast too. She says, "It explores the big questions at the center of life: What does it mean to be human, and how do we want to live?" 
My Brother, My Brother and Me
This podcast could go here, or in the "For belly laughs" section. "It's three brothers — Justin, Travis and Griffin McElroy — who, essentially, seek out the strangest Yahoo! Answers questions and dish out advice on them," says writer Torgovnick May. "Sometimes their advice is good. Sometimes it's terrible. But the real joy is the trio's lightning-quick wit with each other."
The Dinner Party Download
"It's a podcast structured like a dinner party, and intended to make you a scintillating host and/or guest," says Haley Hoffman of our Technology team. "They bring in a celebrity for a short interview, dish out interesting factoids about current events and have a themed cocktail." Emily Ludolph of our Partnership team loves this podcast too. "Know all my amazing office jokes?" she says with a wink. "I get them from their 'icebreaker' opening."
Alan Watts Podcast
A collection of lectures and seminars from the iconic philosopher, curated by his son. "Alan Watts has a gift to make abstract ideas come to life," says Bu. "He can bring Eastern philosophies close to the hearts of Western audiences." 
The Longest Shortest Time
This show is intended to be a "bedside companion for parents." But Hoffman, who is actually not a parent, finds herself fascinated by it. "It's spectatorship for people who like worry," she says.
Death, Sex + Money
"Touching, poignant and direct, Anna Sale interviews folks — both famous and not — about the three things we want to talk about anyway," says TED-Ed's Caroline Cristal about this WNYC show. "The interviews are always interesting, and it's great to hear different perspectives on these topics and how people handle them."
For random knowledge
Stuff You Should Know
"This podcast is super fun," says engineer Michael Rhing. "Each episode does a great job covering a subject in about 30 minutes. The episode that got me hooked was 'How Skywriting Works' — never really something that I thought would have an interesting history. But they proved me wrong." 
The Memory Palace
This podcast surfaces surprising stories of the past. Just one classic: the story of German prisoners of war, captured on a submarine, who attempted to escape a prison camp in Arizona by digging their way out. "It's one of my all-time favorite podcasts," says photographer Lash. "The episodes are short, non-traditional, wonderfully intimate notes from history." 
Gastropod
A show about food, through the lens of science and history. "What's not to like?" asks Helen Walters, our Ideas Editor. "And it's helmed by the lovely Nicola Twilley, who is absurdly smart."
Desert Island Discs Archive
You're stranded on a deserted island; choose eight records, one book, and a luxury to take with you. BBC Radio 4 has been posing this question since 1942, and the entire archive is online, more than 1,500 programs. TED.com editor Emily McManus will someday listen to them all.
Philosophy Bites
Fifteen-minute interviews with philosophers, by philosophers; Rachel Saunders of TEDx is obsessed. "Episodes start with the philosopher summarizing his or her position — and then comes follow-up questions and analysis," she says. "Some episodes are abstract ('Noël Carroll on Humour and Morality'), while some are more specific and relevant ('Jeff McMahan on Gun Control'). And many are with TED speakers ('Alain de Botton on Philosophy Within and Outside the Academy)."
Word Gang
Best described as "a weekly show about words and the people who use them," this show goes on the road  to parks, prisons, poetry slams and more for lively conversations about words. "It's from my pal Rives," says content director Kelly Stoetzel.
Freakonomics
Since 2010, Freakonomics co-author Stephen J. Dubner has done a podcast version of the well-known book franchise. "Digging through the archives turns up some real gems," says Amanda Ellis of TEDx. "One of my favorites was 'Why Do People Keep Having Children?' on the history of why women in various parts of the world keep having multiple children. Another good episode made the case that gossiping may be good for you. Very interesting."
Free Thinking
A BBC Radio 3 stalwart, this show features in-depth conversations with thinkers and cultural critics. Things often veer in the direction of debate. "It's like listening to your favorite sociology professor and favorite economics professor duke it out," says writer Torgovnick May. "It's where to turn when you want an hour-long discussion of violence in culture or how Dante's Inferno has influenced us."
Meanwhile in the Future
This new podcast from Gizmodo imagines science fiction-y futures and asks experts to take them to their most logical extremes. It's produced and hosted by longtime TED-Ed contributor Rose Eveleth. "It's a podcast about overthinking things," says Thu-Huong Ha of our Editorial team. "Two episodes are out so far — about artificial wombs and if Earth had a second moon — but I think it's going to be great."
For belly laughs
The Indoor Kids
A podcast dedicated to video games, action figures, comic books and more. "It's hosted by Kumail Nanjiani, from Silicon Valley, and Emily V. Gordon, who — full disclosure — is a friend I've been bonding with over random pop culture stuff since college," says Torgovnick May. "It's hilarious. A nice moment in the week to indulge in assorted nerdery."
#GoodMuslimBadMuslim
Comedian Zahra Noorbakhsh and writer Tanzila "Taz" Ahmed join forces to examine pop culture, current events and religious identity in America — via their own experiences as young Muslim-American women in California. "Every episode offers smart, funny insights and a fresh, nuanced perspective on the headlines," says Laura McClure of TED-Ed.
Pop Rocket
"It's a weekly conversation about pop culture," says Sacha Vega of our Design Services team. "The hosts combine comic, journalistic, academic and digital media expertise to give a really fun, varied update of the things they love to love."
WTF with Marc Maron
A classic podcast from comedian Marc Maron, in which he interviews musicians, writers, directors, actors and, naturally, other comedians. Video editor Isaac Wayton loves the show's casual vibe. "Because of his self-deprecating humor, Marc creates a comfortable atmosphere for guests to open up and talk about their awkward past, how they became 'famous,' or just have a casual conversation about everyday life," he says.
Call Chelsea Peretti
"It's a call-in show," says Jessica Ruby of TED-Ed, who is a big fan. "Chelsea is wry, plays little games with her callers, and doesn't take any of it too seriously." 
Call Your Girlfriend
"The premise of the podcast is: two long-distance best friends catch up with each other," says Vega. "The conversation can go anywhere from general life updates to political legislation, Kanye West, tech news, period jokes. I love it because it feels like a genuine conversation between two friends who are hard-working and creative."
Pop Culture Happy Hour
Guy Raz, the host of TED Radio Hour, loves this NPR podcast. "It's an incredibly entertaining, smart show where Linda Holmes, Stephen Thompson, Glen Weldon and a rotating cast of characters discuss movies, TV and books," he says. "It's accessible — meaning it's still great even when you haven't seen the movie or TV show — and you come out of each episode feeling connected to the world and the people around you." 
Analyze Phish
The premise of this now-ended podcast by comedian pals Harris Wittels and Scott Aukerman? Wittels loves the band Phish, while Aukerman hates them, so Wittels does his best to sort through the band's catalogue and recruit Aukerman to his side. Wittels died last year, but as Ruby says: "it's one of the most joyful podcasts I've ever heard. It's for comedy and music fans alike — even, or especially, those who can't stomach Phish."
For better business 
Negotiation Academy
"I really enjoyed this podcast from Slate," says Diana Enriquez of TED's Content team. "The hosts went through a negotiation course offered by Columbia Business School and created the show to work through some of the scenarios they learned. It provides real tools that I've since used to negotiate contracts and new projects."
StartUp
The first season of this podcast featured Alex Blumberg sharing his story as he launched Gimlet Media. In season two, he follows two women launching a tech-based matchmaking company. Punjabi of our Tech team says, "It gives a vulnerable and insightful look into the business decisions and the journey of being a technology entrepreneur."
Manager Tools
"It's the only podcast I ever listened to regularly," says Dan Russell, also of our Tech team. "My favorite episode is called, 'Do You Need to Apologize?' It's from 2006, but still so relevant."
Planet Money
A classic NPR podcast that makes economics fun. "It's my all-time favorite," says Enriquez. "It encourages people to think about economics beyond interest rates and other dry topics from Economics 101." Nederveen Pieterse of Partnerships adds, "I loved their episodes on the underground sneaker economy, the humans behind the machines and how to steal cattle." 
IDEO Futures
"A great podcast on how design, business and entrepreneurship intersect," says Jody Mak of our Partnerships team. 
FCPX Grill
"This podcast focuses on all things FCPX — Final Cut Pro X — which is the editing software we use at TED," says editor Wayton. "It offers insights into the evolution of FCPX, as well as how other working professionals are using the software."
Grammar Girl Quick and Dirty Tips for Better Writing
"As someone who grew up with a Portuguese-speaking mom and never cared much for studying language or grammar, this podcast has been immensely helpful in my life," says Gwen Schroeder of our Video team. "It's made the most confusing grammatical rules understandable."
For thinking about creativity
A Tiny Sense of Accomplishment
"I am obsessed," says social media editor Nadia Goodman. "Authors Sherman Alexie and Jess Walter riff on writing and life. It's funny, thought-provoking and all-around wonderful. And they often read works in progress, which is so cool to hear."
Culture Gabfest
"We often think of cultural critics as being provocative, cranky and snobby," says Angela Cheng of our Video team. "But Julia Turner, Dana Stevens and Stephen Metcalf each respond to cultural phenomena with thoughtful and unique analysis. 'Analysis' isn't even the right word. They really just have a weekly conversation that keeps me company."
Here's the Thing
This WNYC podcast is easily explained. "It's Alec Baldwin having a series of honest conversations with different personalities," says Martha Estafanos of our Media team. And photographer Lash loves it as well: "Who would have thought that Alec Baldwin is one of the all-time great interviewers?" 
99% Invisible
"This design podcast is one of my absolute favorites," says Punjabi. "It brings attention to all the things that require design — think locks or money — that you might not take the time to think about. It's a shorter show, which is nice. I was so excited that the host, Roman Mars, gave a TED Talk this year."
Scriptnotes
A podcast from screenwriters John August and Craig Mazin. Says Cheng, "It's a fun and incredibly informative one-hour discussion about all things that screenwriters and movie-loving non-screenwriters would find interesting."
How Did This Get Made?
"I've always had a soft spot in my heart for terrible movies, because they're so fun to watch with friends," says Wayton. "Paul Scheer, June Diane Raphael and Jason Mantzoukas take this a step further by actively seeking suggestions for bad films, watching them and then getting together for raucous conversations about them." He recommends it for anyone who enjoyed Road House, Congo or the Fast & Furious franchise — and warns that it's NSFW.