.
On Sunday night, 60 Minutes will take a look at what they call "TED's excellent adventure." In a segment to air on April 19 at 7pm ET/PT, the powerhouse television newsmagazine will talk to TED speakers to find out exactly what happens when their big ideas are shared with the world for free.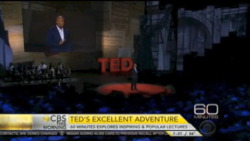 In the first preview of the segment, which aired during CBS This Morning (thumbnail left), Charlie Rose talks to Bryan Stevenson, who gave one of the most powerful TED Talks of all time. And yet, the human rights lawyer admits that he wasn't sure what to think when he was asked to speak at the TED2012 conference. The conference was two weeks before he was to argue a case in front of the US Supreme Court, and he didn't want to take time away from those preparations.
"I had never heard of TED and didn't know what a TED Talk was," Stevenson tells Rose. "I told one of my young staffers, 'Somebody named Ted wanted me to do a TED Talk and I said no.' And the staffer went crazy. He said, 'What are you talking about? You have to do it … This is a big deal.'"
Watch the show on Sunday night for much more from Stevenson (who, by the way, appeared on the 2015 Time 100 list earlier this week), as well as from TED Curator Chris Anderson and many other speakers whose ideas have gotten traction through talks.
And in the meantime, enjoy Stevenson's talk.
[ted id=1378]