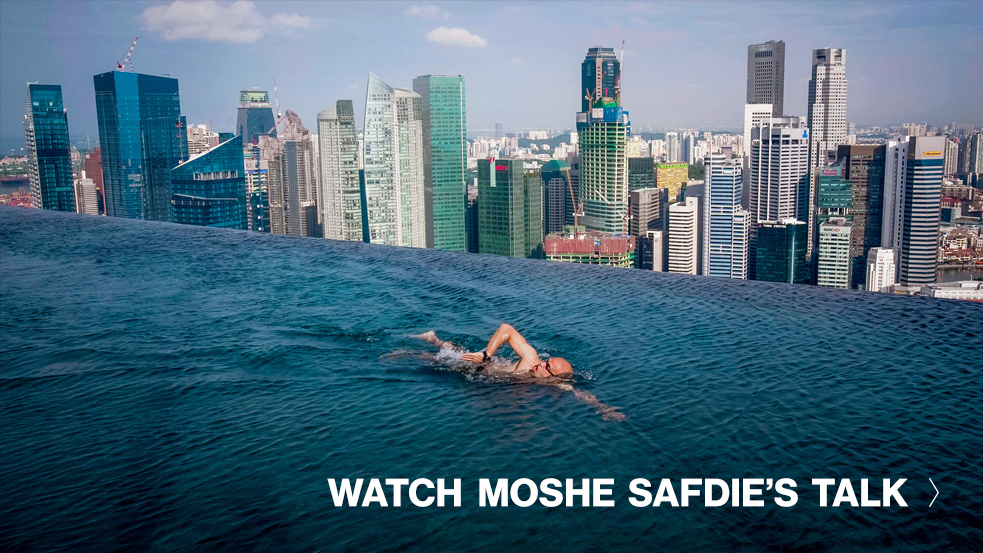 Behold, your recap of TED-related news:
Habitat turns 50! First conceptualized in 1961 as part of architect Moshe Safdie's thesis at McGill University, Habitat 67 has gone on to inspire several generations of architects. Combining high-rise living with community connection, Habitat's concrete cluster of homes challenged the contemporary notions of apartment complexes and Brutalist architecture. Each of the 354 concrete boxes maintains an individual feel while stacking on top of each other to create an elaborate frame of community housing. Habitat was exhibited at Montreal's 1967 World Expo when Safdie was just 28. Fifty years later, Safdie still feels "as though it was built yesterday." (Watch Moshe's TED Talk)
Panama Papers project nabs Pulitzer. Published a year ago, the Panama Papers have sparked outrage and global investigations into offshore tax havens and national political leaders. On April 10, they also sparked praise, winning a Pulitzer Prize in Explanatory Reporting. The ICIJ, the consortium of reporters who led the global effort to unpack the trove of data, were commended by the Prize Board for their collaborative feat, using 400 journalists from six continents to coordinate reporting on the largest data leak in history. "We believe collaboration is the wave of the future in global journalism," said the director of the ICIJ, Gerard Ryle. (Watch Gerard's TED Talk)
Racial bias may begin earlier than we thought. Kang Lee and his colleagues published two studies providing evidence that racial bias may emerge as early as six months old. In the first of two separate experiments, Lee and his team examined whether infants ranging from three-to-ten months would associate happy or sad music with same-race faces and other-race faces. They found that, starting at six-to-nine months of age, infants exhibited a racial bias, looking longer at other-race faces when they heard sad music and same-race faces when they heard happy music. The second experiment examined how race impacted gaze following when infants were learning under uncertainty. In this experiment, six-to-eight month old infants were shown a series of videos. In the video, an adult looked at one of the four corners of the screen. In some cases, an animal appeared in the gazed at corner (a reliable gaze) and in others, the animal appeared in a different corner (unreliable gaze). The babies again exhibited a racial bias, preferring to follow a same-race gaze even when it was unreliable. While racial bias was previously thought to start later in a child's development, these studies show an earlier adoption and that it can originate without experiences with people of other races. Lee explains that, "If we can pinpoint the starting point of racial bias, which we may have done here, we can start to find ways to prevent racial biases from happening." (Watch Kang's TED Talk)
A "game changing" diagnostic tool. Pardis Sabeti and her team have adapted the CRISPR protein Cas13a into a highly sensitive diagnostic tool that can be programmed to detect individual nucleic acids. This new method, called SHERLOCK (Specific High-sensitivity Enzymatic Reporter unlocking) targets RNA molecules with a sensitivity a million times greater than the previous method. This sensitivity allows for an astounding specificity in detecting cancerous mutations, antibiotic genes, and the presence of small traces of diseases such as Zika. Sabeti calls this advance "a game changer" not only for its unprecedented sensitivity, but also for its simplicity and ease of implementation. "One thing that's especially powerful about SHERLOCK is its ability to start testing without a lot of complicated and time-consuming upstream experimental work," she says, "This ability to take raw samples and immediately start processing could transform the diagnosis of Zika and a boundless number of other infectious diseases." (Watch Pardis' TED Talk)
Online learning enters the classroom. Khan Academy, the educational platform founded by Sal Khan, announced their biggest school partnership to date. The organization is joining forces with five of Southern California's largest county offices of education to implement a new tool designed for the classroom. Among other features, the tool allows teachers across subjects to create and share digital assignments related to Khan Academy videos and content, allowing an educational resource that supports millions of students to become a more integrated part of the classroom experience. Khan hopes the tool will help teachers personalize learning and spot learning gaps in their students.
A new perspective on grief. Artist Taryn Simon invites viewers to virtually experience her installation An Occupation of Loss, which explores grief through a cultural lens. The film, titled The Creators: Taryn Simon, invites audiences to follow the artist through the exhibition's recreated spaces. With professional mourners from Cambodia, Ghana, Venezuela, and other countries, the film highlights different rituals of loss from cultures around the world, but it also draws attention to the complicated process behind how the exhibition came together, and whether or not such an exhibition would even be possible in today's political climate. In an email to The New York Times, Simon writes that, "In addition to a mountain of evidence and paperwork, each artist had a personal recommendation letter from a senator and house representative. Despite all that, we still had a number of groups that were denied entry. "In those denials," she explains, "the U.S. government took on an active role in curating the work." (Watch Taryn's TED Talk)
Architecture accolades. MASS Design Group, co-founded by Michael Murphy, was honored as one of the winners of the 2017 Cooper Hewitt National Design Awards. Given to designers in eleven categories ranging from communication to landscape to fashion, this award recognizes individuals or organizations whose designs focus on positive societal impact. MASS Design Group's commitment to designing buildings that promote well-being and social justice in the belief that "architecture is never neutral" makes their win in the category of Architectural Design well-earned. (Watch Michael's TED Talk)
Crowdsourcing the news. What if there was a Wikipedia for news? Could this solve our fake news problem? Wiki co-founder Jimmy Wales thinks it could. His new initiative, Wikitribune, aims to replace the standard editorial process in which an editor assigns a story and works with a journalist to produce it. Instead, a small team of ten journalists will work in conjunction with the online community to produce stories that matter to the public and not just an editorial agenda. This new approach will allow communities to fact check, experts to provide updates or edits, and the public to help guide what kind of stories get covered. Professional journalists working for Wikitribune will be in charge of writing the stories and screening the edits the public submits (edits won't appear live like in Wikipedia). Wales sees this new platform as a way to fight fake news, describing it as "news by the people and for the people." (Watch Jimmy's TED Talk)
Have a news item to share? Write us at contact@ted.com and you may see it included in this weekly round-up.