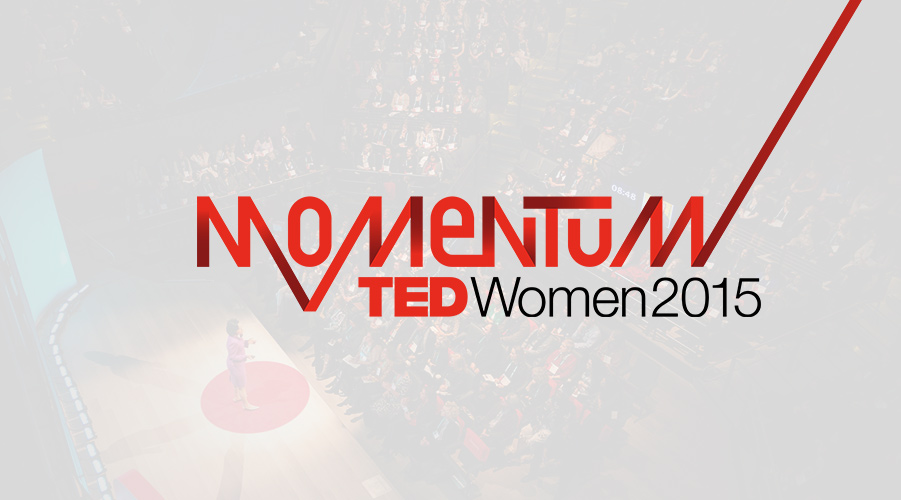 The speakers and performers who'll be a part of TEDWomen 2015 know a bit about "Momentum." Each of them has pushed forward fascinating research, created something out of a bold idea or moved the needle on a cause that's central to them.
The 34 speakers on our lineup — soon to be joined by a few more — range from former presidents (yes, plural) to "the godmother of virtual reality." Read all about them and find out how to be a part of this event, which takes place May 27 to 29 in Monterey, California.
The icons
Billie Jean King won 39 Grand Slam titles during her tennis career, famously defeating Bobby Riggs in the "Battle of the Sexes" match in 1973. She has long been a pioneer for equality and social justice.
Amy Ray and Emily Saliers are better known as the Indigo Girls. Legends of American folk rock, the duo has released more than a dozen albums of beautifully-wrought songs that weave together their voices to transcendent end. They will play the opening party of TEDWomen 2015.
The president of the United States from 1977 to 1981, Jimmy Carter has used the years since his presidency to work for peace and engage in global activism.
Jane Fonda has had three extraordinary careers (so far): Oscar-winning actor, prominent activist and best-selling fitness guru.
Comedian Lily Tomlin spins laughs in many formats. She's won seven Emmys, two Tonys, a Grammy and has been honored by the Kennedy Center.
The former president of Ireland, Mary Robinson now leads a foundation devoted to climate justice. She's the United Nations Secretary-General's Special Envoy on Climate Change.
The technologists
The Guardian dubbed Nonny de la Peña the "Godmother of Virtual Reality." She uses cutting-edge technology to tell compelling stories — both fictional and news-based — that create an intense, empathetic experience.
At her new company, Ringly, Christina Mercando merges fashion, design, and wearable technology. Its first product? A line of digitally-connected rings.
Rana El Kaliouby brings emotional intelligence to the digital world. The co-founder of Affectiva, an MIT Media Lab spin-off, Rana invented technology that can analyze viewer's facial expressions of emotions as they watch digital content, and that can emotion-enable digital experiences and apps.
Robin Murphy researches how robotics and artificial intelligence will continue to change the way we respond to disasters. From Hurricane Katrina to the Fukushima Daiichi nuclear disaster, she's participated in 18 deployments to see how robots could revolutionize disaster response.
The writers
The author of Angry White Men, Michael Kimmel is a preeminent scholar of men and masculinity.
In 2014, Roxane Gay published the essay collection Bad Feminist and the novel An Untamed State; both took the publishing world by storm. Gay's words simply capture the zeitgeist.
A poet and former editor-in-chief of Ms. Magazine, Robin Morgan co-founded The Women's Media Center, where she hosts a popular radio show.
Social commentator Rich Benjamin ventured on a journey through "the heart of white America" for his book, Searching for Whitopia. Now, he's working on a novel about "money, loss and heterosexual melancholy."
An ABC News alum, Gayle Tzemach Lemmon is researching the stories of American women who are volunteering, fighting and dying on the front lines of combat in Afghanistan, Syria and Iraq. While the American public imagines that there are few women in combat, she asks the question: what draws young women into war and what can we learn from their heroism?
The advocates
Nicknamed "The Libyan Doogie Howser," Alaa Murabit is a medical doctor who, at age 21, founded the nonprofit advocacy group, The Voice of Libyan Women. Through the organization, she is a fierce champion for women's participation in peace processes and conflict mediation.
Aspen Baker had an abortion when she was 24 years old, and instantly found herself caught between warring pro-life and pro-choice factions. So she co-founded Exhale, a "pro-voice" community that offers women and men a chance to share their experiences — and to feel heard, supported and respected in their decision. 
Mia Birdsong knows that low-income communities have the ability to improve their own lives. The vice president of the Family Independence Initiative (FII), she is the creator of the Torchlight Prize — a $10,000 award that recognizes families, friends and neighbors who come together to better their communities.
As an actor, Maria Bello plays powerful, complex women in charge; as an activist, she's a leader in the world of social impact investing and human rights.
Mubin Shaikh is one of very few people to have worked undercover in a homegrown terror cell. Once a supporter of radical Islam, he later worked with the Canadian Security Intelligence Service to infiltrate terrorist groups.
Elizabeth Nyamayaro is the founder of Africa IQ, a social impact organization that promotes Africa's sustainable economic growth. An advisor for UN Women, she is also the driving force behind the blockbuster @HeForShe campaign, which rallied men around the world to support gender equality.
The performers 
Gina Loring brings her honest, soulful spoken word and music to stages all around the globe.
Sunni Patterson infuses the culture and traditions of her hometown — New Orleans, Louisiana — into her poetry and songs.
TED Fellow Lerato Mokobe is a slam poet who explores social injustice and gender identity issues through spoken word. 
Somi's haunting vocals encapsulate her multicultural life. Born in Illinois to Rwandan and Ugandan refugees, the songs on her major-label debut, The Lagos Music Salon, reflect the spirit of her many influences. 
Comedian Negin Farsad weaves laughter by cleverly undercutting stereotypes of her culture. Her documentary, The Muslims Are Coming!, follows her travels with a group of other Muslim-American comedians as they journey through Middle America.
The scientists
Kakani Katija studies how the movement of creatures as tiny as krill can, en masse, have an effect on the ocean — and our planet writ large.
Computational geneticist Pardis Sabeti is known as "the rollerblading rock star scientist of Harvard." Her lab develops algorithms that detect the genetic signatures of mutation. They are seeking to decode the Ebola virus.
Using hydrophones — aka underwater microphones — Erin Pettit "listens" to glaciers to understand their movements and help predict their behavior. Her work offers a new view of climate change.
Biologist Marlene Zuk studies the evolution of mating behaviors in insects — and shares her findings with a general audience in hopes that it will help us learn about our own behavior.
The business thinkers
The former CEO of five businesses, Margaret Heffernan explores the all-too-human thought patterns — like conflict avoidance and selective blindness — that lead managers and organizations astray.
After more than a decade with ExxonMobil, Achenyo Idachaba waved goodbye to her corporate career and relocated to Nigeria. There, she founded MitiMeth, which engages local artisans to create handicrafts out of water hyacinths and other weeds found in rivers.
The founder of Dress for Success, Nancy Lublin rescued DoSomething.org from the brink of collapse. Her latest venture: Crisis Text Line, a service which lets teenagers in need reach out for help via their cell phones.
The educators
Linda Cliatt-Wayman is a Philadelphia high school principal with an unwavering belief in the potential of all children. She has dedicated her career to proving what is possible for low-income students.
Sakena Yacoobi is the founder of the Afghan Institute of Learning (AIL). Through its centers, schools, clinics and teacher training programs it affects the lives of countless women and children every year in Afghanistan.
Alix Generous is a college student and biology researcher with Asperger Syndrome. Through the startup AutismSees, she advocates the importance of creating an accepting environment for all kinds of minds.