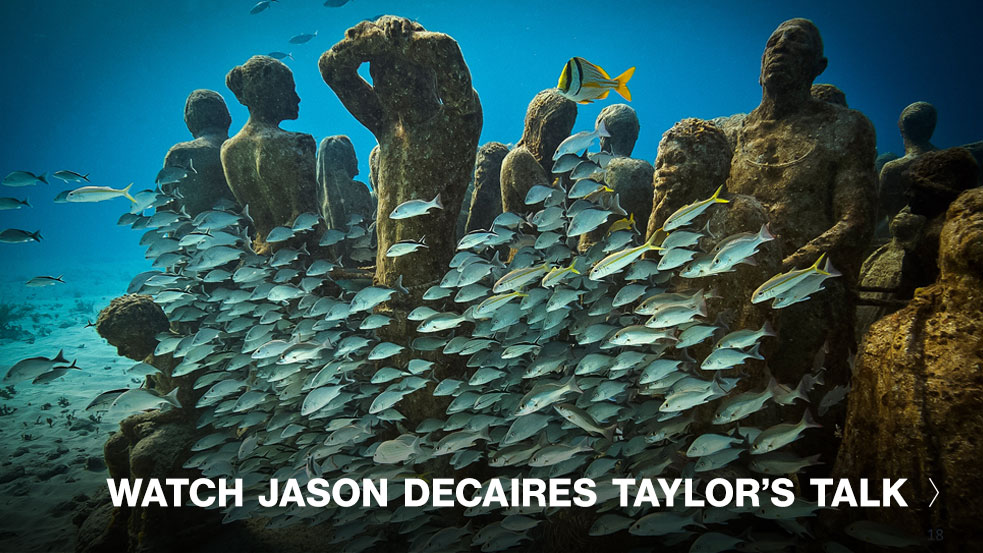 As usual, the TED community has lots of news to share this week. Below, some highlights.
An underwater museum. Off the south coast of Lanzarote, 12 to 14 meters beneath the sea, lies artist Jason DeCaires Taylor's latest museum, Museo Atlántico, which opened on January 10. Three years in the making, the installation is not only an artistic way of raising awareness about environmental issues, but will provide a home for marine organisms: Taylor designed each of more than 300 life-size pieces to be artificial reefs, which will attract a diversity of marine life from angel sharks to barracudas to sponges. (Watch Jason's TED Talk)
A documentary on a baffling disease. Jennifer Brea was 28 when she came down with a 104.7-degree fever. The fever marked the beginning of a host of symptoms, from dizziness to temporarily losing the ability to write, and endless doctor's appointments that always ended with reassurances that she was physically fine. Later diagnosed with myalgic encephalomyelitis, commonly known as chronic fatigue syndrome, Brea filmed a documentary from her bed to shed light on this widespread but poorly understood illness. The resulting film, Unrest, premiered at the 2017 Sundance Film Festival on January 20 — and was widely and warmly reviewed. (Watch Jennifer's TED Talk)
The fight for accessible mental health care. Vikram Patel and colleagues have published two new papers in The Lancet that explore similar strategies for closing the global treatment gap for depression and harmful drinking. Both studies evaluated the use of brief psychological treatments delivered by lay counsellors in primary health-care settings. The researchers found that for both depression and harmful drinking, the lay counsellors' treatment, combined with usual care, was more effective than usual care alone, a combination that may be more cost-effective. (Watch Vikram's TED Talk)
Fiction as dance. After its premiere in 2015, choreographer Wayne McGregor's Virginia Woolf–inspired ballet, Woolf Works, returns to the Royal Opera House in London's Covent Garden, where McGregor is resident choreographer with The Royal Ballet. The production is broken into three acts, each of which draws on a different novel: the first is inspired by Mrs. Dalloway, the second by Orlando, and the third by The Waves. The show will run through February 14, 2017. (Watch Wayne's TED Talk)
Healthcare's digital future. The Scripps Translational Science Institute, of which Eric Topol is founder and director, announced a partnership with Nature Research to launch an international journal, npj Digital Medicine. The open-access journal will publish original articles and review research that focus on the use of digital and mobile technologies in healthcare. Along with Steven Steinhubl, Topol will act as editor-in-chief of the journal. (Watch Eric's TED Talk)
The continued rise of a data-driven world. Data advocate Mallory Soldner presented at the first United Nations World Data Forum, held January 15–18 in Cape Town, South Africa. Soldner participated in two panels. The first explored the use of big data for sustainable development. The second took a hard look at new types of data and emerging techniques for managing big data, exploring, among other questions, how these new frontiers could be used to fill existing data gaps. (Watch Mallory's TED Talk)
The next generation of leaders. The African Leader University, brainchild of TED Fellow Fred Swaniker, announced the launch of a new undergraduate program in Kigali, Rwanda, a city already home to their School of Business. The first undergraduate students will convene in May 2017 with a second cohort planned for September. The University has also acquired land in Kigali's Innovation City, where it will build a permanent campus. (Watch Fred's TED Talk)
Have a news item to share? Write us at contact@ted.com and you may see it included in this weekly round-up.