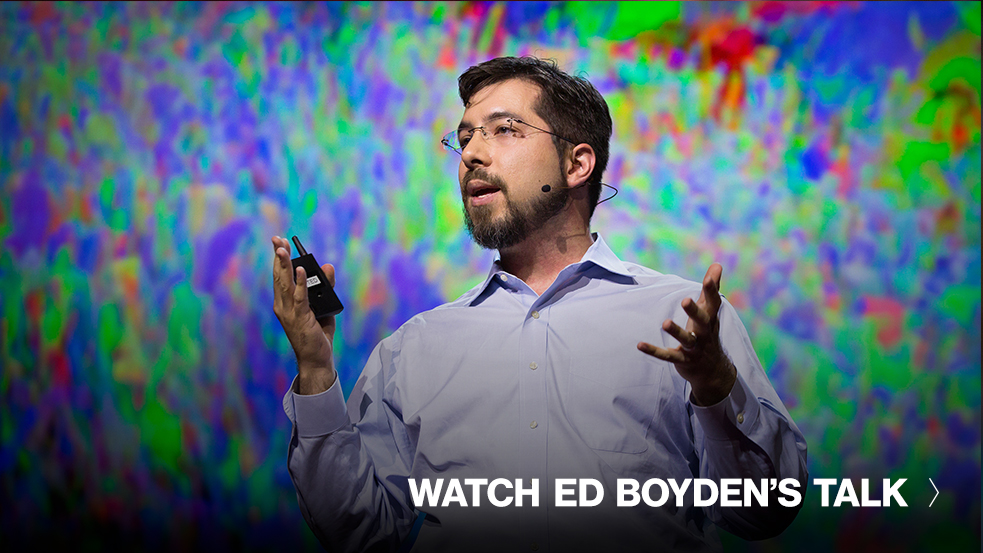 As usual, the TED community has lots of news to share this week. Below, some highlights.
Surface-level brain stimulation. The delivery of an electric current to the part of the brain involved in movement control, known as deep brain stimulation, is sometimes used to treat people with Parkinson's disease, depression, epilepsy and obsessive compulsive disorder. However, the process isn't risk-free — and there are few people who possess the skill set to open a skull and implant electrodes in the brain. A new study, of which MIT's Ed Boyden was the senior author, has found a noninvasive method: placing electrodes on the scalp rather than in the skull. This may make deep brain stimulation available to more patients and allow the technique to be more easily adapted to treat other disorders. (Watch Boyden's TED Talk)
Rooms for refugees. Airbnb unveiled a new platform, Welcome, which provides housing to refugees and evacuees free of charge. Using its extensive network, Airbnb is partnering with global and local organizations that will have access to Welcome in order to pair refugees with available lodging. The company aims to provide temporary housing for 100,000 displaced persons over the next five years. Airbnb co-founder, Joe Gebbia, urges anybody with a spare room to "play a small role in tackling this global challenge"; so far, 6,000 people have answered his call. (Watch Gebbia's TED Talk)
A TEDster joins The Shed. Kevin Slavin has been named Chief Science and Technology Officer of The Shed. Set to open in 2019, The Shed is a uniquely-designed space in New York City that will bring together leading thinkers in the arts, the humanities and the sciences to create innovative art. Slavin's multidisciplinary—or, as he puts it, anti-disciplinary—mindset seems a perfect fit for The Shed's mission of "experimentation, innovation, and collaboration." Slavin, who was behind the popular game Drop 7, has run a research lab at MIT's Media Lab, and has showcased his work in MoMA, among other museums. The Shed was designed by TEDsters Liz Diller and David Rockwell. (Watch Slavin's TED Talk, Diller's TED Talk and Rockwell's TED Talk)
Playing with politics. Designing a video to feel as close to real life as possible often means intricate graphics and astutely crafted scripts. For game development studio Klang, it also means replicating politics. That's why Klang has brought on Lawrence Lessig to build the political framework for their new game, Seed. Described as "a boundless journey for human survival, fuelled by discovery, collaboration and genuine emotion," Seed is a vast multiplayer game whose simulation continues even after a player has logged off. Players are promised "endless exploration of a living, breathing exoplanet" and can traverse this new planet forming colonies, developing relationships, and collaborating with other players. Thanks to Lessig, they can also choose their form of government and appointed officials. While the game will not center on politics, Lessig's contributions will help the game evolve to more realistically resemble real life. (Watch Lessig's TED Talk)
A new class of explorers. National Geographic has announced this year's Emerging Explorers. TED Speaker Anand Varma and TED Fellows Keolu Fox and Danielle N, Lee are among them. Varma is a photographer who uses the medium to turn science into stories, as he did in his TED talk about threats faced by bees. Fox's work connects the human genome to disease; he advocates for more diversity in the field of genetics. He believes that indigenous peoples should be included in genome sequencing not only for the sake of social justice, but for science. Studying Inuit genetics, for example, may provide insight into how they keep a traditionally fat-rich diet but have low rates of heart disease. Danielle N. Lee studies practical applications for rodents—like the African giant pouched rats trained to locate landmines. The rats are highly trainable and low-maintenance, and Lee's research aims to tap into this unlikely resource. (Watch Varma's TED Talk, Fox's TED Talk and Lee's TED Talk)
Collaborative fellowship awarded to former head of DARPA. Joining the ranks of past fellows Ruth Bader Ginsberg, Deborah Tannen and Amos Tversky is Arati Prabhakar, who has been selected for the 2017-18 fellowship at Stanford's Center for Advanced Study in the Behavioral Sciences (CASBS). While Prabhakar's field of expertise is in electrical engineering and applied physics, she is one of 37 fellows of various backgrounds ranging from architecture to law, and religion to statistics, to join the program. CASBS seeks to solve societal problems through interdisciplinary collaborative projects and research. At the heart of this mission is their fellowship program, says associate director Sally Schroeder. "Fellows represent all that is great about this place. It's imperative that we continue to attract the highest quality, innovative thinkers, and we're confident we've reached that standard of excellence once again with the 2017-18 class." (Watch Prabhakar's TED Talk)
Have a news item to share? Write us at contact@ted.com and you may see it included in this biweekly round-up.