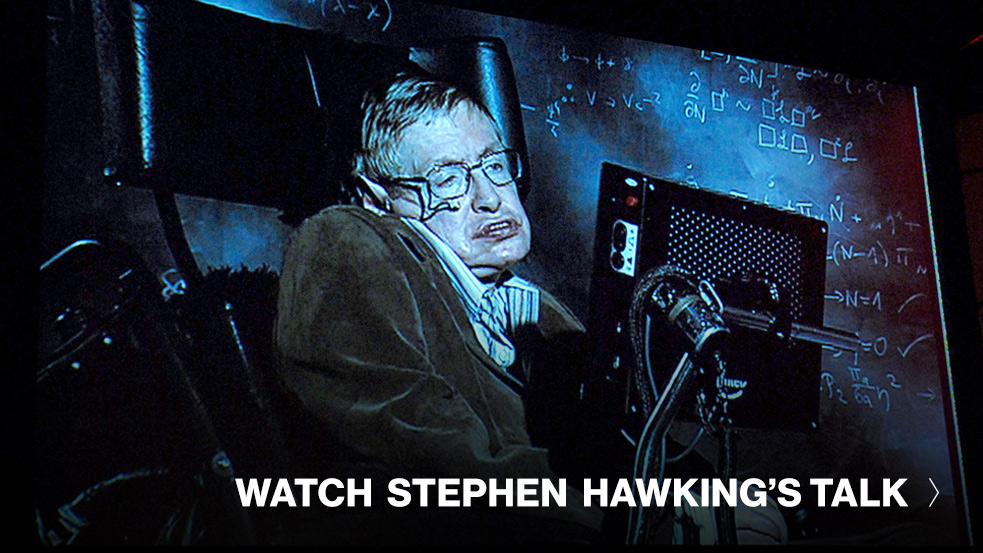 As usual, the TED community has lots of news to share this week. Below, some highlights.
A 4.37-lightyear starshot. Humanity has sent people to the moon and rovers to Mars. It might be about time we embark on interstellar travel. Russian philanthropist Yuri Milner, along with board member Stephen Hawking, unveiled a plan on Tuesday to send a fleet of iPhone-sized robots to our closest star, Alpha Centauri. Led by Pete Worden, a former director of NASA's Ames Research Center, this bold initiative will take 20 years to get off the ground and another 20, roughly, to make the 4.37-lightyear journey. If completed, Hawking says, it will propel humans further into what we're made for: "Today we commit to the next great leap in the cosmos, because we are human and our nature is to fly." (Watch Stephen's TED Talk)
A chemistry-driven 3D printer you can buy. At TED2015, Joseph DeSimone introduced a radical new 3D printing technology prototype that creates objects out of a puddle of liquid (inspired, DeSimone admits, by Terminator 2). Through Continuous Liquid Interface Production, the chemical interplay between light and oxygen is harnessed to print objects 25-100 faster than standard 3D printing. This month DeSimone's company, Carbon3D, debuted the M1, its first commercially available printer. (Watch Joseph's TED Talk)
Health that zips through the sky. Drones — ominous, unmanned vehicles in the sky with the power to destroy, or, alternatively, bring hope and health to thousands worldwide. The latter is Keller Rinaudo and his company Zipline's mission. Working with governments of developing countries, "Zipline plans to use its drone fleet to deliver medications to rural clinics all over the developing world," says Olga Khazan in The Atlantic. Their first flights will begin this July in Rwanda. (Watch Keller's TED Talk)
The surprising paradox of an elephant's brain.  What about the human brain gives us greater cognitive abilities than other animals?  Suzane Herculano-Houzel believes the answer lies in the absolute number of neurons contained in an animal's brain rather than the brain's mass. But the African elephant poses an interesting, and enlightening, paradox to her research. She discovered that the African elephant's brain–more than 3 times heavier than our brain–contained more neurons, but the location of those neurons plays a pivotal role in the difference between our cognitive ability and the elephant's. (Watch Suzane's TED Talk)
Stories from home. StoryCorps, which recently celebrated its own anniversary, announced a partnership with Fun Home to celebrate the Tony-winning musical's one-year anniversary on Broadway. Stories will be available from Fun Home's cast and creative team, and fans are encouraged to record their own stories using the StoryCorps app. The collaboration was born at the 2015 StoryCorps gala, which celebrated OutLoud, StoryCorp's multi-year project to capture LGBT stories from around the country. (Watch Dave's TED Talk and read his stories on TED's Ideas blog)
Remembering the Bosnian War. Janine Di Giovanni, with radio in hand, listened to a Bosnian Muslim commander's plea for help in 1993: "In the name of God, do something…We are dying here." In a new Newsweek piece, she remembers what it was like reporting on the Bosnian War and the pain afflicted by President Radovan Karadžić, who in March was found guilty of 10 war crimes, including genocide, by a UN tribunal at The Hague. (Watch Janine's TED Talk)
Oil fields ablaze. "Twenty-five years ago, as the United States–led coalition started driving out Iraqi forces from Kuwait, Saddam Hussein's troops responded by setting ablaze hundreds of oil wells, creating one of the worst environmental disasters in recent memory," recalls photojournalist Sebastião Salgado in The New York Times. He describes his admiration for the oil-well firefighters and the difficulty of photographing in such an extreme environment: "the heat warped one of my lenses and my jaws ached from the sheer tension of being exposed for hours to scalding temperatures." In his signature black-and-white, Salgado captures the drama of the burning landscape–the giant clouds of smoke and flame spilling into the air, the firefighters covered in oil–with this reminder, "We must remember that in the brutality of battle another such apocalypse is always just around the corner." (Watch Sebastiao's TED Talk)
A blend of theater and journalism.  Playwright Anna Deavere Smith is famous for her bold mix of theater and journalism, capturing the experiences of her subjects in interviews and translating them, verbatim, onto the stage.  On April 5, she received the 2016 Guggenheim Fellowship. The award will fund her latest project, Notes from the Field: Doing Time in Education, which explores the school-to-prison pipeline. (Watch Anna's TED Talk)
(Several other 2016 Guggenheim grantees have great TED Talks too, including poet Stephen Burt, musicologist Ge Wang, photographer Hasan Elahi, and neuroscientist Rajesh Rao. And watch soon for a talk from choreographer and TED Fellow Camille A. Brown.)
"Animal" shouldn't be an insult. Humans have friends, but animals have "affiliation partners"; humans have sex, but animals have "breeding behavior." But as primatologist Frans de Waal points out, humans laugh … and animals do too. In The New York Times, de Waal looks at the dangers of the linguistic pedestals we have erected over the animal kingdom, and suggests that humbling ourselves to recognize the true capabilities of animals is a mark of progress. Our human brilliance and the animal in us are not mutually exclusive: "There is nothing wrong with the recognition that we are apes — smart ones perhaps, but apes nonetheless… The more we succeed, the more we will realize that we are not the only intelligent life on earth." (Watch Fran's TED Talk)
Why safety should affect college rankings.  As college acceptance season hits its climax with students preparing to make a decision by May 1, Michael Kimmel puts forward a provocative idea on how to make college campuses safer. In Time, he suggests incorporating campus safety data into the Princeton Review's college rankings. While current crime data for the rankings is self-reported, most ranking information comes from an annual survey of 100,000 students, "the real experts," and Kimmel believes that this survey should include student opinions on safety and sexual violence. By incorporating this information into the ranking system, it "would help students make informed choices — and help hold schools accountable." (Watch Michael's TED Talk)
Have a news item to share? Write us at contact@ted.com and you may see it included in this weekly round-up.