Mother's Day is coming up. And since my TED Talk was about how meaningful it was to record a StoryCorps interview with my father, I was inspired to take this chance to interview my beloved mom, Jane Isay. My mom has been an editor and writer for more than 40 years — she edited H.G. Bissinger's Friday Night Lights and discovered Mary Pipher's Reviving Ophelia. I've interviewed my mom in the past, but every StoryCorps conversation teaches you something new. This session was no different.
If you listen to the interview below, my mom  shares an important piece of advice that a colleague gave her: Don't judge your life by the people who love you; judge your life by the people you love. And she sings a song that her mentor sang to her when she was a kid, and that she in turn sang to me. She now sings it to my children.
Love you, Mom.
.
I hope that you find this interview inspiring, and not just because my mom is an incredible woman. StoryCorps is encouraging everyone to honor — or remember — their mothers. We'd love to invite you to use the StoryCorps app to record an interview with or about your mom for Mother's Day. These stories will be available for others to listen to on the app and at StoryCorps.me, and archived for future generations at the American Folklife Center at the Library of Congress. Try it. I promise that you will learn so much about your mother — and maybe even yourself — in the process. And you'll make both of your voices a part of history. Download the app and record an interview with or about your mom »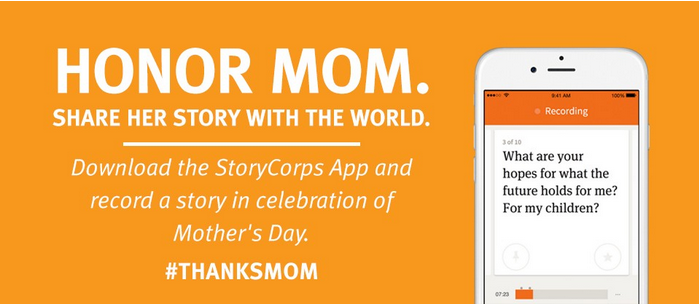 Dave Isay, the founder of StoryCorps, is the winner of our 2015 TED Prize. In a talk at TED2015, he shared an audacious wish for his organization: to take it global with a free app. Stay tuned for this column every other week on the TED Blog, as we chart the evolution of his TED Prize wish. As told to Amy S. Choi.