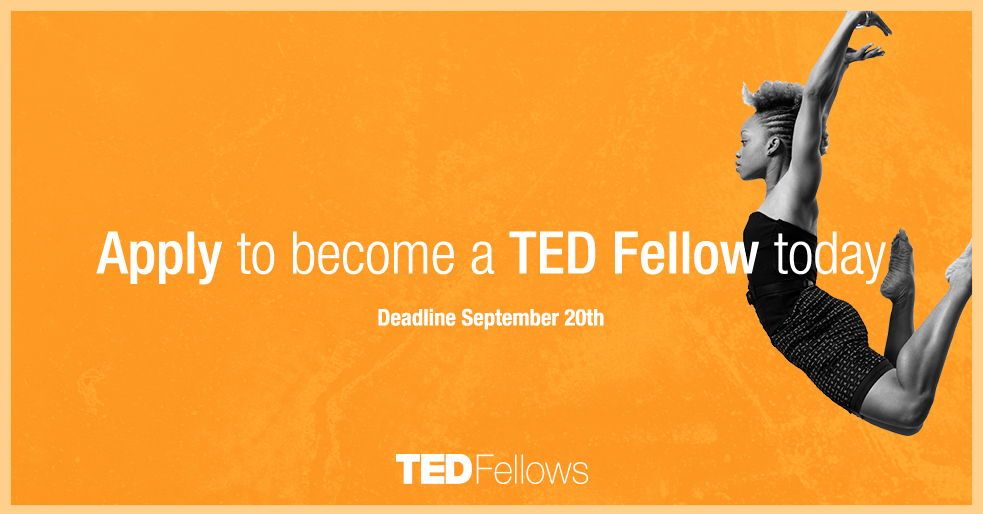 TED Fellows aren't easy to classify. In the latest class, there's a bioengineer who programs bacteria to change the color of urine to signal the presence of cancer — and to make bold, brightly colored art. There's a data scientist who dreamed up a tool to let anyone with a cell phone build a credit score, even if they don't have access to a bank. An astronomer who uses her training as an actor to inspire a new generation of scientists. A deaf artist whose sound installations explore our relationship to noise and language.
If you're an innovator whose work crosses boundaries, you may just find a home in the TED Fellows program. The program welcomes thinkers with big vision — and helps them share their ideas with the world.
Why should you apply to be a TED Fellow? The TED Fellows program has a long track record of taking careers to the next level. Fellows attend a TED conference, for free, and have the opportunity to give a four-minute TED Talk. In speaking from the TED stage, you'll reach a wide audience and meet industry leaders who may be able to help your realize your idea. Your talk may even be posted on TED.com. But aside from the conference itself, Fellows gain access to free life coaching and mentorship, public relations advice and speaker coaching from a panel of experienced advisors. And as a Fellow, you become part of a global network of innovators from a wide range of disciplines that may become future collaborators.
Applications for the 2016 class of TED Fellows are open now through September 20, 2015. The 20 individuals selected will attend the TED2016 conference in Vancouver, Canada, from February 12 to 19, 2016.
Program director Tom Rielly stresses that, even if it sounds like a longshot, you should take a chance and apply. "Some of our most successful Fellows have told us that they almost didn't apply because they never imagined they'd be selected," he says.
The online application for the TED Fellows program is low-key — it asks for basic information, answers to short essay questions and three references. And, yes, while the program is looking for applicants who've accomplished a lot so far, it also seeks out candidates with character and grit who have the potential to break barriers as they build their careers.
Sound like you?
Learn more about the TED Fellows program »
Photo credit: Camille A. Brown by Matt Karas