On the day he was released from his cell, Vincent Cochetel sported a beard "that would be trendy today." It was not a fashion decision. In 1998, Cochetel, the director of the Bureau for Europe for the UN High Commission on Refugees, was kidnapped in Chechnya and held hostage for 317 days, most of that time chained to a bed. Last week, in a calm, measured and moving talk, Cochetel spoke for the first time in public about this harrowing experience.
Cochetel's talk brought the crowd at TEDxPlacedesNations to its feet. "He captivated the audience," says Melissa Fleming, who co-organized the event. "Sharing his vulnerability with such a large TED audience—it was perceived as daring."
TEDxPlacedesNations was held on December 11, 2014, to surface voices like Cochetel's and others in international Geneva working hard for the global good. Held inside the UN's Palais des Nations in Geneva, Switzerland, the event brought together speakers and attendees from the many international organizations headquartered in and around the city—which include, in addition to the UN, the Red Cross, the European Organization for Nuclear Research (CERN), the World Trade Organization (WTO) and the World Health Organization (WHO)—with residents of the city.
"As you walk around Geneva, you hear every foreign language you could imagine," says Fleming. "French is the spoken language, but because there's the seat of the United Nations, there's this constant flow of airplanes arriving, diplomats coming and going. There are a large number of international organizations and a community of international business too."
"It feels like an international place, but it feels a bit disconnected and transient," she says. "We thought TEDx would be a great opportunity to pull everyone together, including the inhabitants of the city."
The idea for TEDxPlacedesNations came about in an unusual way. Last year, Fleming, who is the head of communications for the UN's High Commissioner for Refugees, contacted TED's European director, Bruno Giussani, to talk about how someone from the UNHCR could give a TED Talk or connect with a local TEDx event. The two met for lunch. "It turned into quite an exchange—he was so well-informed on refugee issues," says Fleming. "It was a Q&A session that went on for quite some time, and in the end I realized I had been tested. After that conversation, he asked me to speak [at TEDGlobal]. It was a surprise."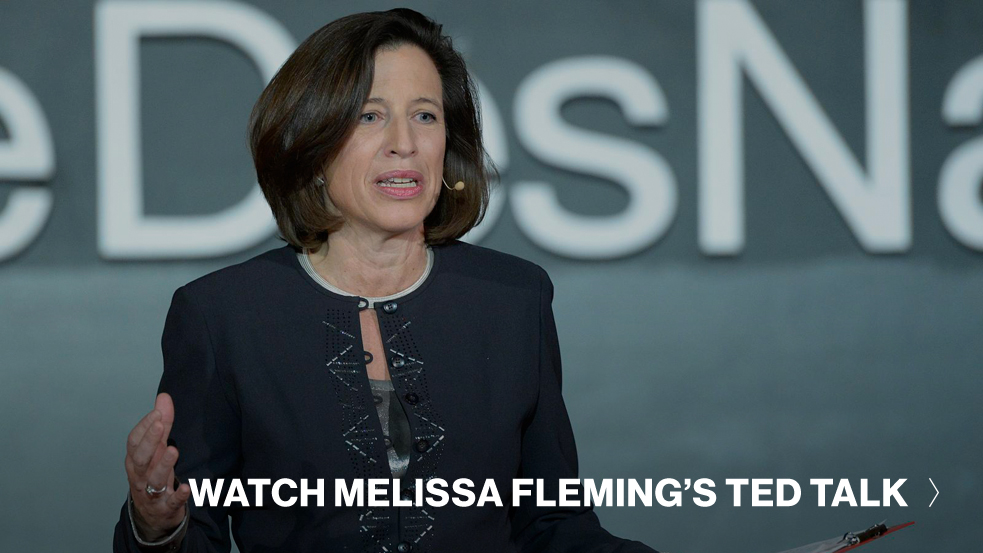 Fleming accepted the invitation and began the long process of writing and rehearsing. (Watch her TED Talk: "Let's help refugees thrive, not just survive.") But at the same time, she started pursuing the idea of organizing a TEDx event with Corinne Momal-Vanian, the Director of UN Information Centres. "We'd had a conversation about just how little people know about International Geneva, and what it does around the world," says Fleming.
While Fleming prepared to speak at TEDGlobal, she and Momal-Vanian worked on the speaker program for TEDxPlacedesNations. "I thought it was going to be more difficult than it turned out to be," says Fleming. "We wanted to make sure that the representation was truly global and diverse—that was our biggest worry at the beginning. And it turned out that it wasn't a difficulty at all. We had nationalities from Afghanistan to Nigeria, and many women speaking. We had a good diversity of topics. The whole spectrum was hugely varied — a big tapestry."
Some of the speakers from TEDxPlacedesNations: Bruce Aylward, who works with the WHO and shared the latest thinking on ending the Ebola outbreak; Javier Serrano, from CERN, who talked about how open hardware is as important as open software in making sure that people can create local solutions for local problems; Maryanne Diamond, of the World Blind Union, who is pushing for a treaty to relax copyright and open up book publishing for the blind; and Elisabeth Decrey-Warner, of the NGO Geneva Call, which works with civilians in war zones. Says Fleming, "Her whole talk was about how it's important to speak not just to the good guys but also to the bad guys if you want to save people's lives."
These speakers telegraphed their ideas to 1,900 attendees who filled the General Assembly Hall of the Palais des Nations, the oldest UN building in the world. "It's iconic," Fleming said of the hall, "the place where you've had all kinds of historical events and meetings and conferences and decisions. It's never had anything like a TED event on its stage."
Another of the day's most beloved speakers was Fawzia Koofi, a parliamentarian in Afghanistan. "She ended her talk revealing that she often receives death threats, so she writes goodbye letters before leaving the house to her daughters," says Fleming. "She said, 'Giving up is not what we do. We fight, we live.' That line turned into one of the most tweeted quotes from the conference."
Fleming, with her own TED Talk under her belt, was uniquely positioned to help speakers deliver great talks. But while she and her team did Skype rehearsals with speakers, she still worried about how things would go on the day of the event.
"I think probably with every TEDx organizer, it's not whether the stage is going to look great or whether you're going to have a nice reception. You worry, basically, are the performers going to perform? That's what keeps us awake at night," said Fleming. "These speakers are extremely busy people — high-powered operators working in the far reaches of the earth. Will they understand that this is a different kind of talk from any other they'd given, that it involved rehearsing and removing all the formalities that they usually use?"
To Fleming, the most enjoyable part of TEDxPlacedesNations was having these fears melt away. "I was surprised to watch a real transformation of many speakers who were nervous and a bit shaky at their rehearsals," she says. "They appeared highly confident and incredibly fluent on stage."
People around the world were watching too, via a livestream and 22 viewing parties held in cities like New York, Washington D.C., London, Brussels, Bangalore, São Paulo and Kiev.
In the end, Fleming is thrilled that TEDxPlacedesNations allowed so many people to hear perspectives from people like Koofi and Cochetel. The latter was especially meaningful to her, as he is a co-worker at the UNHCR.
"I just came back from Syria, and saw 450 [members] of our staff risking their lives every day to help people in a war zone," says Fleming. "He spoke on behalf of all humanitarians about why they risk their lives — and give up a lot of comfort and stability and safety — for the betterment of others."