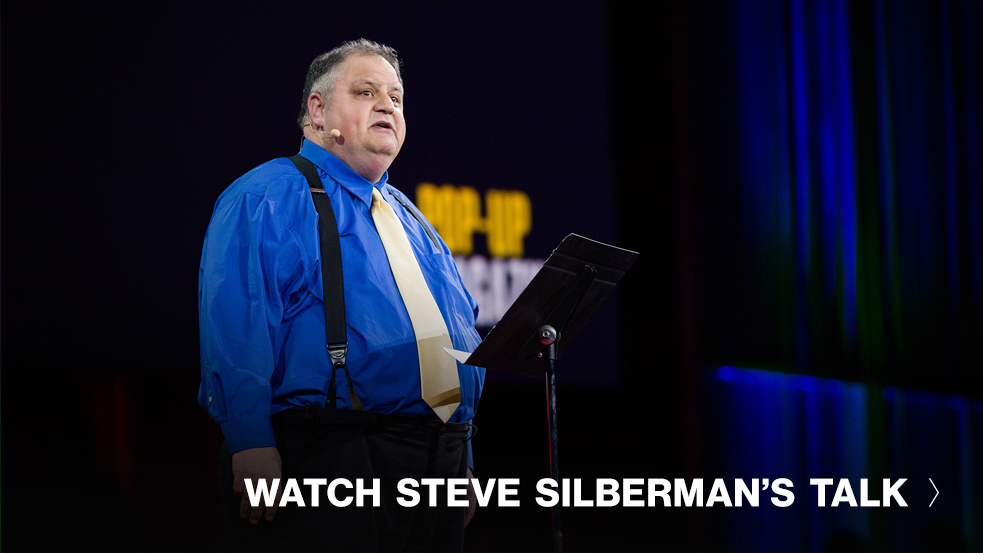 Lots of happenings in the TED community this week. Below, some highlights.
Autism awareness at the UN. April 1 is World Autism Awareness Day, and to formally commemorate it, Steve Silberman will give the keynote address at the United Nations Headquarters. Looking ahead to 2030, the UN Department of Public Information and Department of Economic and Social Affairs will examine how the Sustainable Development Goals impact efforts to improve the lives of people with autism. A series of panels and moderated discussions will explore this effort. (Watch Steve's TED Talk.)
A scientific reason not to floss.  In The American Journal of Physical Anthropology, archaeologist and TED Fellow Christina Warinner detailed the technique she developed to isolate DNA from calculus — also known as solidified plaque or tartar. Containing 25 times more DNA than ancient tooth or bone, calculus is "the richest known source of [ancient DNA] in the archaeological record".  The nondestructive technique opens up the possibility of studying the DNA of Native Americans and other groups who don't want pieces of bone and tooth taken from their ancestors.  (Watch Christina's TED Talk.)
Adventures inspired by a bestseller. Eat Pray Love author Elizabeth Gilbert's memoir, a runaway phenomenon, has inspired adventure and change in the lives of readers worldwide. To mark its 10-year anniversary, Gilbert released Eat Pray Love Made Me Do It on March 29, a collection of real-life, first-hand accounts of how the book has made an impact. Stories include how a man left seminary and forged a new relationship with God after embracing his sexuality, how a woman's pursuit of the perfect pizza brought her to New Zealand and how a writer embraced a new love overseas. (Watch Elizabeth's TED Talk.)
TEDsters shaping the future.  In business and climate change, computer science and politics, the individuals on Fortune's "World's Greatest Leaders" list are quietly working to make the world a better place.  Looking through the list, released this week, you'll notice more than a few familiar faces from the TED stage.  Watch Reshma Saujani, Tshering Tobgay, Arthur Brooks, Jeff Bezos, Bryan Stevenson, and Melinda Gates here on TED to learn more about their plans for a better future. (And watch for upcoming talks from leaders John Legend, Christiana Figueres and Sue Desmond-Hellmann.)
A cheaper, lighter electric car. Model 3, the newest edition of Elon Musk's Tesla's electric vehicles, is coming. Although the car's actual production is slated for 2017, anyone interested in reserving one can starting on March 31. Delivery will be staggered, starting on North America's West Coast, moving East. Then they will cross the pond to Europe and onward. Less expensive and lighter than the Model S, this edition will help car enthusiasts reduce their carbon footprint. (Watch Elon's TED Talk.)
The case for hitting snooze.  In her TED Talk, Arianna Huffington describes the time she fainted from exhaustion and hit her head on her desk, which left her with a broken cheekbone and five stitches above her eye … and a new commitment to the value of sleep. Logging more sleep isn't just about feeling good, she says, it's a matter of life and death. Read a sneak peek of her new book, The Sleep Revolution: Transforming Your Life, One Night at a Time, out April 5, or check out her tips for a better night's sleep in Time. (Watch Arianna's TED Talk.)
Cartoons in the classroom.  Known for crafting cartoons that explain complex ideas from math and science in simple and humorous terms, Randall Munroe took it a step further with his recent book, Thing Explainer, exploring everything from the solar system to washers and dryers using line drawings and ten hundred of the most common words in English. Now his knack for making the hard stuff easy to understand will be brought into the classroom. On March 22, educational publishing giant Houghton Mifflin Harcourt announced that his cartoons would appear in science textbooks starting this fall.  (Watch Randall's TED Talk.)
Drones to deliver better healthcare.  "One billion people do not have access to all-season roads," says Matternet's Andreas Raptopoulos, which means "we cannot get medicine to them reliably." On the TEDGlobal stage in 2013, he outlined his bold plan to fix this problem using drones, reducing the investment, time and carbon footprint of building more roads. This week's test flight in Malawi, backed by UNICEF, showed promising results for using drones to deliver blood samples and medical tests from rural clinics to laboratories.  (Watch Andreas' TED Talk.)
Politics and the struggle for ideas. In conversation with journalist and op-ed columnist Gail Collins, Arthur Brooks dissected the key issues that Republicans and Democrats vote on, such as taxes and healthcare, in the New York Times. Looking at where the candidates stand on the issues, as well as their recurring strengths and weaknesses, Brooks assures readers that no matter what, the contest of ideas is what's most important. "Politics is like the weather; ideas are the climate … The struggle for ideas that bring freedom and opportunity to more people — especially people at the periphery of society — has to go on no matter what." (Watch Arthur's TED Talk.)
Have a news item to share? Write us at contact@ted.com and you may see it included in this weekly round-up.