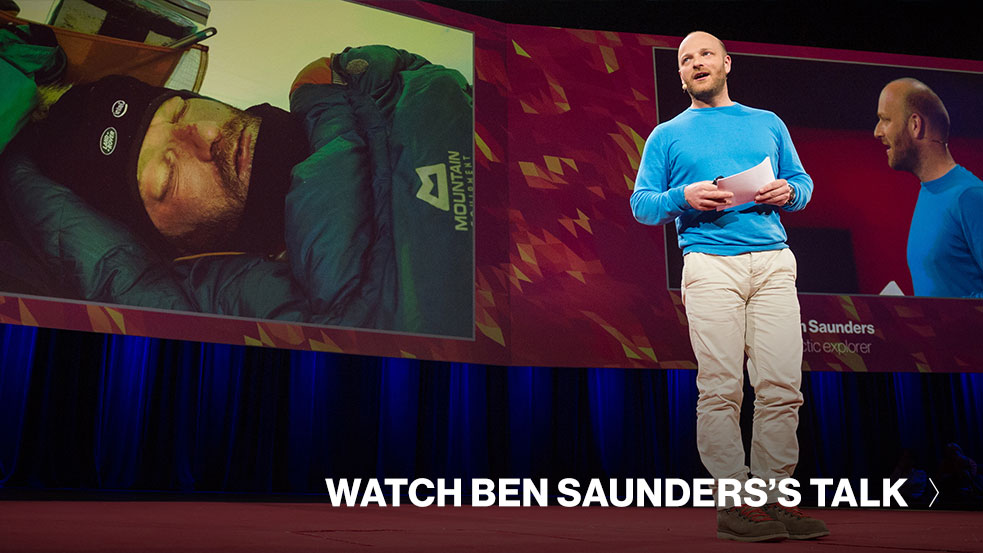 As usual, the TED community has lots of news to share this week. Below, some highlights.
A solo crossing of Antarctica. With chilling detail, Ben Saunders documents his journey across Antarctica as he attempts to complete the first successful solo, unsupported and unassisted crossing. The journey is a way of honoring his friend Henry Worsley, who died attempting a similar crossing last year. While being attacked by intense winds, Saunders writes of his experiences trekking through the hills, the cold, and the ice, the weight he carries, and even the moments he's missing, as he wishes his dear friends a jolly and fun wedding day back home. (Watch Saunders' TED Talk)
The dark side of AI. A chilling new video, "Slaughterbots," gives viewers a glimpse into a dystopian future where people can be targeted and killed by strangers using autonomous weapons simply for having dissenting opinions. This viral video was the brainchild of TED speaker Stuart Russell and a coalition of AI researchers and advocacy organizations. The video warns viewers that while AI has the potential to solve many of our problems, the dangers of AI weapons must be addressed first. "We have an opportunity to prevent the future you just saw," Stuart states at the end of the video, "but the window to act is closing fast." (Watch Russell's TED Talk)
Corruption investigators in paradise. Charmian Gooch and her colleagues at Global Witness have been poring over the Paradise Papers, a cache of 13.4 million files released by the the International Consortium of Investigative Journalists that detail the secret world of offshore financial deals. With the 2014 TED Prize, Gooch wished to end anonymously owned companies, and the Paradise Papers show how this business structure can be used to nefarious end. Check out Global Witness' report on how the commodities company Glencore appears to have funneled $45 million to a notorious billionaire middleman in the Democratic Republic of the Congo to help them negotiate mining rights. And their look at how a US-based bank helped one of Russia's richest oligarchs register a private jet, despite his company being on US sanctions lists. (Watch Gooch's TED Talk)
A metric for measuring corporate vitality. Martin Reeves, director of the Henderson Institute at BCG, and his colleagues have taken his idea that strategies need strategies and expanded it into the creation of the Fortune Future 50, a categorization of companies based on more than financial data. Companies are divided into "leaders" and "challengers," with the former having a market capitalization over $20 billion as of fiscal year 2016 and the latter including startups with a market capitalization below $20 billion. However, instead of focusing on rear-view analytics, BCG's assessment uses artificial intelligence and natural language processing to review a company's vitality, or their "capacity to explore new options, renew strategy, and grow sustainably," according to a publication by Reeves and his collaborators. Since only 7% of companies that are market-share leaders are also profit leaders, the analysis can provide companies with a new metric to judge progress. (Watch Reeves' TED Talk)
The boy who harnessed the wind — and the silver screen. William Kamkwamba's story will soon reach the big screen via the upcoming film The Boy Who Harnessed the Wind. Kamkwamba built a windmill that powered his home in Malawi with no formal education. He snuck into a library, deciphered physics on his own, and trusted his intuition that he had an idea he could execute. His determination ultimately saved his family from a deadly famine. (Watch Kamkwamba's TED Talk)
Have a news item to share? Write us at contact@ted.com and you may see it included in this biweekly round-up.