In March, anti-corruption activist Charmian Gooch stood on the TED stage in Vancouver to make a bold TED Prize wish: to shed light on anonymous shell companies that shield corrupt activities. "My years as a field investigator and campaigner at Global Witness have shown me how the corrupt deals that destroy the environment and rip off the world's poorest people are happening because the perpetrators can hide who they are behind a corporate front," says Gooch.
Today at TEDGlobal, she and her organization, Global Witness, unveil the Great Ripoff Map, a place to find stories of how crimes of corruption affects ordinary people around the world, and pinpoint exactly where those crimes are taking place. Click through to the evolving website to see cases of corruption and other crimes related to anonymous companies in assorted locations. The next step for the Great Ripoff Map: a feature that helps visitors submit their own stories.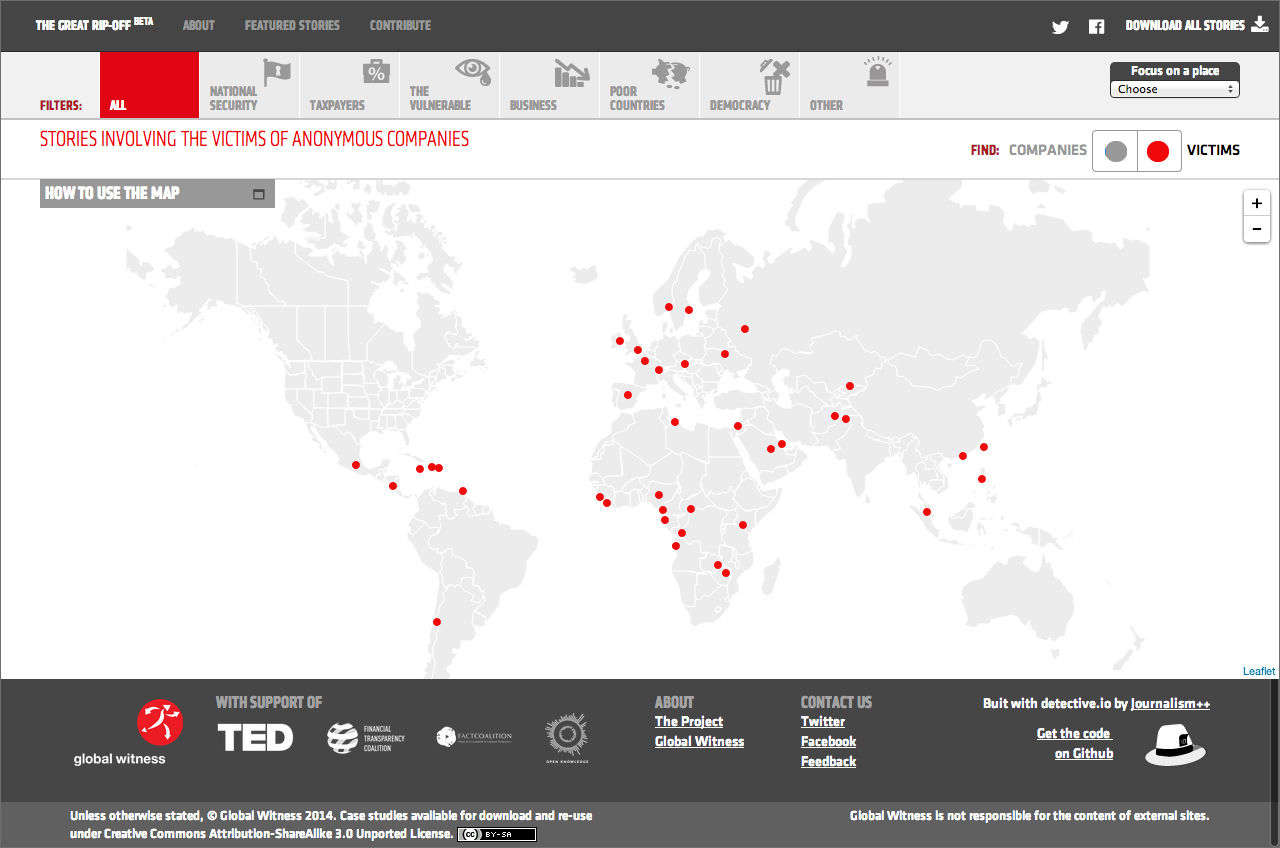 Why focus on stories? Because corruption as a concept might just be too big to grasp. But a single story on the effects of corruption brings it home.
As an example: In Mexico, the cartels use anonymous companies to launder money by buying and selling racehorses, says Gooch, affecting "the lives of thousands of ordinary Mexicans and Americans." Watch this powerful video:
Gooch shares more progress on her campaign. In the state of Delaware – one of the easiest places in the world to set up an anonymous company – local groups have started a debate about the state's role as a haven for corporate secrecy. In effect, half of the state's lawmakers have now called on Delaware's congressmen to tackle this problem. "This is a real live example of campaign momentum in action," says Gooch. "Just a year ago, it probably would have been unthinkable."
The British government – previously resistant to dealing with the problem – made the issue a central plank of its G8 presidency in 2013, and thanks to ongoing advocacy on this issue made possible by the TED Prize, has remained committed to publishing information on the owners of British companies in a publicly accessible register, as broadcasted in the Queen's speech in June. A new law is now being put in place that will create and mandate public registries. A prototype version is being created with the help of Global Witness, with the tech community and partners like OpenCorporates.
Gooch also paid tribute to some stakeholders who've stepped up to help. She thanks TED, the Financial Transparency Coalition, the FACT Coalition, and the Publish What You Pay Coalition, a global network of civil society organizations that includes the ONE Campaign and Transparency International. Gooch and Global Witness have also gotten support from B Team, a group of global business leaders that includes Richard Branson and telecoms entrepreneur Mo Ibrahim, that aims to catalyze a better way of doing business and campaign for more transparency. "This support is already having a transformative effect," says Gooch.
While this progress is good, Gooch recognizes the need to engage everyday citizens in her campaign to end anonymous companies, especially those "who want to hear the real, human stories behind the issue."
Gooch also makes clear that she is sensitive to privacy concerns. She is not against businesses and corporations, she says, but against the anonymous corporate structures that shield information about who ultimately owns and benefits from a company.  "In the era of Edward Snowden, when we are all freaked out about privacy, this kind of anonymity could seem like a way to hold Big Brother at bay," says Gooch. "This isn't about delving into people's private lives. This is about finding the balance between our right to privacy and the need to stop criminals."
Want to get involved? Here are a few ways to participate in this wish:
Business leaders: The B Team's commitment is just the beginning. Talk to us if you want to help us make the business case for transparency, either by becoming a public advocate for this campaign. Write to TED@globalwitness.org.
.
Storytellers: Filmmakers, artists, communicators – you know how powerful stories can be. Share the Great Ripoff Map, and its stories of how anonymous companies affect all of us.
.
On social media : Share the map using the link bit.ly/ripoffmap — or send a message to Brazil's Finance Minister, Guido Mantega (@guidomantega). A sample tweet: "The #G20 should help end #AnonymousCompanies by making beneficial ownership transparency a priority in Brisbane in November."