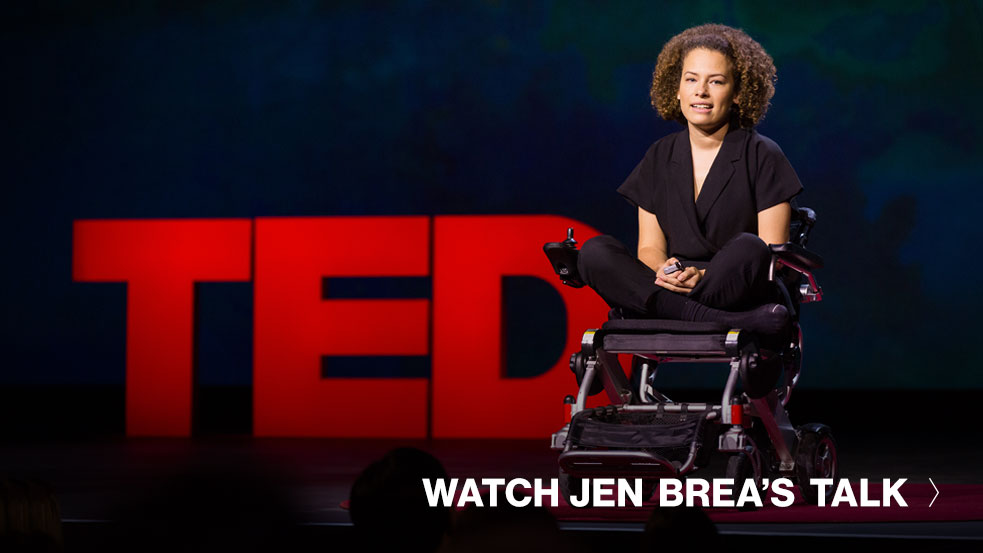 Behold, your recap of TED-related news:
A new Sundance grant helps indie films get seen. Making a film is hard enough — but getting the film seen by an audience can be just as difficult, especially in this era of non-stop media shifts. To help, Sundance just launched the Creative Distribution Fellowship — and among the first recipients is TED Fellow Jennifer Brea, whose documentary Unrest premiered at Sundance in January 2017. The fellowship offers resources, support and mentorship to find creative new ways to reach audiences. In the press release, Keri Putnam, executive director of Sundance, said: "This entrepreneurial approach to marketing, distribution and audience building empowers independent filmmakers to release their own films, on their own terms, while retaining their rights." (Watch Jen's TED Talk)
Dance that's accessible to all. Wayne McGregor has partnered with Sense, a charity that supports people who are deafblind or have sensory impairments, to create an "educational dance resource … to make dance and movement classes accessible to people with disabilities." Making Sense of Dance, available free online, is a downloadable booklet and videos with lessons, ideas and games to help people lead movement sessions for people of all abilities. (Watch Wayne's TED Talk)
The case for engineering rice. Growing rice can be a gamble, especially in the face of climate change-induced droughts. That's why Pamela Ronald and her lab at UC Davis are engineering rice to be more resilient, in hopes of safeguarding the crop against droughts while protecting food security and the livelihood of farmers who could be devastated by climate change in southeast Asia and sub-saharan Africa. Ronald continues to emphasize the importance of using genetic tools to protect both crops and people. "This focus on genes in our food is a distraction from the really, really important issues," she told the MIT Technology Review. "We need to make policy based on evidence, and based on a broader understanding of agriculture. There are real challenges for farmers, and we need to be united in using all appropriate technologies to tackle these challenges." (Watch Pamela's TED Talk)
How to prepare workers for global trade. As trade becomes more globalized, with production scattered across many countries, how should we educate our kids in the skills they will need? That's the focus of the OECD's Skills Outlook 2017 report: it suggests that nations around the world should focus on diversifying their population's skills, to gain advantage in globalized industries. "Countries increasingly compete through the skills of their workers. When workers have a mix of skills that fit with the needs of technologically advanced industries, specialising in those industries means a comparative advantage," explains the OECD's Andreas Schleicher. (Watch Andreas' TED Talk)
New additions to the Academy of Sciences. Three of our TEDsters have just been elected to the National Academy of Sciences! Sangeeta Bhatia, Esther Duflo and Gabriela González have all been recognized for "distinguished and continuing achievements in original research." Bhatia is the director of MIT's Laboratory for Multiscale Regenerative Technologies, which engineers nanotechnologies to improve human health. Also hailing from MIT, as the co-founder and co-director of the Abdul Latif Jameel Poverty Action Lab (J-PAL), Esther Duflo aims to eradicate poverty by informing policies with scientific research. Gabriela González, who spoke at the TED en Español session at TED2017, contributed to the detection of gravitational waves, as predicted by Einstein, through her research with LIGO, the Laser Interferometer Gravitational-Wave Observatory. (Watch Sangeeta's TED Talk and Esther's TED Talk)
New books of note from TED Talks speakers. Lidia Yuknavitch channels Joan of Arc in her exploration of a world torn apart by unending violence, and Manuel Lima takes us on a tour of circles and the history of information design behind that shape, while James Stavridis navigates the reading habits and libraries of more than 200 four-star military officers. (Watch Lidia's TED Talk, Manuel's TED Talk, and James' TED Talk)
Have a news item to share? Write us at
contact@ted.com
and you may see it included in this weekly round-up.