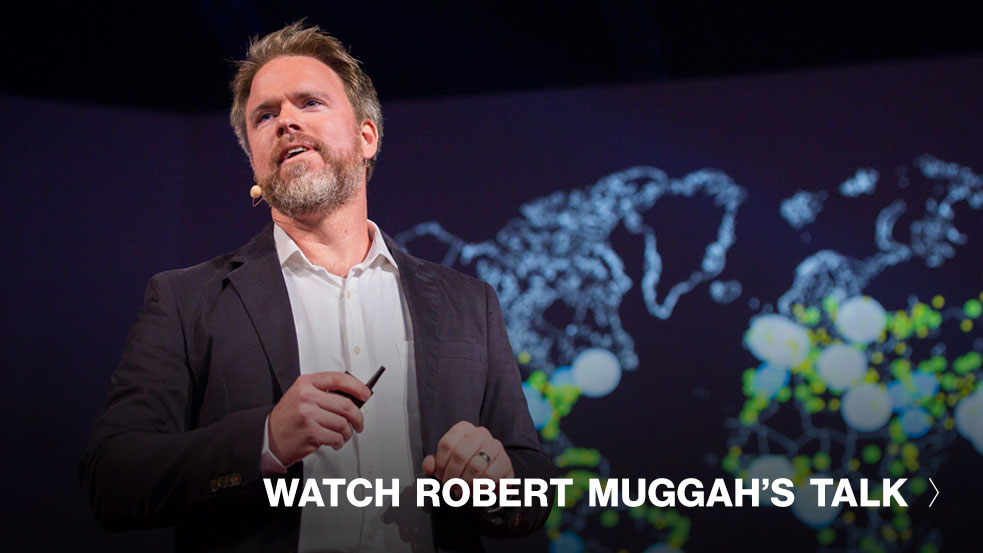 The TED community has been very busy over the past few weeks. Below, some newsy highlights.
Crime forecasting in Rio. Before the 2016 Olympic Games, worries ran high that crime in Rio might affect the mega-event; one reported attack at the Games (which actually might not have happened) grabbed headlines around the world during the Games. But the longer-running news story is the way crime affects Rio's locals every single day. How can residents stay safe? Together with Via Science and Mosaico Internet, Robert Muggah's Igarapé Institute just launched CrimeRadar, a publicly available crime-prediction platform. CrimeRadar uses advanced machine learning to forecast future crime risk and track historical crime tends. The launch is focused on Rio de Janeiro, with plans to take the platform global. (Watch Robert's TED Talk)
World of microbes. We've all heard some of the implications that microbes have for our health –from pandemic-level bad to the life-changing magic they perform in our guts– but Ed Yong is determined to show us how they influence everything in the world around us. Released August 9, his debut book I Contain Multitudes takes a "microbe's-eye view of the world" to reveal their role in everything from deep oceans to forests, squid to worms. (Watch Ed's TED Talk)
Breaking the silence. "We have in this country this dynamic where we really don't like to talk about our problems. We don't like to talk about our history. And because of that, we really haven't understood what it's meant to do the things we've done historically," Bryan Stevenson said at TED2012. A desire to change that dynamic is behind his passionate and tireless work to create the first national memorial to victims of lynching. Designed by fellow TED speaker Michael Murphy of MASS Design Group, the memorial was officially announced on August 16. The memorial will be accompanied by a museum at Equal Justice Initiative's headquarters in Montgomery, Alabama, and both plan to open in 2017. (Watch Bryan's TED Talk)
A global warning. Close to 3.3 billion people tuned in to watch the Opening Ceremony of the 2016 Olympic Games, but along with the usual celebration and dazzle, viewers were warned about the dangers of climate change. Many performances in the multi-hour spectacle highlighted the crucial role forests have in absorbing greenhouse gases — along with a video describing how rising CO2 levels lead to climate change.  TED speaker, forester and sustainability activist Tasso Azevedo served as a consultant during development of the film, joining the elite club of TED speakers who've also appeared in Olympics opening ceremonies. (Watch Tasso's TED Talk)
VR tech for paraplegics. Miguel Nicolelis is one of twenty scientists who published a paper in Scientific Reports detailing a new brain training approach that can induce partial neurological recovery in paraplegic patients. The sample size is small, eight patients, but all of them report being able to use their legs and feel sensation after sessions using an artificial exoskeleton, VR technology, and a brain-machine interface. Originally hoping to use the technique to help the patients regain a sense of control in their lives, the researchers stumbled upon its potential as a recovery tool. (Watch Miguel's TED Talk)
Design for shared spaces. On August 2, Joe Gebbia announced the official launch of Samara, Airbnb's own internal design studio, but the startup's newest branch had already been hard at work designing a prototype home for the Japanese exhibition House Vision. The result, Yoshino Cedar House, houses a community center on its ground floor and accommodations beneath a gabled roof, exploring "how architectural features can engender a deeper relationship between hosts and guests." But the idea doesn't end there. Once the exhibition is over, the house will be moved to the rural town of Yoshino and become a bookable Airbnb rental. It will be maintained by the Yoshino community and proceeds will be used to benefit the area, which has been struggling since younger residents moved away. If Yoshino Cedar House is successful, the model may be used to rejuvenate rural communities elsewhere. However, Samara won't just be involved in architecture; the design studio will work on service design and software engineering projects as well. (Watch Joe Gebbia's TED Talk)
Women in the World of Wakanda. TED speaker and writer Roxane Gay and poet Yona Harvey, both first time comic writers, will pen a spinoff of Ta-Nehisi Coates' popular Marvel Comic series Black Panther. The comic will also be set in the fictional African country of Wakanda and will follow Ayo and Aneka, two lovers and former members of the Dora Milaje, the Black Panther's female security force. In an industry historically dominated by white male voices and characters, "the opportunity to write black women and queer black women into the Marvel universe, there's no saying no to that," Gay told The New York Times. (Watch Roxane's TED Talk)
Advance prep. Jennifer Granholm, the former two-term Governor of Michigan, has been appointed to Hillary Clinton's White House transition team. Both candidates are allotted offices in Washington and other resources to prepare for their potential administrations. (Watch Jennifer's TED Talk)
Have a news item to share? Write us at contact@ted.com and you may see it included in this weekly round-up.