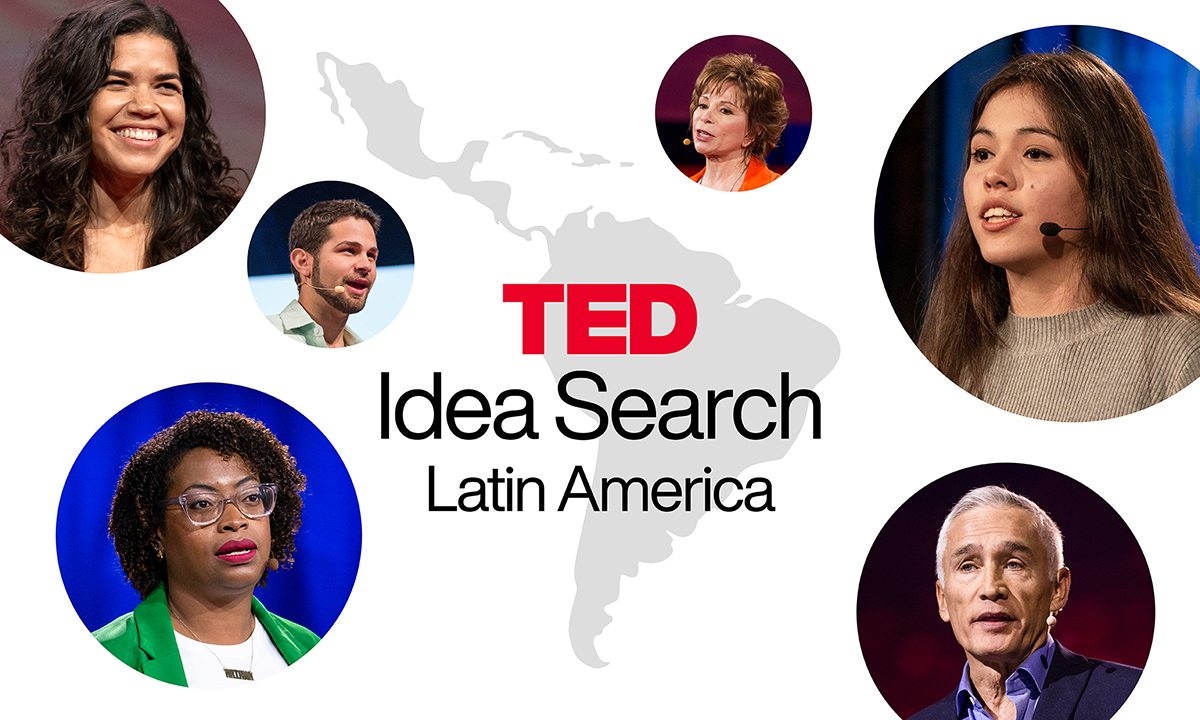 Do you have a TED Talk to share with the world? TED is hosting its second idea search of 2021 with a mission to hear big, bold ideas — this time specifically from Latin America. 
TED Idea Search: Latin America 2021 is open to anyone living in or descended from South America, Mexico, Central America and the Caribbean. Applicants are required to create a two-minute video as a part of their submission. The deadline for submissions has been extended to July 26, 2021 at 11:59pm ET. At this time, we are only able to accept applications in English.
Why Latin America?
TED is committed to a global mindset. We seek ideas from everywhere and aim to make them widely and freely accessible. Powerful ideas, expressed and distributed with care, have the potential to bring diverse groups together and create a shared vision of a future worth pursuing. It is with that global mindset that we are focusing on different regions of the world for the next few idea search events.
Application process
Applicants who are selected for round two will be invited to a virtual event where they will have the opportunity to talk more about their idea and participate in a Q&A with members of the TED community.
Winners will be invited to give a TED Talk, either virtually or in person.
Learn more and submit your application!
TED Global Idea Search 2021 winners
In the meantime, learn more about the TED Global Idea Search 2021 winners from earlier this year whose TED Talks are scheduled to be published on TED.com by the end of the year:
Saad Bhamla, chemical engineer and professor at Georgia Tech in Atlanta, Georgia, USA
Talk topic: How insects pee — and what we can learn from them
Andrea Berchowitz, cofounder and CEO of Vira Health in London, UK
Talk topic: How to make the workplace more menopause-friendly
Robert A. Belle, accountant in Nairobi, Kenya
Talk topic: The surprising information about ourselves that accounting can uncover
Sophia Kianni, student and activist in Mclean, Virginia, USA
Talk topic: Tackling climate change by translating critical climate information from English to other languages
Past TED Idea Search winners
And check out just a selection of speakers who were discovered during past idea searches:
Adie Delaney: An aerialist on listening to your body's signals
Adeola Fayehun: Africa is a sleeping giant — I'm trying to wake it up
Ariel Waldman: The invisible life hidden beneath Antarctica's ice
Elizabeth "Zibi" Turtle: What Saturn's most mysterious moon could teach us about the origins of life
Tamekia MizLadi Smith: How to train employees to have difficult conversations
Zak Ebrahim: I am the son of a terrorist. Here's how I chose peace
Richard Turere: My invention that made peace with the lions