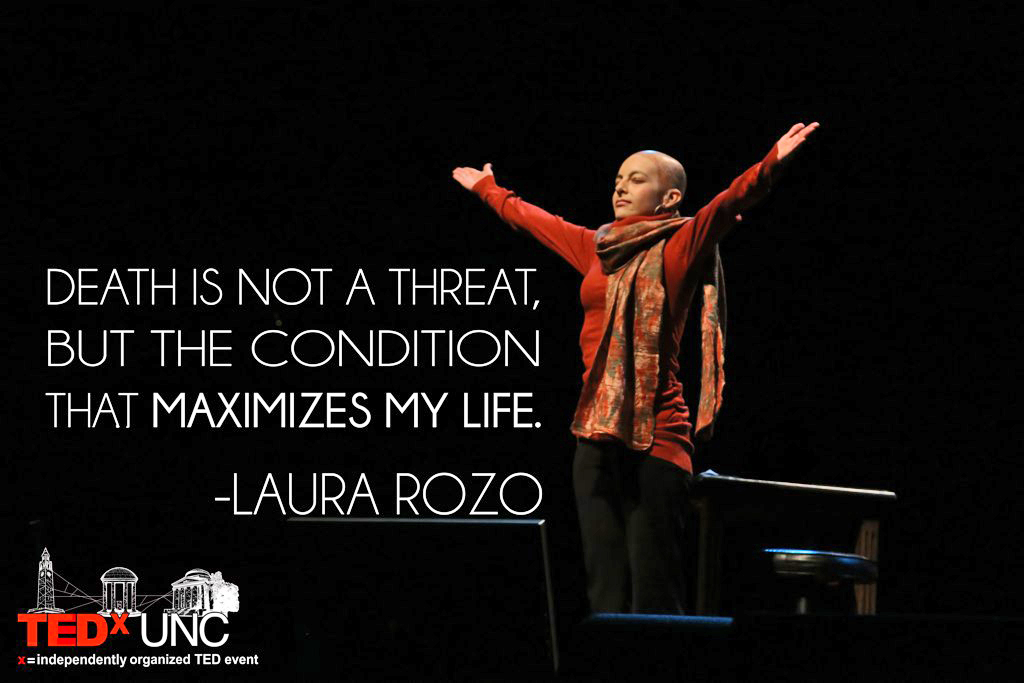 "What makes you think that you have 80 or 90 years to live?"
Laura Rozo posed this serious and almost morbid question to the audience at TEDxUNC in February 2013. She walked onto the stage confidently and calmly, soaking in the applause as the final, surprise speaker of the day. She wore a red turtleneck with a patterned scarf, and her head was adorned with a new henna tattoo. In front of a silent crowd, she raised her arms in the air and breathed deeply to center herself. Then she began to tell her story — one so urgent and moving that the organizers of TEDxUNC made the last-minute decision to not just include her in the program, but to have her close it.
I should explain: Laura Rozo was my friend and classmate — a kind, energetic and passionate person. Whether organizing world dance showcases (salsa was her specialty) or leading a service trip in Portugal, she took every opportunity to invest in her community. She was in Portugal in the summer of 2011, about to backpack across Europe, when she started feeling intense pain in her leg. She was diagnosed with a rare form of cancer, metastatic rhabdomyosarcoma —  news that completely stunned her. "It was then that I knew my life would be changing drastically," she said in her talk. "How could I tell this to my mom? I was far from home and too young for this to be happening."
And yet, Laura's first reaction to the news speaks volumes about her personality: after her doctor delivered the diagnosis, Laura asked if she could go skydiving. She wasn't in denial or delusional — she just said that with such an uncertain future, she needed to "squeeze the juice out of life." While she couldn't go skydiving just yet, she took flying lessons when she started chemotherapy back in North Carolina. During her radiation treatments, she went indoor-skydiving. Even when dealing with immense pain, she was dedicated to finding enjoyment in the everyday. As she said in her talk, "While I went through the torture of living with needles, beeping machines and excruciating pain, I still managed to teach salsa lessons from my hospital bed."
The chemo was successful at first. But soon she relapsed, and this time the cancer was even more aggressive. She had to stop attending classes.
Recently, I spoke to one of Laura's closest friends, Chenxi "Chex" Yu, who told me how, in this time, "[Laura] knew that her happiness was the most important thing." Chex says that this is what allowed Laura to still laugh with friends, despite being told she had only two months to live. And it's what helped Laura think about what she would give to those she would inevitably leave behind.
One of the biggest and most profound lessons Laura took from her experience was how to make the absolute most of the time you have. She wanted to share this newfound wisdom far and wide.
"She felt strongly about it. Sometimes she just wanted to walk up to people and wake them up," says Chex. "She felt like she had learned so much from this process and felt a sense of urgency to share it with other people."
And so Chex suggested to Laura: "Why don't you give a TEDx Talk?"
TEDxUNC was a month away at that point, and it seemed like the perfect way for Laura to reach her peers. The organizers of the event had set aside one slot for a student speaker, and had launched a YouTube contest where students could send in their pitches for talks. UNC students were asked to vote for the talk they most wanted to hear.
Laura's pitch came in at a close second place, but was not selected. And yet, Mackenzie Thomas, the founder of TEDxUNC, says that the organizing team desperately wanted to find a place for Laura in the program. "She was constantly on our minds," she says. "We thought, 'Is there any way we could possibly include her?'"
Less than week before the event, they made the decision to add Laura as the final speaker. "We all knew the gravity of the situation and the importance of her story," says Mackenzie.
On the TEDxUNC stage, Laura explained how, before her diagnosis, she thought about life the way many of us did. "When I was 18, I had the word 'success' stamped on my forehead…I thought my life was an exponential function," she said. But with the end of her life much closer than she imagined, she gained a new perspective: "Death is not a threat, but the condition that maximizes my life."
As she finished her talk, I jumped to my feet with the rest of the audience for a standing ovation, one that reflected a mixture of awe and choked-back tears.
While Laura was in the hospital, her mother and brother moved into a tiny, run-down apartment to be close to her. Laura worried about what her family's living conditions would be after her passing, especially in light of her mounting medical bills. She wanted to give her family a new home. She applied for subsidized housing for them, and the application was accepted. However, they needed $20,000 to move in, and the family simply did not have the money.
In about a week, Laura's friends, the TEDxUNC organizers and several other campus organizations tapped into their networks to raise the money. Fundraising links with her TEDx talk were sent to alumni all over the country — and the world. They used the enormous TEDxUNC listserv to raise awareness for a benefit dinner in the Morehead Planetarium, one of the most beautiful buildings on campus.
The benefit night itself was filled with performances, food and laughs. It was a night to celebrate not just the fact that the community raised $20,000 in a week, but also to celebrate Laura herself. In fact, she was even able to stop by towards the end. Though it was hard for all of us to see how drastically her health had deteriorated in the short time since her talk, her presence made all the difference.
Despite the beauty of this event, the reality was still the same: it was the last time Laura walked through campus. It was the last time I saw her. She died two days later.
Laura Rozo's life was far too short, but her legacy won't be forgotten. I know that knowing her has made a permanent and precious mark on my life. And so, if you are reading this, no matter your circumstances, I challenge you to ask the question Laura posed to all of us in her TEDx talk: "There's enough time, but none to spare. If not now, when?"