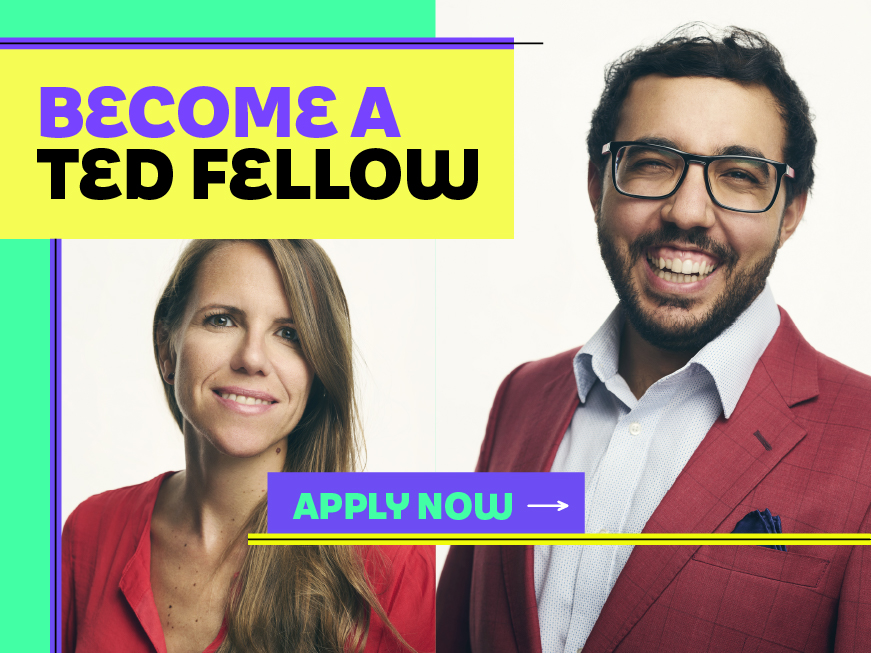 The TED Fellows program grows in size and impact each year, welcoming 20 new champions of change into its global community after applications open. Now in its 13th year, with more than 530 Fellows from over 100 countries worldwide, Fellows are innovating within every field imaginable — climate change, biology, technology, education, human rights, the arts and more.
Every day, in every corner of the world, utterly original and potentially ground-shifting ideas are abandoned because the people attempting to activate these ideas are not supported. The TED Fellows program aims to change that, to shift the balance of power by supporting the whole human — both personally and professionally — through connecting people and networks, providing access to tools, professional development and resources, and providing a platform to amplify the work and efforts of these visionary individuals.
What kind of groundbreaking work are our Fellows doing in the world today? Read on to find how the ideas that the Fellows are advancing are the "tip of the spear" of what's new, what's coming, what's needed and what's possible. The TED Fellows program's open application makes it possible to find innovators that might be otherwise undiscovered — innovators like you. 
Applications for the 2023 TED Fellowship are now open, and you can apply today through June 30, 2022*.
Director, choreographer, and dancer Camille A. Brown directed and choreographed the Obie-award winning musical for colored girls who have considered suicide / when the rainbow is enuf on Broadway this year, making history as the first Black woman in more than 65 years to serve as both director and choreographer of a Broadway production. The production was nominated for seven Tony Awards, including two for Best Direction and Best Choreography for Brown. Brown also made history in 2021, becoming the first Black woman director for the main stage at the Metropolitan Opera with Fire Shut Up In My Bones. 
Playwright, actor and director Keenan Scott II's play Thoughts of a Colored Man opened on Broadway in 2021. Scott II is the youngest Black playwright to be honored with a Sardi's portrait — one of the most enduring and coveted theatrical traditions.
Architect and urban designer Alison Killing won the 2021 Pulitzer Prize. Killing used her expertise in forensic analysis of architecture and satellite images of buildings to expose secret camps allegedly built by the Chinese state in the Xinjiang region to imprison Uighurs, Kazakhs and other Muslim minorities.
Writer Mitchell Jackson won the 2021 Pulitzer Prize for his article in Runner's World titled "Twelve Minutes and a Life." The story was a deeply affecting account of the killing of Ahmaud Arbery that combined vivid writing, thorough reporting and personal experience to shed light on systemic racism in America.
Journalist, filmmaker and activist Sharmeen Obaid Chinoy directed two episodes of the Ms. Marvel series for Disney+, a show that introduces the world to their first Muslim superhero. The show premiered in June 2022 and features Kamala Khan, a 16-year-old Pakistani-American growing up in Jersey City. Chinoy is also Disney's first Pakistani director and, in 2012, became the very first Pakistani to ever win an Oscar.
Director, producer, and screenwriter Bassam Tariq will be directing the reboot of the 90s superhero vampire thriller Blade, starring Academy Award winner Mahershala Ali. Tariq will direct from a script he wrote with Stacy Osei-Kuffour. In 2021, he brought a distinctive South Asian immigrant perspective to the screen in the film he directed, Mogul Mowgli, starring Riz Ahmed.
Social entrepreneur, civil rights activist, and the CEO and founder of Rise, Amanda Nguyen was named a 2022 TIME Woman of the Year. Nguyen helped craft the Sexual Assault Survivors' Rights Act, which was signed into law by President Obama in 2016, legislation that reforms the handling of sexual assault evidence-collection kits on the federal level. Nguyen has gone on to help establish similar laws in more than 40 states and has taken her movement to the UN, where she's leading an effort to pass a resolution that would protect survivors around the world. Nguyen was also named a 2021 BBC 100 Woman.
Filmmaker Nanfu Wang was also named a 2021 BBC 100 Woman. Her 2016 debut film, Hooligan Sparrow, was shortlisted for a "Best Documentary Feature" Academy Award. She also directed One Child Nation (2019) and In the Same Breath (2021), which looks at how the Chinese and American governments reacted to the COVID-19 outbreak.
Urogynecologist, researcher and the founder of ARMMAN, Aparna Hegde won the prestigious Elevate Prize by MIT in 2021. The maternal and child health NGO and its founder are among 10 winners from across the world who were awarded five million dollars to amplify their impact in driving world change. ARMMAN is a nonprofit that's leveraging mobile technology to empower, inform and serve more than 24 million Indian women and children who are plagued by gaps in health care infrastructure, along with training 187,000 health workers. 
Musician, director and visual artist Blitz Bazawule is developing a limited series for FX. The six-episode series will be based on Bazawule's upcoming debut novel, The Scent of Burnt Flowers, a story steeped in the history of Ghana, specifically the 1966 coup of then-president Kwame Nkrumah. Bazawule will write, direct and produce, with Emmy winner Yahya Abdul-Mateen II starring. After co-directing Beyoncé's Disney+ visual album feature Black Is King, Bazawule is also set to direct the Warner Bros. musical film The Color Purple, based on the Tony-winning Broadway musical.
*Note: Our application closes on June 30, 2022 at 11:59pm UTC. We invite you to read important updates about the Fellowship program and this year's application, find answers to frequently asked questions, follow @TEDFellow and meet all the TED Fellows to learn more about the breadth of this global community.