The first day of TED2017 brought two sessions of talks from TED Fellows and an opening session broadcast live in movie theaters. Below, some of the themes heard today that we just can't get out of our minds.
A closer look at our relationship to technology. Huang Yi danced with a robot. Chess grandmaster Garry Kasparov once battled a supercomputer, but came to embrace what can happen when human intuition meets machine calculation. Laura Galante reminded us that cyberspace isn't built by 1 and 0s, but by information and the intentions behind it. The talks in Session 1 asked us to think critically about who we are in relation to machines — a theme that will reverberate throughout the conference.
A call to see ourselves as the architects of the future. We have a say in what the future looks like, said the speakers in Session 1. Designer Anab Jain noted how hard it is for us to see our actions as affecting the future, and shared some of the creative experiences she creates to make the connection more visceral and real. Then in a powerhouse talk to close the session, Rabbi Lord Jonathan Sacks pointed out our fascination with the self — from self-help to self-realization to selfies. He called for us to replace the word 'self' with the word 'other,' to guide us to the kind of future we want.
Creativity comes when you transcend perspective. Artist Titus Kaphar smacked white paint on a replica of a Frans Hals painting from the 17th century. He did this to reframe the image for us — to show us the cultural and historical values the painter infused in it, and to reveal what was hidden. It's in this exploration of how history is written that Kaphar finds his own creativity.  Meanwhile, the band OK Go revealed the magic behind their music videos — that it's not so much them having a great idea, but finding an interesting place to play in. Then trusting that, with play, elements will align in ways that spark surprise.
The not-so-distant future of cancer treatment. The TED Fellows gave a glimmer of what could be. Geneticist Jimmy Lin revealed a simple blood test, currently in clinical trials, that can detect the DNA signatures of cancer — and could someday be part of our annual checkups. And biomedical engineer Elizabeth Wayne spoke on the potential of immune cells, which patrol the body looking for disease. She explained a unconventional technique for treating cancer: hitching a nanoparticle on these cells to deliver two proteins — one that binds to cancer cells, and one that kills them.
Plus the not-so-distant future of medicine generally. Also in the TED Fellows sessions: Inventor Manu Prakash revealed a 20¢ centrifuge, based on the physics of a whirligig toy, that can separate blood samples to diagnose diseases like malaria. Rebecca Brachman pointed to the possibility of pills or vaccines to increase resilience to depression, PTSD and other psychiatric disorders. And Logan Smalley, remembering his friend Darius Weems, spoke of a clinical trial Weems was part of that led to the first FDA-approved treatment for a disease previously deemed 100% fatal.
The value of art for art's sake. Kenyan filmmaker Wanuri Kahiu makes sci-fi movies, and she often gets a strange question: how can she justify telling African stories that don't deal with war, poverty or disease? Her answer: "Imagine if those stories and images of happy Africans were circulated as much as everything else we're so bored of seeing." Minutes later, Russian visual artist Uldus Bakhtiozina echoed the sentiment, talking about the reason why her fantasy-tinged photographs are important: "All of us struggle sometimes to escape in order to analyze our reality, and appreciate it or change it."
And finally, a puzzle hunt begins. At TED2014, David Kwong spoke on his two passions — magic and puzzles — and how both tap into the human drive to solve things. For this year's conference, he's created a special TED Puzzle Hunt, for fans to solve each day. Check out the first puzzle below. And play along for the rest of the week on Twitter.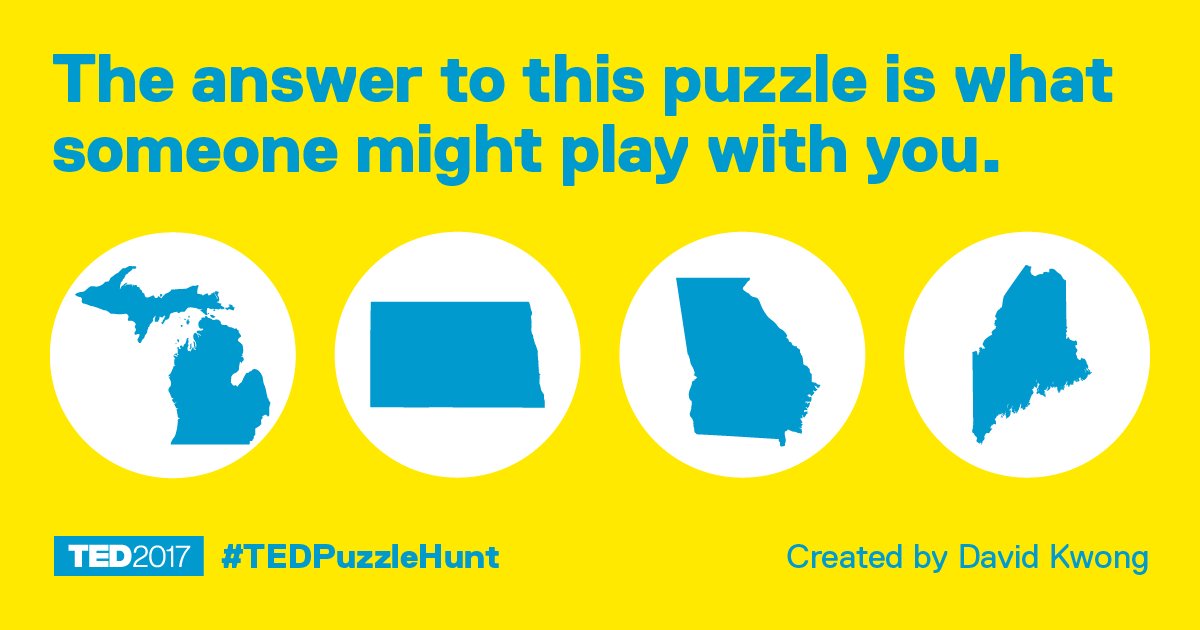 Don't miss the excitement of TED2017 tomorrow. Find out where you can watch the TED Prize Event live in cinemas.