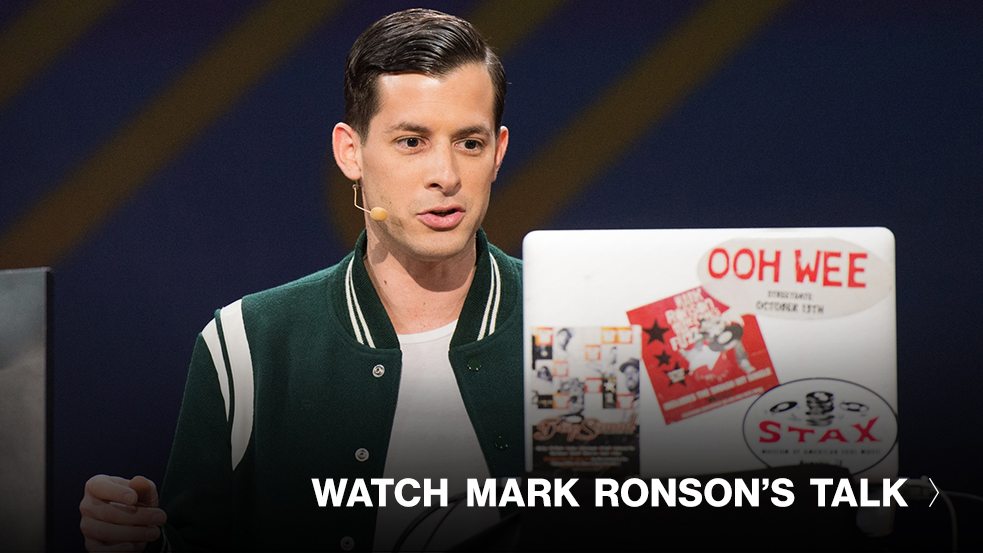 Please enjoy your roundup of TED-related news:
This one's for the boys. Mark Ronson takes a break from making music to have some fun in Charli XCX's video for "Boys." You'll find him (suavely) combing his hair, amid scenes of other male celebs, such as Wiz Khalifa, Riz Ahmed and Joe Jonas having a pillow fight or cuddling with puppies, in a video intended to "flip the male gaze on its head." (Watch Ronson's TED Talk)
To tweet, or not to tweet? Twitter and Facebook allow writers to promote their work and engage readers—but is it a force for good or for evil? In a conversation with LitHub, TED speakers Roxane Gay and Adam Grant, along with Alexander Chee and and Celeste Ng, discuss how they harness social media without letting it get the best of them. Grant was dragged into the online conversation "kicking and screaming," but now believes that "it can be a source of energy and a real boon for your career." Gay loves how Twitter keeps her up to date with new books; she sees more benefits than drawbacks for writers and publishers, and thinks "social media only sucks the life out of you if you allow it." (Watch Grant's TED Talk and Gay's TED Talk)
The race for our attention. When our attention is currency, tech companies work hard to get us to watch that next video, keep the Snap streak going or click on that personalized ad. Tristan Harris warns that while engineers are getting better and better at this, we're just getting more and more sucked in without even meaning to. Fortunately, Harris shares some advice on how to protect our minds as well as his vision for a more constructive tech future in a Q&A with Wired that builds on his new TED Talk. (Watch Harris' TED Talk)
Medicine that bridges inequality. TED Prize winner Raj Panjabi discusses his plans with the New York Times to increase access to medical care for those living in rural, disconnected parts of Liberia. Motivated by the idea that "medicine could be a way to bridge inequality," Panjabi's nonprofit, Last Mile Health, trains locals as community health workers and provides them with medical supplies such as thermometers, smartphones and even malaria test kits. While his charity is focused on his birth country, Liberia, Panjabi believes that this approach to medical care could have a larger scope, even one that extends to rural America. "Why should anyone die from diseases that others don't?" (Watch Panjabi's TED Talk)
Art all around us. The subdued whirr of a computer fan, a plastic bag caught in the wind … can these things come alive as art? Shih Chieh Huang believes so, and his new exhibition at the Worcester Art Museum, "Reusable Universes," shows his belief at work. Using fans to inflate bags with air, he creates cephalopod-looking objects—lit up and moving, suspended in midair—and controls their movements with an app designed for stage lighting. Sometimes he sees the exhibit as a bunch of everyday items. "But sometimes," he told artnet, "I think that's a cell, heart, a lung, a sea creature." (Watch Huang's TED Talk)
How can we grapple with historic injustices? Bryan Stevenson adds his voice to an anthology of eleven essays that analyze the history of racism in the criminal justice system, and its contemporary effects on the lives of African American men and boys. Each essayist touches on various stages and symptoms of the system, while making policy suggestions for the future. Stevenson's piece takes the reader to South Africa and Germany, emphasizing the importance of recognizing and confronting historical injustices in order to move forward. Policing the Black Man: Arrest, Prosecution and Imprisonment is edited by Angela J. Davis. (Watch Stevenson's TED Talk)
Have a news item to share? Write us at contact@ted.com and you may see it included in this biweekly round-up.