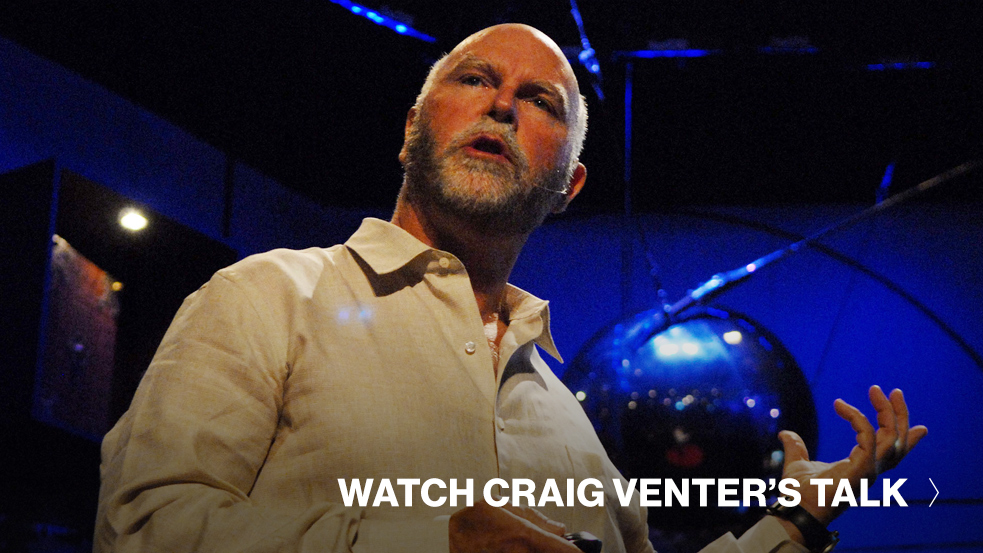 Just a few of the intriguing headlines involving members of the TED community this week:
The bare necessities of life.  In a paper published on March 25, Craig Venter revealed that he and his team have created a minimalist microbe containing only the genes essential for its survival. The ultimate goal is to create new synthetic life forms, but the results reveal a pretty big catch: Of 473 total genes, the functions of 149 are completely unknown, roughly 30% of the total, underscoring how much we have left to learn about life. Read more about the results in an Atlantic article by fellow TED speaker Ed Yong. (Watch Craig's TED Talk and Ed's TED Talk.)
Vikings in North America. Despite their description in ancient sagas, Viking settlements in the New World have eluded discovery — with only one confirmed site on the tip of Newfoundland.  But further south, TED Prize winner and space archaeologist Sarah Parcak's latest discovery, a stone hearth used for working iron thought to be built by Vikings, could upend our limited knowledge of Viking history in North America.  Read more about the discovery in National Geographic or on the latest Nova, and stay tuned for the release later this year of GlobalXplorer, a citizen science-based game developed by Parcak, so you can try your own hand at space archaeology.  (Watch Sarah's TED Talk.)
Roadblocks to economic stability. In a Bloomberg's "The First Word" podcast interview last week, economist Dambisa Moyo weighed in on remarks by Zhou Xiaochuan, governor of the People's Bank of China, in which he called on global financial leaders to rethink current systems to prepare for the next financial crisis. Noting the good intentions behind this call-to-action, Moyo nonetheless acknowledges the difficulties: " We see a lot of differences and a schism across many countries across the world, partly driven by the weakness in the underlying real economy." Considering the differences between, for example, how European and American institutions bank and trade, having one cohesive approach for all countries will be difficult. But is universality the key when tackling a new economic crisis? (Watch Dambisa's TED Talk.)
A puzzling TV show. David Kwong has a puzzling profession, literally; he creates crossword puzzles for the New York Times and and sometimes, for TV shows like NBC's Blindspot, a show whose protagonist has tattoos that are linked to a large criminal conspiracy. In the April 4 episode, the character Patterson starts a puzzle that was created by Kwong. In an interview, Kwong asks Martin Gero, the show's creator, about his inspiration: "I've wanted to do a puzzle/treasure hunt show for years … but could never quite crack it. Finally I had this image of a giant puzzle map tattooed on a person's body and I thought: yeah, this might be something people would watch." (Watch David's TED Talk.)
North Korean defectors in China.  At TED2013, Hyeonseo Lee described her harrowing escape from North Korea to China, where she lived in hiding for 10 years before receiving asylum in South Korea. China considers North Korean refugees illegal immigrants and pays people who report them. On March 26 and 27, in a rare public speech made as a North Korean defector in China, she returned to speak at the Beijing Bookworm Literary Festival because, as she told the New York Times, she wanted "to at least change some of the information they've been given."  (Watch Hyeonseo's TED Talk.)
How humans spread epidemics. While humans may feel powerless in the face of new epidemics, it turns out that epidemics rely on human actions like urbanization and factory farming to get started and to spread, says investigative science journalist Sonia Shah in an interview with World Policy Journal. The interview, and her new book Pandemic, explore how these interactions give rise to epidemics … and the steps we can take to prevent them. (Watch Sonia's TED Talk.)
High demand for an electric car. Since public registration opened on March 31, advance orders for the new Model 3 Tesla car have skyrocketed. Elon Musk, the company's CEO, estimated that by 10pm PST on Day One, Tesla received 140,000 orders. A cheaper and more energy-efficient edition, the Model 3 could help more people access an electric car. (Watch Elon's TED Talk.)
Have a news item to share? Write us at contact@ted.com and you may see it included in this weekly round-up.