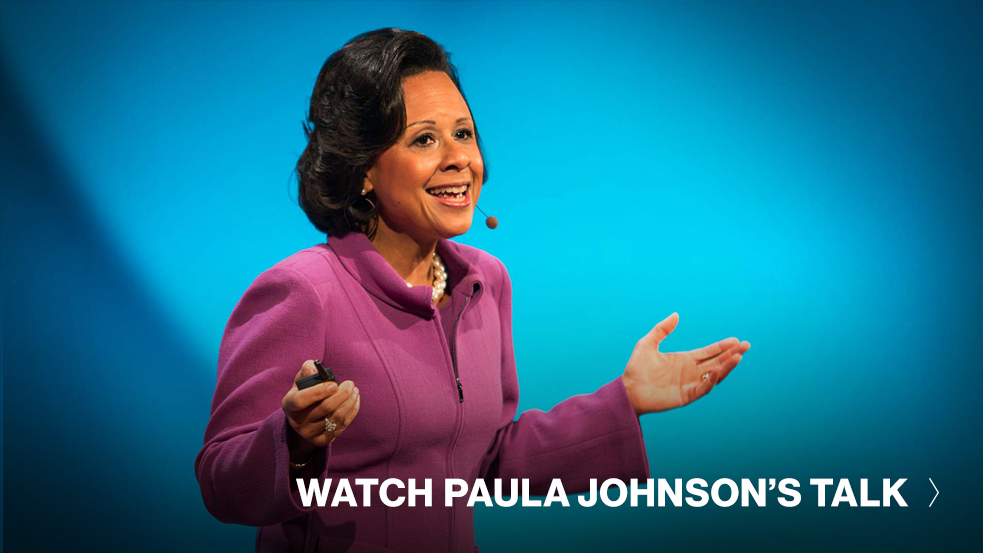 The TED community has been very busy over the past few weeks. Below, some newsy highlights.
Wellesley has a new president. Dr. Paula Johnson, a longtime champion of women's health and health policy, is Wellesley College's 14th president. The celebrations surrounding her inauguration focused on the theme of Intersections; in her inauguration address, she reflected on how she will incorporate the theme into her administration. "How do we unleash the riches embedded in crucial intersections—among people, among ideas, across communities and cultures, through time and space?" she asked.  (Watch Paula's TED Talk)
The fight for gender balance in tech. Melinda Gates has her eyes set on a pervasive problem in tech: the underrepresentation of women. Working outside the Bill and Melinda Gates Foundation for this particular initiative, Melinda is building up a personal office that will dedicate resources and attention to the issue. She'll begin by going into learning mode, up to two years of "learning, collecting information, talking to lots of experts, and looking at what research is out there," she told Backchannel. As part of the interview, readers were asked to comment in response to the question, "How should Gates spend her money and her time?" Their comments were then assembled into an open letter. (Watch Melinda's TED Talk)
How to separate fact from fiction. Our digital lives are a constant onslaught of information, but do you know how to distinguish between the reliable and the misleading? In A Field Guide to Lies, Daniel Levitin explains how faulty arguments and information permeate the sources that we rely on for information, everything from Wikipedia to news organizations to the government. The solution? Become more infoliterate, he says, and learn how to think more critically about the information that you receive rather than passively accepting it as true. (Watch Daniel's TED Talk)
America's favorite poet returns. Two-time US poet laureate Billy Collins released his twelfth collection of poetry on October 4. With close to 50 new poems, The Rain in Portugal looks at everything from beauty and death, to cats and dogs, with the poet's usual wit and accessibility.  (Watch Billy's TED Talk)
A tribute to his roots. John Legend helped pay for the renovation of a historic high school theater in Springfield, Ohio, where he performed as a child. "I knew how important that was for me when I was in high school and middle school and throughout my time in Springfield, and how important the arts were and performance spaces were to me," John told the Springfield News-Sun. He joined the city on October 9 for the ribbon-cutting ceremony of what is now called the John Legend Theater. (Watch John's TED Talk)
The intricate design of perfume bottles. While designer Thomas Heatherwick is known for large-scale projects like the UK pavilion at the Shanghai Expo in 2010 and the proposed Pier55 park in Manhattan, this time he's dialed it down to the size of a perfume bottle. His intricate bottles, for French shoe designer Christian Louboutin, are beautiful pieces of twisted glass. The bottles were an expansion of Heatherwick's interest in creating folded surfaces with different materials, seen in such work as Twisted Cabinet and Paternoster Vents, and they were excited to give it a try with twisted glass. (Watch Thomas' TED Talk)
The new how-to. Babble co-founder Alisa Volkman is launching a new company called Knowsy. The company makes short how-to videos on everything from Microsoft Word shortcuts to table setting. The videos are short, visually appealing, and free. Rather than making money from advertises, the company may at some point charge a subscription fee for some of the videos, or sell bundles to corporate clients to help them teach specific skills to their employees, reports Recode. (Watch Alisa's TED Talk)
Have a news item to share? Write us at contact@ted.com and you may see it included in this weekly round-up.