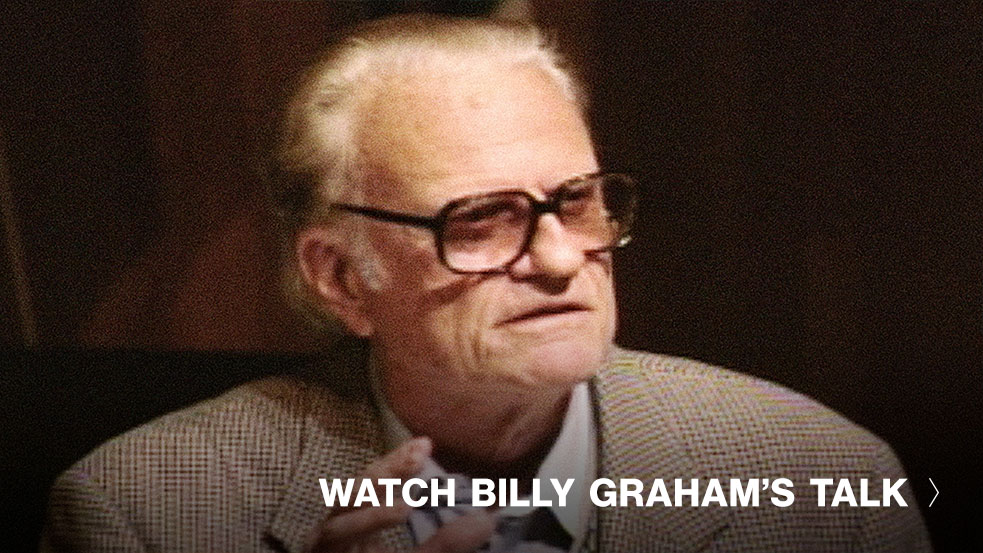 Behold, your recap of TED-related news:
Remembering Billy Graham. For more than 60 years, pastor Billy Graham inspired countless people around the world with his sermons. On Wednesday, February 21, he passed away at his home in North Carolina after struggling with numerous illnesses over the past few years. He was 99 years old. Raised on a dairy farm in N.C., Graham used the power of new technologies, like radio and television, to spread his message of personal salvation to an estimated 215 million people globally, while simultaneously reflecting on technology's limitations. Reciting the story of King David to audiences at TED1998, "David found that there were many problems that technology could not solve. There were many problems still left. And they're still with us, and you haven't solved them, and I haven't heard anybody here speak to that," he said, referring to human evil, suffering, and death. To Graham, the answer to these problems was to be found in God. Even after his death, through the work of the Billy Graham Evangelistic Association, led by his son Franklin, his message of personal salvation will live on. (Watch Graham's TED Talk)
Fashion inspired by Black Panther. TED Fellow and fashion designer Walé Oyéjidé draws on aesthetics from around the globe to create one-of-a-kind pieces that dismantle bias and celebrate often-marginalized groups. For New York Fashion Week, Oyéjidé designed a suit with a coat and scarf for a Black Panther-inspired showcase, sponsored by Marvel Studios. One of Oyéjidé's scarves is also worn in the movie by its protagonist, King T'Challa. "The film is very much about the joy of seeing cultures represented in roles that they are generally not seen in. There's villainy and heros, tech genius and romance," Oyéjidé told the New York Times, "People of color are generally presented as a monolithic image. I'm hoping it smashes the door open to show that people can occupy all these spaces." (Watch Oyéjidé's TED Talk)
Nuclear energy advocate runs for governor. Environmentalist and nuclear energy advocate Michael Shellenberger has launched his campaign for governor of California as an independent candidate. "I think both parties are corrupt and broken. We need to start fresh with a fresh agenda," he says. Shellenberger intends to run on an energy and environmental platform, and he hopes to involve student environmental activists in his campaign. California's gubernatorial election will be held in November 2018. (Watch Shellenberger's TED Talk)
Can UV light help us fight the flu? Radiation scientist David Brenner and his research team at Columbia University's Irving Medical Center are exploring whether a type of ultraviolet light known as far-UVC could be used to kill the flu virus. To test their theory, they released a strain of the flu virus called H1N1 in an enclosed chamber and exposed it to low doses of UVC. In a paper published in Nature's Scientific Reports, they report that far-UVC successfully deactivated the virus. Previous research has shown that far-UVC doesn't penetrate the outer layer of human skin or eyes, unlike conventional UV rays, which means that it appears to be safe to use on humans. Brenner suggests that far-UVC could be used in public spaces to fight the flu. "Think about doctors' waiting rooms, schools, airports and airplanes—any place where there's a likelihood for airborne viruses," Brenner told Time. (Watch Brenner's TED Talk.)
A beautiful sculpture for Madrid. For the 400 anniversary of Madrid's Plaza Mayor, artist Janet Echelman created a colorful, fibrous sculpture, which she suspended above the historic space. The sculpture, titled "1.78 Madrid," aims to provoke contemplation of the interconnectedness of time and our spatial reality. The title refers to the number of microseconds that a day on Earth was shortened as a result of the 2011 earthquake in Japan, which was so strong it caused the planet's rotation to accelerate. At night, colorful lights are projected onto the sculpture, which makes it an even more dynamic, mesmerizing sight for the city's residents. (Watch Echelman's TED Talk)
A graduate program that doesn't require a high school degree. Economist Esther Duflo's new master's program at MIT is upending how we think about graduate school admissions. Rather than requiring the usual test scores and recommendation letters, the program allows anyone to take five rigorous, online courses for free. Students only pay to take the final exam, the cost of which ranges from $100 to $1,000 depending on income. If they do well on the final exam, they can apply to MIT's master's program in data, economics and development policy. "Anybody could do that. At this point, you don't need to have gone to college. For that matter, you don't need to have gone to high school," Duflo told WBUR. Already, more than 8,000 students have enrolled online. The program intends to raise significant aid to cover the cost of the master's program and living in Cambridge, with the first class arriving in 2020. (Watch Duflo's TED Talk)
Have a news item to share? Write us at contact@ted.com and you may see it included in this weekly round-up.