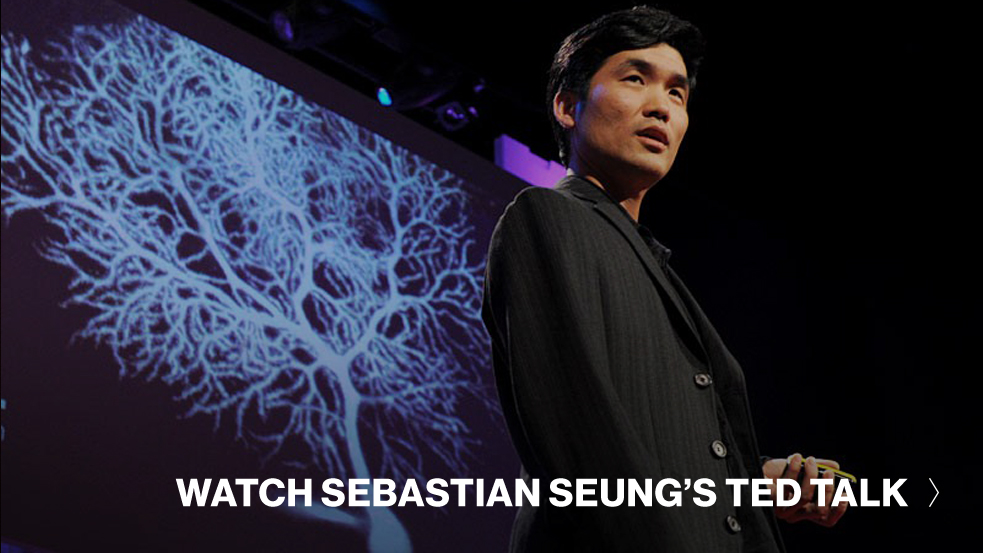 The TED community has been busy in the past week. Below, a few TEDsters with news to share.
Mapping by the millions. Frustrated by the inability to test his theories given the current technology, Sebastian Seung embarked on what many of his colleagues considered career suicide: he built a game to map all the neural connections in the human brain. In the cover article of the current week's The New York Times Magazine, Seung explains how his crowdsourced quest to map neural connections could provide new insight into autism and schizophrenia. This is not without moral and philosophical implications, he admits, as it has the potential to "capture a person's very essence: every memory, every skill, every passion." Plus, if connections could one day be recorded and stored, reanimating human consciousness is not out of the question. (Watch Sebastian's talk, "I am my connectome.")
And the nominees are … Oscars nominations are in and, while we are as disappointed as others to see no one of color nominated for the major acting or directing awards (see the hashtag #OscarsSoWhite), it's great to see that TEDster Ava DuVernay's Selma was nominated for Best Picture, and John Legend (watch his TED performance) co-nominated for his song "Glory" in that film. Best Documentary Feature nominee Citizenfour stars journalist Glenn Greenwald (watch his TED Talk) and Edward Snowden (watch his Q&A at TED2014). The biopic The Theory of Everything, about Stephen Hawking and wife Jane Wilde Hawking, was nominated for Best Picture and Best Adapted Screenplay, and Eddie Redmayne was nominated for Best Actor in a Leading Role for playing Hawking himself. (Watch Hawking's TED Talk.)
Close, but no cigar. You have to commend the SpaceX team for even attempting to land a 14-story rocket booster on a floating barge in the Atlantic. Despite successfully sending the capsule to the International Space Station, the booster landing failed as it came down too hard. "Close, but no cigar this time," Elon Musk tweeted. "Bodes well for the future tho." And that is big. Typically after rocket launches, boosters fall back into the ocean — the equivalent to dumping a Boeing 747 in the sea after a single use. SpaceX hopes to reuse boosters to put an end to such waste. (Watch Elon Musk's conversation with our curator, "The mind behind Tesla, SpaceX and SolarCity.")
A five-year reflection. It has been five years since Jake Wood and Team Rubicon first went to Haiti, bringing veterans to volunteer in the wake of the devastating earthquake there. In an essay on Medium, he reflects on the challenges and unexpected joys found in treating the seriously injured. He also remembers that tugging feeling of leaving Haiti for the first time. "Do we just let it be?" he writes. "Wash our hands of Port-au-Prince, proud of the work we'd done, and go back to the lives we'd charted for ourselves? Or do we build upon this idea, try to improve the inadequacies of disaster response we'd discovered in Haiti by bringing the skills of military veterans to bear?" He chose the latter, obviously. (Watch Jake's TED Talk, "A new mission for veterans—disaster relief.")
The next chapter. In a further note on this story, the Clay Hunt Suicide Prevention for American Veterans (SAV) Act passed the US House three days ago, and now faces a Senate vote for the second time. As veterans' advocacy group IAVA reports, "In December, the Clay Hunt SAV Act passed the House unanimously by voice vote and later died in the Senate after a single senator, now retired Senator Tom Coburn (R-Okla.), objected to its passage." Clay Hunt was a veteran and Rubicon volunteer, featured in Jake's talk, who ended his life by suicide in 2011.
A new tuition-free cap and gown. The business world can soon look forward to the expertise of University of the People graduates. In a recent interview in Financial Times, Shai Reshef announced that his nonprofit will offer two MBA degrees — one in management and one in entrepreneurship. Which is not too shabby for a tuition-free school whose students pay only for their exams. (Watch Shai's TED Talk, "An ultra-low-cost college degree.")
Did you hear the one about the frog? When actor Wil Wheaton gave us the Twitter shout-out below, we found ourselves with a bit of a frog in our throat.
Have a news item to share? Write us at blog@ted.com and you may see it included in this weekly round-up.