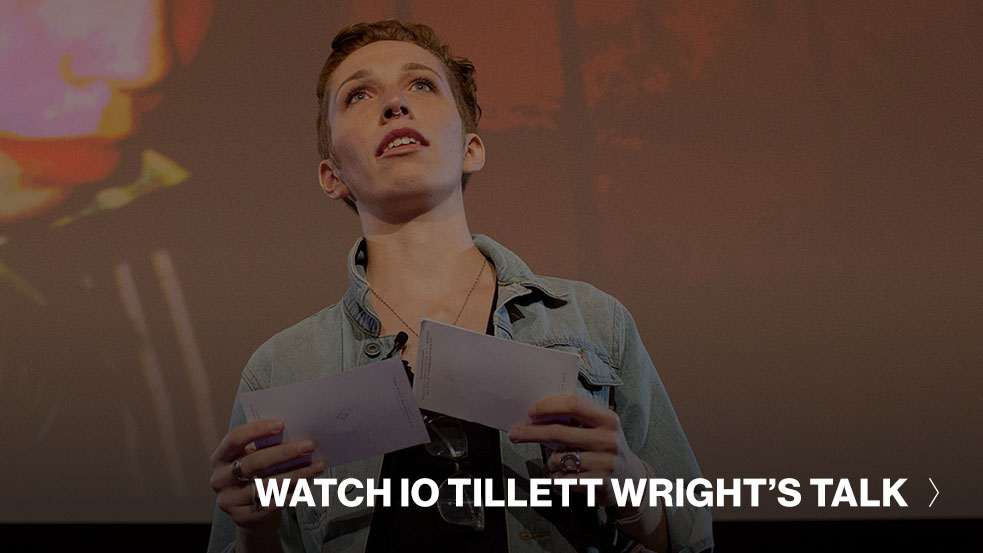 The TED community has been busy in the past week. Below, a few TEDsters with news to share.
Accepting people for who they say they are. In a knockout new video for The What's Underneath Project, iO Tillett Wright shared her journey of gender and self-discovery, taking off a single article of clothing with each vulnerable story of bravery in the midst of confusion. She admits that she still faces challenges in a society whose idea of gender is so harshly binary, "There's no time of the day, if I'm in public, where there isn't somebody trying to figure out what I am. And it's exhausting." However, whether through her writing or an expansive photography essay project, she still encourages others to engage with the LGBTQ community with the same consideration that her parents did with her, "The one thing that they always got unequivocally right was that they accepted me for who I said that I was." (Watch iO Tillett Wright's TED Talk, "Fifty shades of gay.")
When a "wintry mix" isn't what it sounds like. If you think about it, the term "Wintry Mix" is so sweetly and deceptively alluring. In a New Yorker piece, Kathryn Schulz asserts that to someone unfamiliar with this meteorological event, it can evoke the sound of sleigh bells ringing on a cozy winter night. It can even sound a lot like a holiday party treat, complete with dark chocolate and dried cranberries. Ah, ignorance is bliss—until you move to a city where the true definition becomes reality, "It's a cold, wet, sharp, splashy, slush-creating, hypothermia-inducing abomination…" We're right there with you, Kathryn. (Watch Kathryn Schulz's TED Talk, "On being wrong.")
Health in a time of scarcity. For most of us, time is scarce. And scarcity, it turns out, can affect how healthy you are. In a recent RWJF Pioneering Ideas podcast, Sendhil Mullainathan talks about how a scarcity of time can lead us to categorize certain healthy behaviors as either urgent or non-urgent (and therefore skippable). The non-urgent behaviors, as you might guess, are often the preventative ones, such as going to the gym and having regular check-ups — which are exactly what could stave off urgent problems in the future. (Watch Sendhil Mullainathan's TED Talk, "Solving social problems with a nudge.")
Growing bones. TED Senior Fellow Nina Tandon and her company Epibone were featured in a CNN piece on "tech superheroes" who are revolutionizing their fields. Epibone uses a person's own stem cells to create bone grafts for skeletal reconstruction. Not only are these bone grafts almost defect-free, but they also speed up recovery time and thwart many of the complications that foreign body implants can bring. (Watch Nina Tandon's TED Talk, "Could tissue engineering mean personalized medicine?")
Kate Nichols wins a prestigious teaching fellowship. TED Fellow Kate Nichols was recently awarded the 2015 Richard Diebenkorn Teaching Fellowship at the San Francisco Art Institute. This fellowship allows artists to teach at the institute and pursue their own independent work. Kate, whose work blurs the lines between biology and art, says: "My hope is to do for the SFAI students what various teachers have done for me – provide a glimpse of the exciting possibilities that come from engaging with ideas embedded in materials and process." Congratulations, Kate!