Any dedicated educator can tell you: A teaching job extends far beyond the hours of the school day. Molding the minds of future leaders while simultaneously ferrying them across the rapids of childhood and adolescence — and dealing with the economics of the job — is a calling not for the faint of heart. Here are three solid reasons to give teachers the love and support they deserve.
1. Being a teacher is tough (just about everywhere)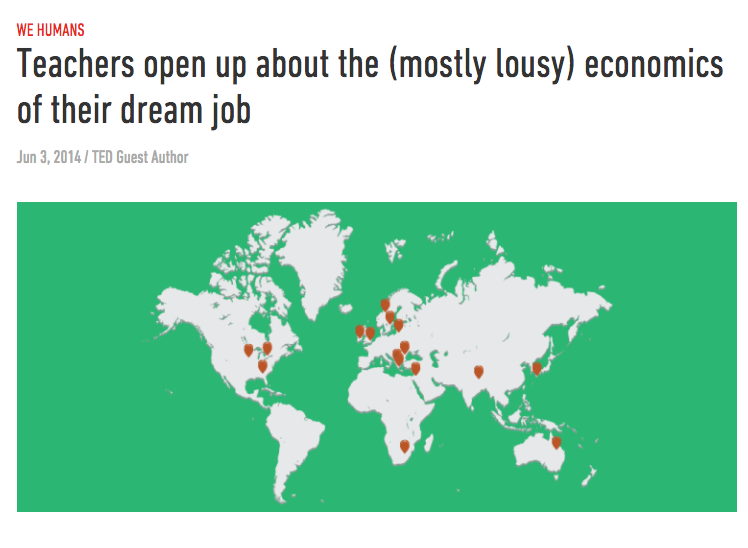 Loving teaching and being a teacher are two different, but not mutually exclusive things when money can play a deciding factor. Teachers from around the world struggle with similar financial issues, no matter their longitude or latitude. Through our TED-Ed network, we caught with up 17 public school teachers from Kildare to Kathmandu, Johannesburg to Oslo and beyond, on how their salary influences their livelihood.
"I took a pay cut to become a teacher. It is a calling, not a job. Teaching is a privilege that is not for the infirm of purpose or seekers of large pay-stub totals. If I didn't wake up before my alarm so I can get to school early, I'd be worried. The fact is that I do wake each morning excited for what the day holds for my classroom — the challenges as much as the triumphs — which for some can be a simple as reading a first sentence."

—  a 6th grade teacher from Markham, Canada

---

"I am happy but financially strapped. I don't eat at restaurants; I can't afford it. I am not a demanding guy, so my income seems sufficient for now, but I can't sustain my life on it."

— a computer teacher from Kathmandu, Nepal

---

"Though I love my job, the stress that comes with it along with the stress of money problems sometimes makes me consider leaving, even though I don't think I would feel as fulfilled as I do right now. We scrape by, and make the best of what we have, and we are happy for now."

— an elementary school music teacher from Georgia, United States
Many teach for love of education, to shape the minds of the coming generations; not for the love of money.
2. Educators don't just teach, they manage a flurry of feelings
As kids age into their late teens, they simultaneously embark on an emotional journey that often plays out during school hours. Heartbreak, arguments with friends, troubled home life, struggles with mental health and schoolwork, never-before-experienced emotions, and numerous other factors typically crop up during and in-between classes. Without a parent or guardian at hand, it's left to the teachers and school staff to tend to the emotional well-being of students.
Amid administrative duties, endless grading and planning lessons that may forever impact the students they teach, educators must manage a room full of budding young adults who aren't always ready to sit quietly and be taught. Patience and consideration is tested on a daily basis, no matter how much love a teacher has for their craft and their students. Stress is inevitable in any job, of course. But there's opportunity for a special, haunting stress to form — one born from the knowledge that the future's sitting just feet from the chalkboard, in its most formative years; to not acknowledge these demands, within limits, is to not recognize teachers as human beings first.
In addition to all of this, some believe educators should start teaching emotions in grade school. The RULER program, which is used in over a thousand schools in the US and abroad, is currently one of the most prominent tools for teaching emotions that breaks down the skill into five convenient steps:
Recognizing emotions in oneself and others

Understanding the causes and consequences of emotions

Labeling emotional experiences with an accurate and diverse vocabulary

Expressing and

Regulating emotions in ways that promote growth
Educator Nadia Lopez (TED Talk: Why open a school? To close a prison)  has her own tips for dealing with emotions that've already begun to bubble over. Lopez opened Mott Hall Bridges Academy in Brooklyn, New York (you may recognize the name from Humans of New York), and she did so with a simple goal: for her school to be a haven and guiding light for young scholars. As principal, she dedicates her life to what she sees in the future of each of her students. Sometimes, that means acting as the emotional bridge or traffic control as kids learn about not just what they should know, but more about who they are and what they stand for.
Lopez shares some of her favorite ways to dial down conflict with administrators, her scholars and staff — applicable in situations far beyond the classroom — broken down into 6 bite-sized tips.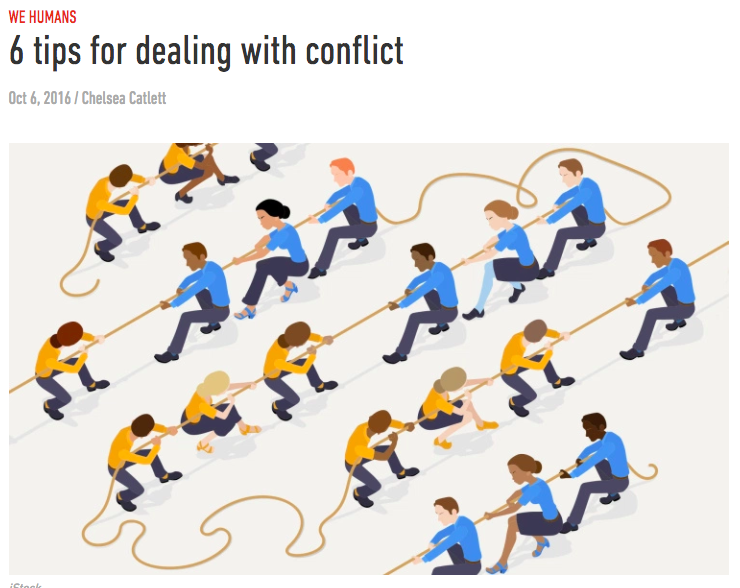 Be vulnerable. Though it may seem counterintuitive, being open and honest with your team during challenging times demonstrates a sense of trust that can develop into mutual respect.
Be aware. Stop and ask, "Why isn't this working?"
Center yourself. Being calm is so important that Lopez tries to spend at least 15 minutes each day enjoying uninterrupted silence.
Manage mediation. No yelling, wait to speak your turn, respect a person's turn to explain their side.
Listen deeply and actively. In tense discussions, it's important to acknowledge the feelings of each party involved and use reflective language to show that they've been heard.
Acknowledge, respect and thank. Repeat. A simple email, text or brief handwritten (ideally, hand-delivered) note has the power to touch deeply and stave away challenging occurrences.
3. Yes, teachers help kids, but sometimes they need help too
Teachers often spend hundreds of dollars on school supplies over the course of a school year. There are many options that allow parents and other charitable individuals to support classrooms near and far. Organizations like Donors Choose allow any interested party to choose an inspiring project and donate any amount.
Or, you can always take part in chiseling down fees in your own backyard.
A cool thing you can do today is try to find out which of your local schools have kids with overdue lunch accounts and pay them off.

— Ashley C. Ford (@iSmashFizzle) December 6, 2016
If you're interested in doing more, here's a nice list of other ways you can help you educators, if time and/or resources are available.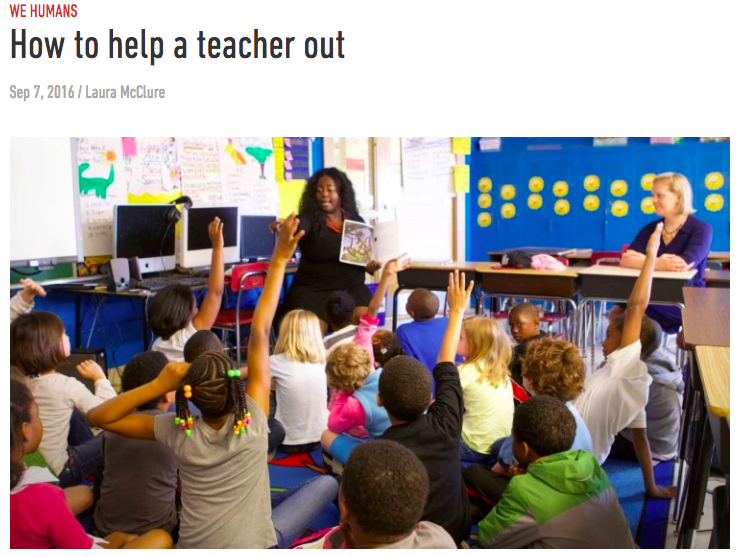 Let's be honest, most people have at least one story about their favorite teacher that's left a lasting impression, shaped a lifelong interest, or helped them get through a tough time. That educator's compassion and dedication may have even brought you to where you are now. Love is a main ingredient in what makes those memories stick — one that helped principal Linda Cliatt-Wayman (TED Talk: How to fix a broken school? Lead fearlessly, love hard) successfully turn around three schools.
As she says to her students everyday and a mantra for many educators to their kids: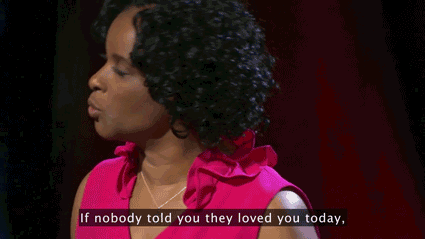 Check out the TED-Ed blog for more education-based love and let's celebrate educators!