More charmingly referred to as a garbage fire that just keeps burning, 2017 has been a tough, relentless year of tragedy and strife. As we approach the holiday season, it's important to connect and reconnect with those you love and want in your life. So, in these last few weeks of the year, here are a few ways to focus on building and honoring the meaningful relationships in your life.
1. Do some emotional housekeeping
Before you get into the emotional trenches with anyone (or walk into a house full of people you don't agree with), check in with yourself. How you engage with your inner world drives everything from your ability to lead and moderate your mood, to your quality of sleep. Be compassionate and understanding of where you are in your life, internally and externally.
Psychologist Guy Winch makes a compelling case to practice emotional hygiene — taking care of our emotions, our minds, with the same diligence we take care of our bodies.
"We sustain psychological injuries even more often than we do physical ones, injuries like failure or rejection or loneliness. And they can also get worse if we ignore them, and they can impact our lives in dramatic ways," he says. "And yet, even though there are scientifically proven techniques we could use to treat these kinds of psychological injuries, we don't. It doesn't even occur to us that we should. 'Oh, you're feeling depressed? Just shake it off; it's all in your head. Can you imagine saying that to somebody with a broken leg: 'Oh, just walk it off; it's all in your leg.'"
In his article, 7 ways to practice emotional first aid, Winch lays out useful ways to reboot and fortify your emotional health:
Pay attention to emotional pain — recognize it when it happens and work to treat it before it feels all-encompassing. The body evolved the sensation of physical pain to alert us that something is wrong and we need to address it. The same is true for emotional pain. If a rejection, failure or bad mood is not getting better, it means you've sustained a psychological wound and you need to treat it. For example, loneliness can be devastatingly damaging to your psychological and physical health, so when you or your friend or loved one is feeling socially or emotionally isolated, you need to take action.
Monitor and protect your self-esteem. When you feel like putting yourself down, take a moment to be compassionate to yourself.Self-esteem is like an emotional immune system that buffers you from emotional pain and strengthens your emotional resilience. As such, it is very important to monitor it and avoid putting yourself down, particularly when you are already hurting. One way to "heal" damaged self-esteem is to practice self-compassion. When you're feeling critical of yourself, do the following exercise: imagine a dear friend is feeling bad about him or herself for similar reasons and write an email expressing compassion and support. Then read the email. Those are the messages you should be giving yourself.
Find meaning in loss. Loss is a part of life, but it can scar us and keep us from moving forward if we don't treat the emotional wounds it creates — and the holidays are normally a time when these wounds become sensitive or even reopen completely. If sufficient time has passed and you're still struggling to move forward after a loss, you need to introduce a new way of thinking about it. Specifically, the most important thing you can do to ease your pain and recover is to find meaning in the loss and derive purpose from it. It might be hard, but think of what you might have gained from the loss (for instance, "I lost my spouse but I've become much closer to my kids"). Sometimes, being rejected by your friends and/or family also feels like loss. Consider how you might gain or help others gain a new appreciation for life, or imagine the changes you could make that will help you live a life more aligned with your values and purpose.
Learn what treatments for emotional wounds work for you. Pay attention to yourself and learn how you, personally, deal with common emotional wounds. For instance, do you shrug them off, get really upset but recover quickly, get upset and recover slowly, squelch your feelings, or …? Use this analysis to help yourself understand which emotional first aid treatments work best for you in various situations (just as you would identify which of the many pain relievers on the shelves works best for you). The same goes for building emotional resilience. Try out various techniques and figure out which are easiest for you to implement and which tend to be most effective for you. But mostly, get into the habit of taking note of your psychological health on a regular basis — and especially after a stressful, difficult, or emotionally painful situation.
Yes, practicing emotional hygiene takes a little time and effort, but it will seriously elevate your entire quality of life, the good doctor promises.
2. Sit down and have a chat
Friends are one thing; family, on the other hand, can be an entirely different (and potentially more stressful) situation. More than likely, it's possible that you'll get caught in a discussion that you don't want to be a part of, or a seemingly harmless conversation that may take a frustrating turn.
There's no reason to reinvent the conversation. But it's useful to understand how to expertly pivot a talk between you and another person.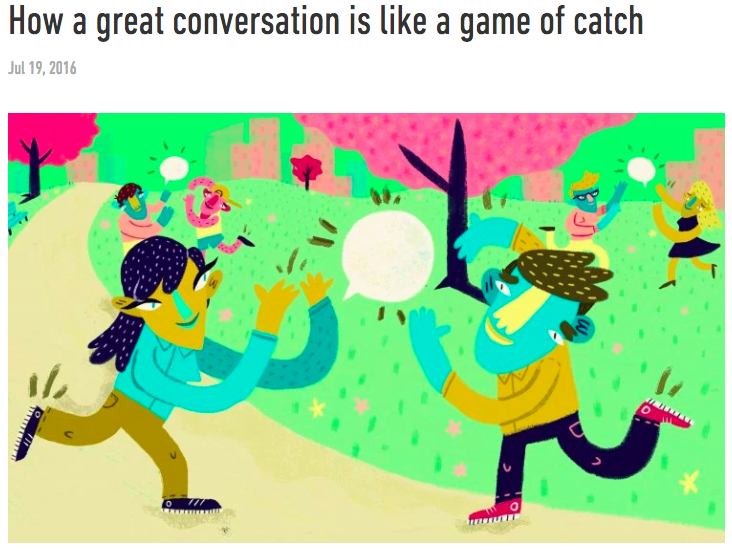 Radio host Celeste Headlee (TED Talk: 10 ways to have a better conversation) interviews people for her day job. As such, she accrued a helpful set of strategies and rules to follow when a discussion doesn't go quite as planned. Check out her article (above) for insights on what to do when:
You want to go beyond small talk to have a meaningful conversation
An awkward silence happens and you don't know what to say next
It seems like the other person isn't listening
You start, or another person, starts a conversation that might end in an argument
You unintentionally offend someone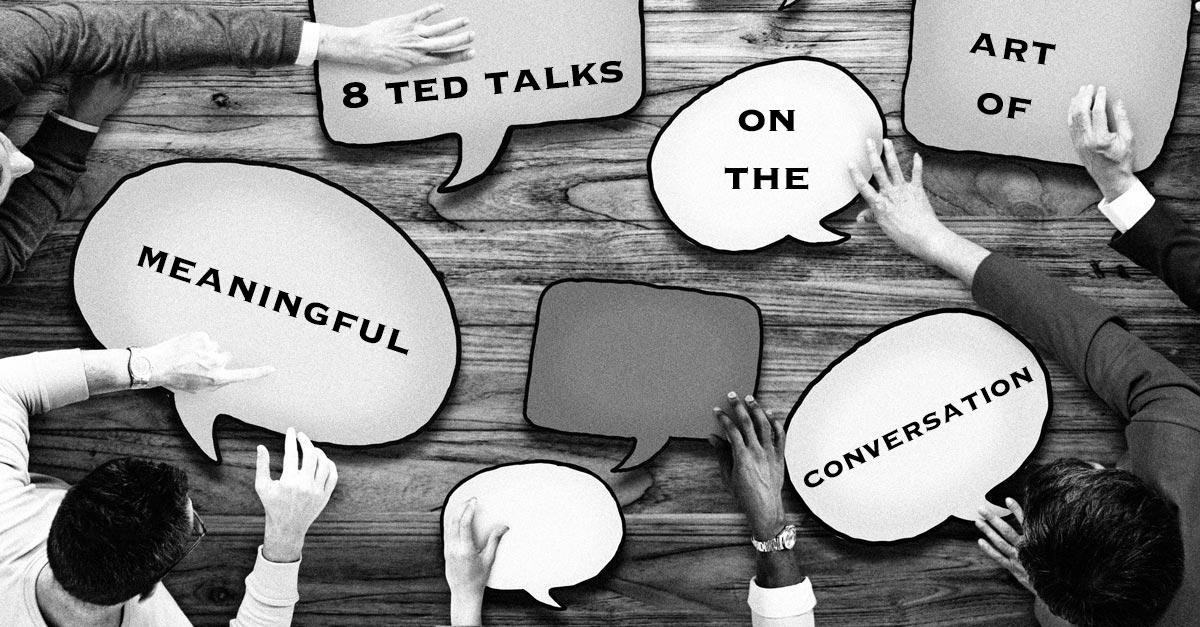 3. Make new memories while resurfacing old (good) ones
One of the best parts of getting everyone together for holidays or similar events is reminiscing, gathering around and talking about when your grandmother was young or that funny thing your cousin did when he was seven that no one is quite ready to let go of just yet. Resurfacing those moments everyone can enjoy, in one way or another, is a great way to fortify existing bonds and feel closer to loved ones. Who knows, from these stories, you may uncover ones never heard before.
Storycorps, a nonprofit whose founder, Dave Isay, won the 2015 TED Prize, is dedicated to preserving humanity's cultural history through storytelling and has an expansive collection of great questions to ask just about anyone.
These questions are great for really digging into memories that are both cherished and important to preserve for generations to come. It may be interesting, fascinating and potentially emotional to hear about a loved one's thoughts, feels and experiences from their lifetime.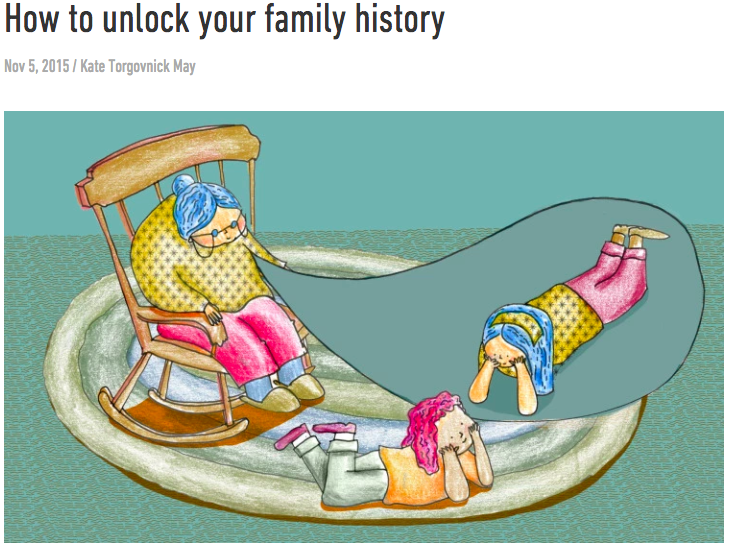 For a good place to start, you can download the Storycorps app to start recording from your phone, which will you walk you through a few simple instructions. Then, you can start with these questions to warm-up the conversation:
What was your childhood like?
Tell me about the traditions that have been passed down through our family. How did they get started?
What are your most vivid memories of school?
How did you meet your wife/husband/partner?
What piece of wisdom or advice would you like to share with future generations?
4. Or if you're far and can't make it home to visit your friends and family regularly — get old fashioned.
With the speed and ease of email and texting, it may be hard to see the point in sitting down with a pen and paper.
But being abroad or unable to afford a ticket home is a reality that can feel equal parts isolating and emotionally-exhausting, no matter how many Skype sessions you have. Letter-writing is a lasting way to connect with your loved ones, a tangible collection of your thoughts and feelings at a specific point in your life. If you can't always send home souvenirs, a thoughtful letter is a delightful, tangible reminder that you care — and helps the person on the receiving end just as much.
Lakshmi Pratury makes a beautiful case for letters to remember the people in your life, that they are a way to keep a person with you long after they've passed.
However, if family isn't so big in your life for one reason or another, or you'd like to send some thoughtful words to someone who may needs them — write a letter to a stranger. The concept may sound strange, but the holiday season is habitually a rough one for those without close connections.
Hannah Brencher's mother always wrote her letters. So when she felt herself bottom into depression after college, she did what felt natural — she wrote love letters and left them for strangers to find. The act has become a global initiative, The World Needs More Love Letters, which rushes handwritten letters to those in need of a boost. Brencher's website will set you up with how to format your letter, who to write it to, and even the return address to write on the envelope.
So, here are four ways to do for yourself, but there are several ways to give back during the holiday season and year-round. Happy holidays from the TED staff!