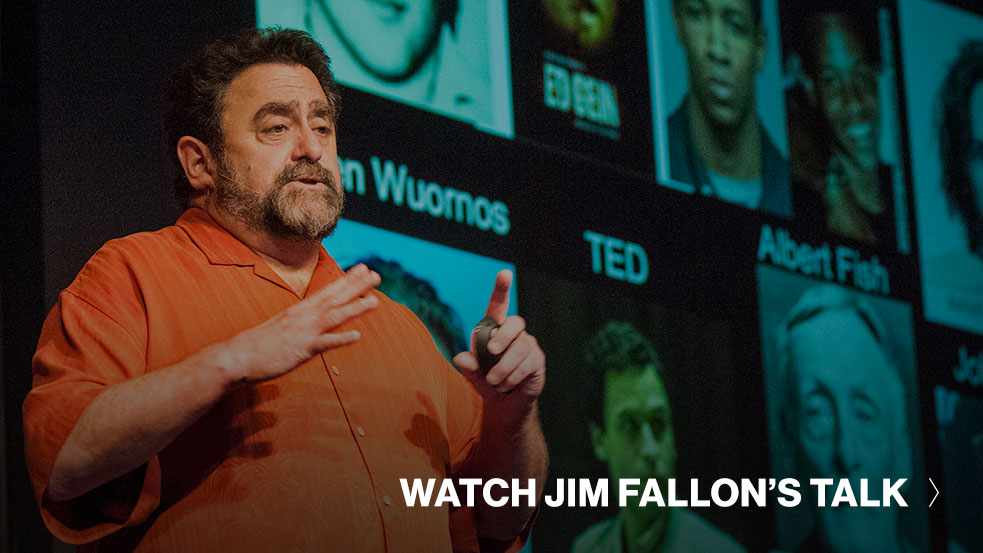 The stars of your favorite TED Talks have been busy over the past week. Below, a few newsy highlights.
Inside the mind of a murderer. What makes murderers do what they do? A BBC piece revealed that some murderers have reduced activity in their prefrontal cortex, which controls emotional impulses, and over-activity in their amygdala, which generates emotion. Also, if a person lacks a gene that produces MAOA, an enzyme involved in impulse control, they too are at a higher risk of violent behavior. Offering an additional perspective, neurologist Jim Fallon highlighted environmental factors, "If you've the high-risk form of the gene and you were abused early on in life, your chances of a life of crime are much higher." (Watch Jim's TED Talk, "Exploring the mind of a killer.")
"My disability is not a curse." Maysoon Zayid was featured in this week's episode of " In Deep Shift with Jonas Elrod" on OWN. She shares how, growing up in small-town New Jersey, she was never made to feel different for having cerebral palsy. Years later, she got her big break as a comedian when she landed a guest spot on Countdown with Keith Olbermann — and faced the harsh reality of cyberbullying, "There were people saying that I was disgusting, distracting…that they couldn't even watch me." To cope, she leaned on encouragement from her father, "He was the one who taught me that my disability's not a curse. It's a gift from God." (Watch Maysoon's TED Talk, "I got 99 problems…palsy is just one.")
Stop treating soil like dirt. We can't feed ourselves without it, and yet soil destruction is rampant worldwide. In a piece for The Guardian, George Monbiot argues that there are many farms where contractors "rip their fields to shreds for the sake of a quick profit." We are losing agricultural land at an alarming rate — nearly 12 million hectares a year. Over 90 percent of our food is grown in soil. Thus, the challenge of protecting one of our most precious resources is more important than ever. (Watch George's talk, "For more wonder, rewild the world.")
War's lasting impact. In 2011, photographer Giles Duley set off to document the lasting impacts of war, years after peace treaties were signed. After a tragic accident in Afghanistan put his project on hold, he is now traveling to 14 countries to finish "Legacy of War."  In an interview with Time, he shared how he is capturing the poignant effects of Agent Orange in Vietnam, of sexual violence in the DRC — places where "whole generations of civilians have been traumatized by conflict." His work shines a light on the trauma that can endure, even decades later. (Watch Giles' talk, "When the reporter becomes the story.")
A government for the people, even in the 21st century. Code for America released its 2014 annual report, where founder Jennifer Pahlka reflects on progress made: "I believe government can work for the people, by the people, in the 21st century. Now, five years in, we've seen what this remarkable community is capable of." Going forward, she stresses that with the help of innovative technology, governments can truly work for everyone, including families applying for food assistance and budding business owners trying to secure a permit. (Watch Jennifer's talk, "Coding a better government.")
Ethics and an uncensored pursuit of truth. Historian Alice Dreger released a new book this month called Galileo's Middle Finger. Exploring the world of scientific controversy, the book makes a case for an uncensored search for truth that still upholds ethics and patients' rights.  Much of the book uses Dreger's own work researching intersex individuals as a case study. (Watch Alice's talk, "Is anatomy destiny?")
Are our lifestyles contributing to human evolution? This month, Juan Enriquez and co-author Steve Gullens release a new book called Evolving Ourselves. It takes a deeper look at how our lifestyle, amid increasing life expectancies and rising rates of conditions such as allergies and obesity, may affect not only our children, but many generations after. What does it mean for human evolution? What would Darwin say about all of this? (Watch Juan's talk, "Will our kids be a different species.")
Data v. Ebola. This week, global health expert Hans Rosling gave a presentation on Ebola for the BBC World Service. Marked by impressive visualizations, he tracked the start and spread of the disease through West African countries such as Guinea, Sierra Leone and Liberia. The outbreak began with a few scattered cases, then catapulted into catastrophe when it reached urban slums. He also highlighted the heroic collaborations between local medical doctors and international volunteers, using data to fight a rampant virus, even in the face of frequent electricity blackouts: "What was lacking in technology was added in motivation." (Watch Hans' talk, "Insights on HIV, in stunning data visuals".)
My space twin. On Friday, astronaut Scott Kelly will head up to the International Space Station to spend almost a year in space, while his identical twin brother, astronaut Mark Kelly, stays on Earth. They're the subject of a fascinating experiment to study the effects of space on the human body. Mark is the husband of former US Rep. Gabby Giffords, and together they gave a moving talk at TED2014: Be passionate. Be courageous. Be your best.
Have a news item to share? Write us at blog@ted.com and you may see it included in this weekly round-up.