Photographer Angélica Dass captures some of humanity's truest colors through her portrait project Humanae, a catalogue of human skin color displayed as a simple, captivating collage of Pantone portraits that reflects the deepest shades of brown and black, to the lighter tones of white, pink and everything in between. For Dass, Humanae is more than an expansive exhibit, but a thought-provoking educational tool meant to prompt a dialogue on how we see each other and the boundaries we set around race, ethnicity and identity.
At the time of her TED Talk in early 2016, Dass had traveled to 13 countries and photographed more than 3,000 people. Since her talk almost a year ago, she continues to share her work with the world as it travels the globe and continues to spark those necessary conversations.

Where in the world has Humanae been? Scroll to find out some of the places it's popped up.
February 2016: Daelim Museum, in Seoul, South Korea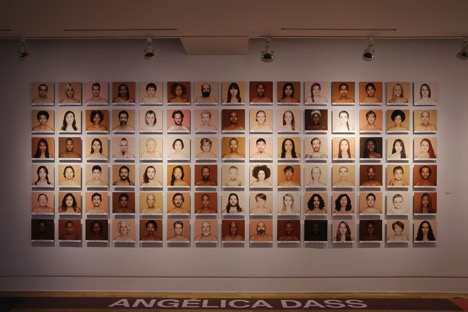 Humanae was part of the Daelim Museum's "Color Your Life," which visually examined how the functions of color and space can re-illuminate the hidden aesthetics of everyday life. The exhibition was divided into five sections: Color is everywhere, Color meets material (glass, leather, fabric, metal), Color challenges design, Color completes furniture and Color paints space — with Dass' photo project cast in Color is everywhere.
March 2016: Uribitarte Promenade, in Bilbao, Spain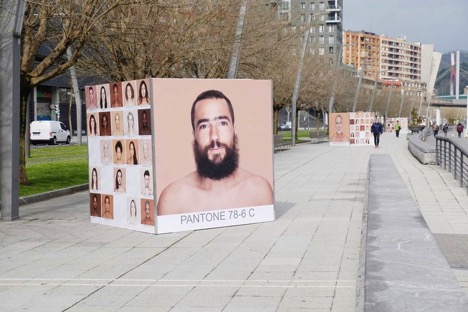 For this public installation, Dass collaborated with the Bilbao City Council and made an open call for citizens volunteers and neighbors of the port city to be featured in her photo series. The selected images formed a mosaic of local faces — six large cubes lining a pedestrian zone of the Uribitarte Promenade between the Pio Baroja station and the Zubizuri Bridge — that were revealed on March 21, 2016, the International Day against Racial Discrimination.
May 2016: Upho Urban Photo Festival in Malaga, Spain
The showing of Humanae at the Urban Photography Festival lined the plazas, streets and squares of the Lagunillas district for two weeks. Dass worked in the area for a time before the exhibit was shown, to add individuals as young as eight months and old as 80 to her growing chromatic collection.
June 2016: Photobiennale Θεσσαλονίκη, in Thessaloniki, Greece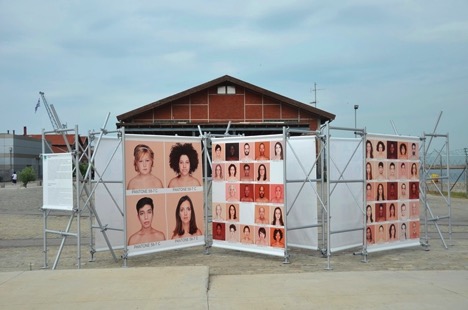 Every two years — for the past 20 years — the Thessaloniki Museum of Photography organizes an International Photography Festival, also known as the PhotoBiennale. The museum partners with Urban Layers, an European public photography project co-funded by the Creative Europe Programme of the European Union that travels between art festivals throughout the continent, including UPHO Urban Photo Festival. Humanae was featured in Urban Layers' 2016 theme, Identity Flows, a concept that sought to capture what identity means through a "photographic crossroad of cultures at a crucial moment in the European Union's course," following the UK's historic exit from the EU.
July 2016: Museo della Scienza e della Tecnologia Leonardo da Vinci, in Milan, Italy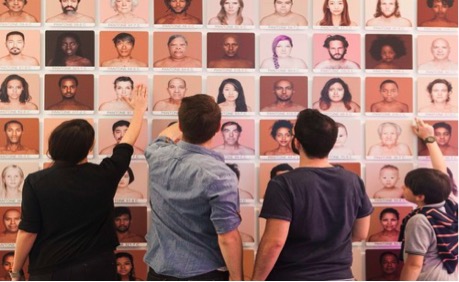 At the Leonardo da Vinci Museum of Science and Technology, Humanae was displayed in the genetics section. "Scientists want the same thing as I do, to show people that we are all the same race. There are things in our DNA which make us unique but in the end the things that construct us are the same. So these are two sides of the same idea," Dass explained to 52-Insights. "I have my way, making photos and talking about my family, and the scientists are doing it in their own way, sometimes using my work to show visually what they are proving with science.
August 2016: Data for Life 2016, in Jakarta, Indonesia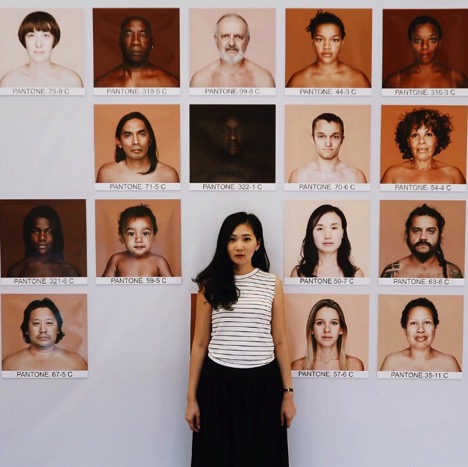 Humanae made an appearance in "Visualizing the Invisible," an art exhibition shown in conjunction with Data for Life 2016 — Indonesia's largest international conference on the influential power of big data and technology. The theme of the exhibit focused on humanity's relationship with numerical information, exploring the many roles art and other visual mediums can play in representing statistical data.
October 2016: Habitat III, UN Conference on Housing and Sustainable Urban Development, in Quito, Ecuador
A larger-than-life display of Humanae was featured at Habitat III, the UN Conference on Housing and Sustainable Urban Development. The cube, 12 x 12 meters (~39 x 39 feet), displayed enlarged versions of her photographs, with each of the 64 portraits averaging around 3 meters (~10 feet). According to the UN website, the conference convened "to reinvigorate the global commitment to sustainable urbanization, to focus on the implementation of a 'New Urban Agenda.'"
October 2016: Museon, in Den Haag, Holland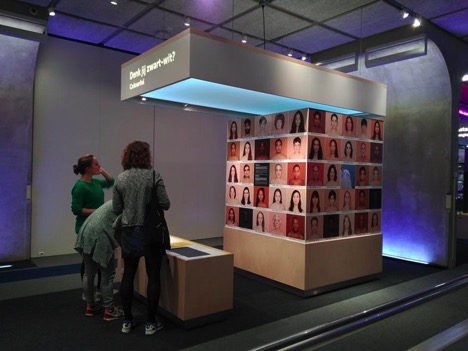 The Museon description for Humanae: "On this cube you see different portraits of people from many places around the world, including of course The Hague … But, the question is: Do you see who's from here and who is not? That's impossible based on physical appearance alone. Everybody has unique characteristics. We usually use the white, black, red or yellow colors to classify people, however, the images show that these color labels don't exist and, in fact, seem pretty absurd."
January 2017: World Economic Forum, in Davos, Switzerland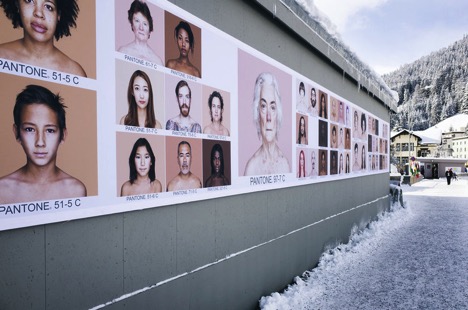 Dass was chosen as one of the 36 other cultural leaders (alongside TED Prize winners Sarah Parcak and Jamie Oliver) at the Davos World Economic Forum Annual Meeting "to speak truth to power and inspire more responsive and responsible leadership." The large-scale outdoor installation greeted conference attendees at Promenade Entrance heading toward the Congress Centre.