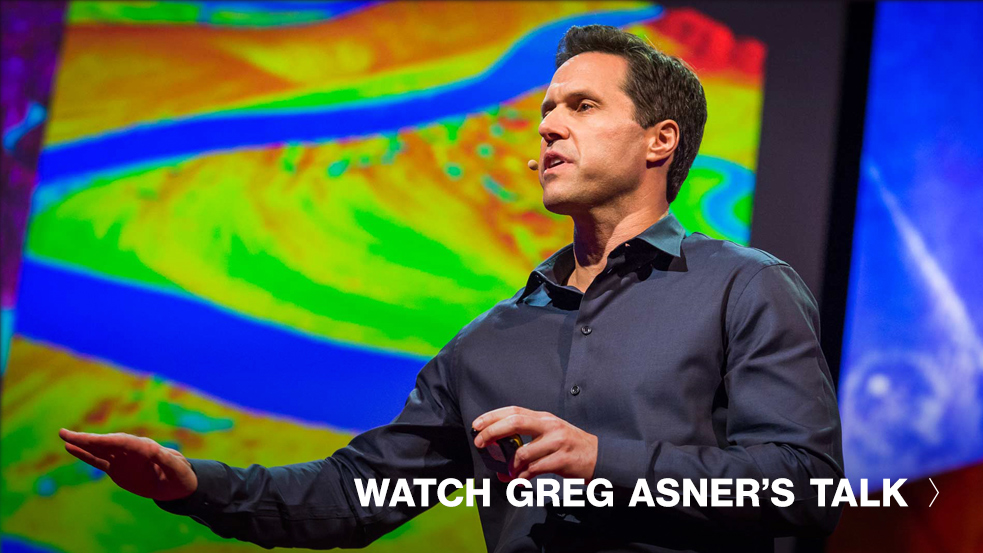 As usual, the TED community has lots of news to share this week. Below, some highlights.
A map to guide conservation. After almost eight years of airborne laser-guided imaging spectroscopy, Greg Asner has finally mapped all 300,000 square miles of the Peruvian Amazon. Highlighting forest types that are reasonably safe and those which are in danger, Asner's map offers conservationists a strategic way to apply future efforts of protection, though not all scientists remained convinced of its current benefits. For now, however, Asner remains committed to his approach, with current plans to modify his technology for eventual orbit. "[Once in orbit], we can map the changing biodiversity of the planet every month. That's what we need to manage our extinction crisis." (Watch Greg's TED Talk)
A tree-like pavilion for London. Architect Francis Kéré, a Burkina Faso native known for his use of local building materials like clay, will construct the 2017 Serpentine Pavilion in London, the first African to do so. Kéré's inspiration for the pavilion's design is a tree, which he describes as the most important place in his village because it is where people gathered as a community. Each year, the Serpentine Galleries commission a leading architect to build a temporary summer pavilion; previous architects include fellow TEDsters Bjarke Ingels and Frank Gehry. (Watch Francis' TED Talk, Bjarke's TED Talk, and Frank's TED Talk)
The ICIJ goes independent. Less than a year after publishing the largest investigation in journalism history, known as the Panama Papers, the International Consortium of Investigative Journalists (ICIJ) announced in February that they were breaking away from the Center for Public Integrity, which founded ICIJ in 1997. Under the continued leadership of Gerard Ryle, ICIJ will become a fully independent nonprofit news organization. (Watch Gerard's TED Talk)
A virtual forest aids a real one. Under the direction of Honor Harger, Singapore's ArtScience Museum launched an interactive exhibit dedicated to rainforest conservation in Southeast Asia. The show, titled Into the Wild: An Immersive Virtual Adventure, creates over 1,000 square meters of virtual rainforest in the museum's public spaces, which users can explore with their smartphones. The exhibit features a parallel with reality: for every virtual tree planted (and accompanied by a pledge to WWF), a real tree will be planted in a rainforest in Indonesia. (Watch Honor's TED Talk)
New inductees in the Women's Hall of Fame. Autism and livestock advocate Temple Grandin and actor Aimee Mullins are two of the ten women selected to be inducted into the National Women's Hall of Fame 2017 class. The group will meet on September 16 during a ceremony in New York's Seneca Falls. (Watch Aimee's TED Talk and Temple's TED Talk)
The race to explore the deep ocean. In December 2015, Peter Diamandis' XPrize Foundation announced the Shell Ocean Discovery XPrize, a $7 million global competition designed to push exploration and mapping of the ocean floor. On February 16, the foundation announced the prize's 21 semifinalists, a group that includes everyone from middle and high school students to maker-movement enthusiasts to professionals in the field. The next hurdle for the semifinalists? The first test of their technology, where they will have just 16 hours to map at least 20% of the 500-square kilometer competition area at a depth of 2,000 meters and produce a high-resolution map. (Watch Peter's TED Talk)
An iconic album reimagined. Released two days before his death, David Bowie's final album, Blackstar, is the unlikely choice for a classical reimagining. MIT professor Evan Ziporyn and composer Jamshied Sharifi recast the album in full for cellist Maya Beiser and the Ambient Orchestra. The arrangement premiered March 3 at MIT's Kresge Auditorium. (Watch Maya's TED Talk)
Two world premieres at Tribeca. Two TED speakers have documentaries premiering at the Tribeca Film Festival in April 2017. Journalist and filmmaker Sebastian Junger's documentary Hell on Earth, directed with Nick Quested, chronicles Syria's descent into harrowing civil war. Surf photographer Chris Burkard's documentary Under an Arctic Sky follows six adventurous surfers who set sail along the frozen shores of Iceland in the midst of the worst storm the country has seen in twenty-five years. (Watch Sebastian's TED Talk and Chris' TED Talk)
Have a news item to share? Write us at contact@ted.com and you may see it included in this weekly round-up.