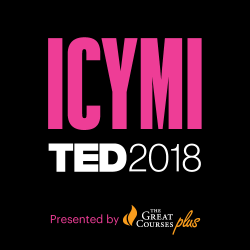 Three stellar main stage sessions of talks — including the launch of the Audacious Project — plus workshops, exhibits and TED Unplugged, a session of talks given by audience members, made for a jam-packed day 2 at TED2018.
Here are some of the themes we heard echoing through the opening day, as well as some highlights from around the conference venue in Vancouver.
Audacious explorers. Gwynne Shotwell was employee #7 at SpaceX and is now the company's president. In conversation with TED curator Chris Anderson, she discusses what inspired her to pursue a career in engineering, how she drove SpaceX's partnership with NASA, the company's race to be the next company to put people into orbit … and what it's like to work with Elon Musk — including the concept of "Elon time." She also detailed SpaceX's next big project: the BFR, or Big Falcon Rocket — which will be about two-and-a-half times the size of Falcon Heavy, the giant rocket they flew earlier this year (the one that delivered a Tesla roadster to space). BFR is what you need to take humanity to Mars, for sure — but it has a "residual capability," as Gywnne puts it: rocket travel here on Earth. The plan is to fly BFR like an aircraft, doing point-to-point travel, taking off from New York City or Vancouver and flying halfway across the globe in roughly 40 minutes. Anderson says incredulously: "This is never going to happen!" and Gwynne shoots back: "Oh no, it's definitely going to happen" — and within a decade. While SpaceX probes the cosmos, Heidi M. Sosik is exploring another equally alien place: the twilight zone in the deep ocean. In the Audacious Project session this evening, Sosik whisks us this "otherworldly realm," which sits between 200 and 1,000 meters below the surface. It's believed to be home to a million new species and may have more biomass of fish than the rest of the ocean combined. But scientists don't know, because it just hasn't been explored. She shares a bold vision: an unprecedented exploration of the twilight zone, leveraging Woods Hole Oceanographic Institution's incredible ability to develop technology for this purpose. The findings will be stunning, says Sosik. "This is not just a journey for scientists," she says. "It is for all of us."
Can we save democracy? Historian and author Yuval Noah Harari joins TED2018 as a hologram from Tel Aviv, telling us about the rise of fascism and nationalism — and the difference between the two. "The greatest danger that now faces liberal democracy is that the revolution in information technology will make dictatorships more efficient than democracies," Harari says. With the rise of AI, centralized data processing could give dictatorships a critical advantage over relatively decentralized democracies. What can we do to prevent this possibility? If you're an engineer, find ways to prevent too much data from being concentrated in too few hands, Harari suggests. And non-engineers should think about how to avoid being manipulated by those who control their data. "It's the responsibility of all of us to get to know our weaknesses, and make sure they don't become weapons in the hands of enemies of democracy," he says. For a different take on how to save democracy, MIT physics professor César Hidalgo highlights a fundamental weakness with representative democracy: that it's representative, dependent on the participation of people who can be manipulated, act inefficiently or simply not show up at the polls. His radical solution: what if scientists could create an AI that votes for you? The idea is, once you've trained your AI and validated a few of the decisions it makes for you, you could leave it on autopilot, voting and advocating for you … or you could choose to approve every decision it suggests. It's easy to poke holes in his idea, but Hidalgo believes it's worth trying out on a small scale. His bottom line: "Democracy has a very bad user interface. If you can improve the user interface, you might be able to use it more."
Addressing big problems — one individual at a time. With creativity and determination, three speakers from the Audacious Project session are making huge changes in people's lives: restoring freedom, preventing blindness and guiding a public health and social movement. At any time, nearly half a million Americans are incarcerated even though they haven't been convicted of a crime. Their offense: "They cannot afford to pay the price of their freedom, and that price is called bail," says Bronx public defender Robin Steinberg. Ten years ago, Steinberg launched The Bronx Freedom Fund, which provides bail so that defendants are able to fight their cases from their home, not jail. So far, 96 percent of those they've assisted have returned the bail money, and only 2 percent were convicted of crimes. Now, with The Bail Project, her plan is to expand to the model that worked in the Bronx to 40 sites across the United States and bail out 160,000 people over the next five years, amounting to what Steinberg calls "one of the largest decarceration programs in the US." Sightsavers' Caroline Harper is concentrating on another vital human need: vision. Two million people around the world are blind or visually impaired due to trachoma, a painful and pernicious bacterial eye disease; 200 million more are at risk. There is good news: physicians and public-health officials have long known how to treat it, using a simple surgical procedure, antibiotics, face-washing and better sanitary and living conditions. Her organization's goal is to eliminate the disease from 12 nations in Africa and completely wipe it out of the Americas and the Pacific. T. Morgan Dixon and Vanessa Garrison first spoke about their organization, GirlTrek, at TED2017, and they've returned to report on their progress and their ambitions. More than half of all Black women in the US are estimated to be obese. which puts them at increased risk of heart disease and other health problems. With the help of GirlTrek organizers, Black women form neighborhood groups and come together to walk, learn about health and nutrition, and support each other. GirlTrek has already mobilized 100 US organizers, and they've gotten 100,000 women to lace on their sneakers and get moving. Now Dixon and Garrison want to catalyze an additional 10,000 organizers to rally 1 million women, culminating in a 2019 event called "Summer of Selma" that will combine activism, exercise and storytelling.
What machines are learning about us — and what we might not want them to know. Poppy Crum, chief scientist at Dolby Laboratories, poses a provocative question: Do we actually possess control over what other people see, know and understand about us? "Today's technology is starting to make it really easy to see the signals and tells that give us away," she says. In her work, she's found that we can learn a great deal about a person's internal state by pairing sensors with machine learning. For example, infrared thermal imaging can reveal changes in our stress level, how hard our brain is working, and whether we're fully engaged in what we're doing. To make her point, she gives attendees a quick fright by showing a startling clip from the horror film The Woman in Black. Using tubes embedded in the theater, she captures the CO2 in the room — and shows a real-time data visualization of the CO2 levels that pinpoint the moment the audience collectively jumped. What's even scarier than people and machines knowing how you're feeling without you wanting them to? Watching an interview of someone you trust only to discover later that everything — their expression, their words, the wrinkles on their face — was fake, a product of sophisticated algorithms. Researching this kind of work is the specialty of computer scientist Supasorn Suwajanakorn, who developed software that can create ultra-convincing digital fakes while at the University of Washington. The process uses an algorithm that crunches huge sets of visual data (both photos and video) in order to generate a 3D moving model; then small, believable details like subtle mannerisms and expressions are blended in to reconstruct a talking head in unsettlingly accurate detail. And technologist Dina Katabi shares her work developing a flat, iPad-sized device that can use wireless signals to detect all sorts of things about a person, such as our movements, breathing, heartbeat, and even our sleep — all without wearables. This type of device could transform healthcare, she suggests, but it doesn't take a big leap of imagination to see how it can used for more insidious applications. Technology already exists that could be integrated to prevent people from being monitored without their consent, explains Katabi, and and policy will also play an important role. "Hopefully, with the two of them, we can control any issues," she says.
What does progress look like? According to Oxford University economist Kate Raworth: a doughnut. Her idea: we should strive to move countries out of the hole — "the place where people are falling short on life's essentials" like food, water, healthcare and housing — and onto the doughnut itself. But we shouldn't move too far lest we end up on the doughnut's outside and bust through the planet's ecological limits. Ultimately, our economies need to become "regenerative and distributive by design," says Raworth. Meanwhile: "I want to avoid this silly carbon chauvinism idea that you can only be smart if you're made of meat," says MIT physicist Max Tegmark. Humanity has two options as we move closer to a world where artificially intelligent machines can do everything better and cheaper than we can. Either we can be complacent and not worry about the consequences as we build our technology, or we can be ambitious and envision a truly inspiring future, then figure out how to steer towards it. The smarter choice is clear, but to do that, we need to overhaul our attitudes. We currently function with a reactive "learning from mistakes" mindset; instead, we must be proactive as we develop powerful technology like nuclear weapons — because our first mistake may be our last. "I think that the essence of the age of amazement should lie in becoming not overpowered, but empowered by our technology," Tegmark says.
Gadgets that'll make your jaw drop. Queen of Shitty Robots Simone Giertz anchored Session 4 of TED2018 with a fun, heartfelt talk that featured her fleet of useless (but awesome) creations. Her YouTube channel dedicated to her wonderfully wacky creations features robots that chop vegetables, wake her up, cut hair and even apply lipstick, but these inventions rarely — if ever — succeed. What drives her to build such hapless robots? "It turns off that voice in your head that tells you that you know exactly how the world works. And maybe a toothbrush helmet isn't the answer, but at least you're asking the question." For a different take on our robotic future, Stanford University biomedical engineer Giada Gerboni shows us how we should look to nature to build better machines. Consider the octopus: it has no bones or stiff structures, allowing it to adapt to a huge variety of situations, and its tentacles to move in countless ways. Gerboni is now working on "robotic needle steering" — a flexible needle that could be used on minimally invasive procedures. For some gadgets a normal person might actually be able to get their hands on soon, engineer Rajiv Laroia (who invented much of the technology behind the LTE 4G wireless standard) presents the L16 — a camera made with 16 individual lenses that simultaneously capture a scene. The real magic, says Laroia, are its sophisticated computational and machine learning algorithms inside, which fuse all of the images together into a single 52-megapixel photo. And if you're sick of passwords (and identity theft) technology entrepreneur Melanie Shapiro introduces Token, a sleek wearable ring that holds all your identity data in one place. She shares a compelling demo video of users tapping their rings against laptops to log in, against cars to open the door and start the engine, and against subway turnstiles and grocery store scanners to pay.
A TED conference is way more than just talks. With 22 options for workshops, TEDsters stayed busy during breaks between sessions. Some highlights: Ken Lacovara showed off some Tyrannosaurus Rex blood; Sarah Kay taught attendees about ideation, creation, and presentation through poetry; Tara Lemmey taught attendees how to be emergency responders and save someone trapped under a fallen building/beam; Jean Oelwang, Cindy Mercer and Ellie Kanner presented on the art of meaningful partnerships, examining more than 50 historical partnerships to create a blueprint for successful and impactful partnerships — from business partners to romantic partners to family members; and David Kwong hosted another one of his puzzle hunts, with clues hidden all over the sprawling conference venue.
News from the loop. For the first time in North America, BMW i showcased an autonomous experience, offering TEDsters a chance to ride in a driverless car and imagine what a future without drivers might look like. Elsewhere, GenderFair quizzed attendees to find out how gender-equal their companies are; Intel showed off a quantum computer chip and an immersive experience featuring the movie Ready Player One; and The Void made its third TED appearance with an incredible Star Wars-themed, fully immersive VR experience. Marriott Hotels hosted a Facebook Live session with activist Emma González and Marjory Stoneman Douglas teacher (and TED speaker) Diane Wolk-Rogers. In conversation with podcaster Manoush Zomorodi, González and Wolk-Rogers discussed how students and teachers can learn from each other in the wake of the Parkland shooting.