Dame Stephanie Shirley had just a few hours to go before giving her talk at TEDWomen 2013. There was just one problem: she could hardly speak.
Shirley, a tech entrepreneur who founded a software company in the 1960s, had flown from London to San Francisco to speak at the conference. Her talk told the story of how she started her company, Freelance Programmers, in her dining room, and used the name "Steve" in business correspondence to buck the gender bias of the time. She planned to talk about how she pioneered flexible business practices to let a staff of mainly female software engineers work from home … and how her business was eventually valued at $3 billion. Shirley's rehearsal of the talk was flawless; staffers had goosebumps.
"I felt a bit poorly, but I attributed it to jet lag," said Shirley. "But when I woke up the next day — the day of the event — I realized I couldn't possibly go onstage."
Shirley had come down with laryngitis. She couldn't power through her talk; she needed to bow out. "I felt hugely disappointed," she said. "I hate to let people down."
The TEDWomen curation team needed a new speaker to fill her time slot, stat. They hoped for someone else who could talk about women in technology.
"Megan Smith — the vice president of Google X at the time and now CTO of the United States — happened to be an attendee at TEDWomen 2013," said content director Kelly Stoetzel. "While we were on a quest to figure out who would replace Dame Shirley onstage, we spoke with Megan, who was making a documentary about Dame Shirley's life and work. We mentioned that Dame Shirley had laryngitis. Megan offered to give a talk celebrating women pioneers in technology. It was just an obvious fit. We were very happy to get her onstage at the last minute."
Smith's talk gave a peek at her documentary about the many women who have — both quietly and boldly — had a hand in shaping technology, from the "first programmer in the world," Ada Lovelace, to Grace Hopper, who offered up the idea of debugging. (Watch Megan Smith's talk at TEDWomen 2013.) The audience loved it.
But Stoetzel wanted to find a way for Shirley to share her story. "We invited her back to speak at TED2014, but she was already booked the week of that conference," said Stoetzel. "So we invited her to speak a full year and a half later, at TED2015."
Sixteen months later, Shirley once again found herself practicing for TED. This time, the stakes felt even higher. "The tight timing scared me," she said. "My friends told me, 'They'll switch you off if you go over your time limit.'"
Shirley had given many talks, but she rarely had to memorize them — and she found it difficult to learn her talk by heart. As she practiced, she thought carefully about each word.
"I was aware that there was an unknown, future digital audience beyond the people in the room," Shirley said. "I wanted my talk to be meaningful everywhere, to people in Tanzania or Japan. I found that challenge stimulating. I aimed to use short sentences — nice, simple noun-verb-object sentences."
But one other feature of the TED Talk format had her stressed. "Everybody stands while they deliver their talk, which I knew I wouldn't be able to do," she said. "I sat on my kitchen stool — a step stool, and I thought to myself, 'I feel very comfortable here.' So I brought the stool with me on the plane from London to Vancouver."
Waiting in the wings of the TED2015 theater, Shirley felt confident knowing that her stool was waiting for her on stage. She walked out in a brightly patterned shirt and took a seat, folding her hands in her lap. She began to speak, calmly and measuredly. "When I wrote my memoirs…" And then she paused. She could tell that her voice was not echoing any further than the space in front of her face — her microphone had failed. So she tried again: "When I wrote my memoirs…"
No luck. She whispered, "Help, help." A tech team member checked her microphone and whispered to colleagues, as the audience waited. Shirley was directed her back to her stool one more time, but the problem persisted.
"Sorry folks," she said with enthusiasm, as TED curator Chris Anderson came back onstage and improvised while Shirley's microphone was switched. A few minutes later, after a short video, Anderson introduced her one final time: "Speaking of unstoppable women, once again, Dame Stephanie Shirley!"
The audience stood up, applauding. Shirley reemerged with a good-natured smile. "Now you do know how I'm going to start, but you don't know how I'm going to finish," she said. "When I wrote my memoirs," she began. And she, finally, delivered the rest of her talk.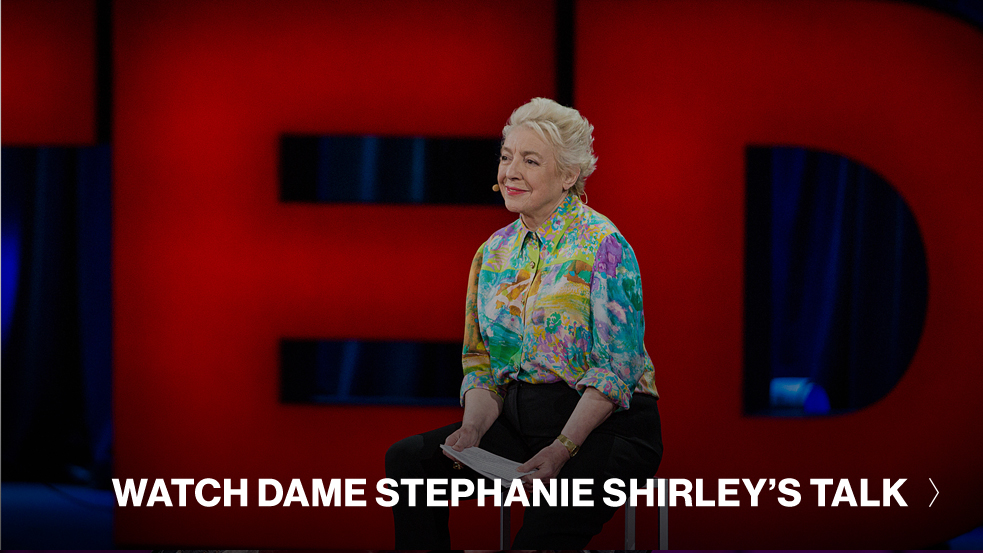 She talked about how her business cut through the male-dominated business world of its day and established many of the practices that have become standard in the tech world. The audience appreciated her sense of humor ("You can always tell ambitious women by the shape of our heads: They're flat on top for being patted patronizingly") and connected with her as she told the difficult story of her late son's autism and how she continues to fight for autism services in his name. As she finished her talk, the audience jumped to their feet, cheering loud for her.
"I was so grateful for the warmth of the audience," Shirley said. "It really helped."
As for her trusty stool? "It looked quite mod."
The microphone glitch was edited out of the final talk that appeared on TED.com. So far, Shirley's video has been viewed well over a million times.
In the months since TED2015, Dame Shirley has received messages of congratulations and requests for collaboration from people all over the world.
"My international profile has extended massively," she said. "I have received invites to speak from Brazil, India, Israel, Turkey and Australia. Most of them I can't accept, but it's very exciting."
While at TED2015, Dame Shirley met Jim and Marilyn Simons, directors of the Simons Foundation, which dedicates resources to autism research. They had spoken before the event, but meeting in person solidified their relationship. Shirley has a hunch it will be an enduring friendship.
Last month, Dame Shirley launched a think tank to develop a strategy for improving resources for autism in the United Kingdom by 2017. "That's going to keep me busy for the next three years," she said.
In addition to her philanthropy work, Shirley is excited that her memoir is being adapted into a film — it's in the very early stages. Who knows? Perhaps her TED saga will make the final cut.