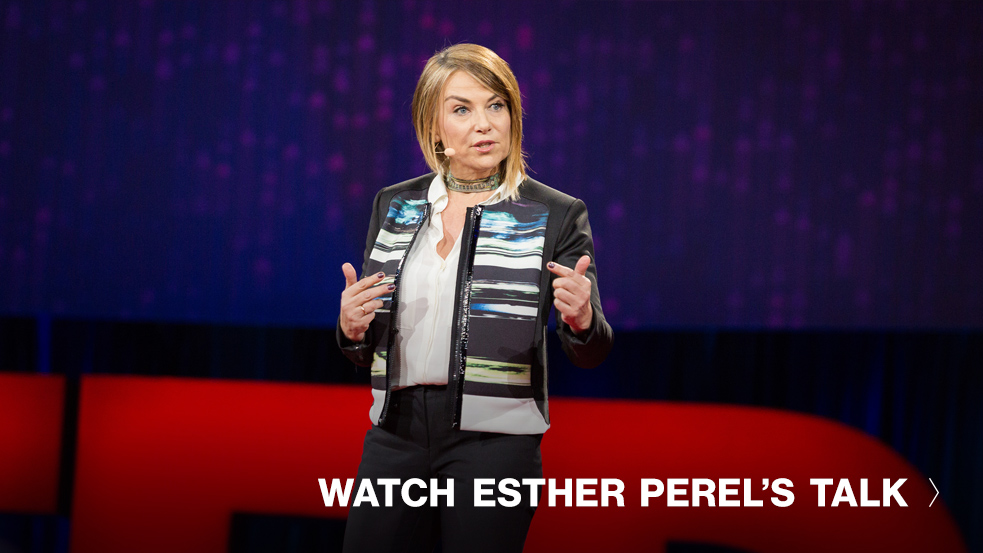 Behold, your recap of TED-related news:
The truth about couples. Ever wonder what goes on in couples therapy? You may want to tune in to Esther Perel's new podcast "Where Should We Begin?" Each episode invites the reader to listen to a real session with a real couple working out real issues, from a Christian couple bored with their sex life to a couple dealing with the aftermath of an affair, learning how to cope and communicate, express and excite. Perel hopes her audience will walk away with a sense of "truth" surrounding relationships — and maybe take away something for their own relationships. As she says: "You very quickly realize that you are standing in front of the mirror, and that the people that you are listening to are going to give you the words and the language for the conversations you want to have." The first four episodes of "Where Should We Begin?" are available on Audible, with new episodes added every Friday. (Watch Perel's TED Talk)
Three TEDsters join the Media Lab. MIT's Media Lab has chosen its Director's Fellows for 2017, inviting nine extraordinary people to spend two years working with each other, MIT faculty and students to move their work forward. Two of the new Fellows are TED speakers — Adam Foss and Jamila Raqib — and a third is a TED Fellow, activist Esra'a Al Shafei. In a press release, Media Lab Director (and fellow TED speaker) Joi Ito said the new crop of fellows "aligns with our mission to create a better future for all," with an emphasis on "civic engagement, social change, education, and creative disruption." (Watch Raqib's TED Talk)
The mystery of KIC 8462852 deepens. Tabby's Star, notorious for "dipping," is making headlines again with a dimming event that started in May. Astronomer Tabetha Boyajian, the star's namesake, has been trying to crack the mystery since the flickering was noticed in 2011. The star's dimming is erratic—sometimes losing up to 20 percent of its brightness—and has prompted a variety of potential explanations. Some say it's space debris, others say it's asteroids. Many blame aliens. Nobody knows for sure, still, but you can follow Boyajian on Twitter for updates. (Watch Boyajian's TED talk)
AI: friend or foe? The big fear with AI is that humanity will be replaced or overrun, but Nicholas Christakis has been entertaining an alternative view: how can AI complement human beings? In a new study conducted at Yale, Christakis experimented with human and AI interaction. Subjects worked with anonymous AI bots in a collaborative color-coordination game, and the bots were programmed with varying behavioral randomness — in other words, they made mistakes. Christakis' findings showed that even when paired with error-prone AI, human performance still improved. Groups solved problems 55.6% faster when paired with bots—particularly when faced with difficult problems. "The bots can help humans to help themselves," Christakis said. (Watch Christakis' TED Talk)
A bundle of news from TED architects. Alejandro Aravena's Chile-based design team, Elemental, won the competition to design the Art Mill, a new museum in Doha, Qatar. The museum site is now occupied by Qatar Flour Mills, and Elemental's design pays homage to the large grain silos it will replace. Meanwhile, The Shed, a new building in New York City designed by Liz Diller and David Rockwell, recently underwent testing. The building is designed in two parts: an eight-level tower and a teflon-based outer shell that can slide on runners over an adjacent plaza. The large shell moves using a gantry crane, and only requires the horsepower of a Toyota Prius.  When covering the plaza, the shell can house art exhibits and performances. Finally, Joshua Prince-Ramus' architecture firm, REX, got the nod to design a new performing arts center at Brown University. It will feature a large performance hall, smaller rehearsal spaces, and rooms for practice and instruction—as well as a lobby and cafe. (Watch Aravena's TED Talk, Diller's TED Talk, Rockwell's TED Talk, and Prince-Ramus' TED Talk)
Have a news item to share? Write us at contact@ted.com and you may see it included in this round-up.