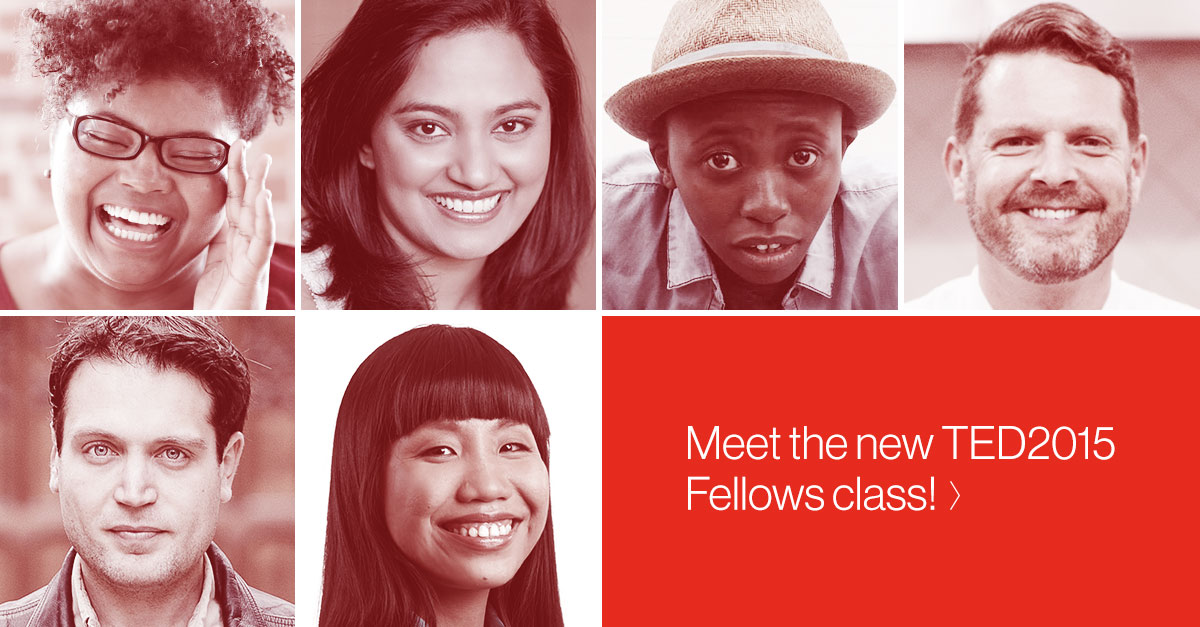 We are thrilled to announce the new class of Fellows for TED2015. These 21 game-changing thinkers represent 15 countries—including, for the first time in our program, Vietnam, Romania and Tunisia. They work across disciplines, at the forefront of their fields. They include a South African physicist using lasers to target HIV and cancer; a German/Moroccan paleontologist who discovered the first semi-aquatic dinosaur, the spinosaurus; a Vietnamese entrepreneur who is helping rice farmers use biowaste to earn a living growing mushrooms; and many more.
Below, meet the new group of Fellows who will join us at TED2015, March 16-20 in Vancouver.
Trevor Aaronson (USA)
An investigative journalist who reports on the FBI's misuse of informants in counterterrorism operations, Trevor asks the question: Is the United States catching terrorists or creating them?
Benedetta Berti (Israel + Italy)
A Middle East policy analyst, Benedetta researches political violence, focusing on issues of human security and conflict resolution.
Laura Boykin (USA + Australia)
Laura is a biologist who uses genomics and supercomputing to tackle food security in sub-Saharan Africa. She's especially interested in figuring out what to do about whiteflies, which are devastating local cassava crops, a staple food in many countries.
Camille A. Brown (USA)
Camille, a choreographer, explores and exposes cultural, gender and social-justice issues through contemporary dance, musical theater, arts education and community outreach.
Tal Danino (USA)
Tal is a bioengineer who uses genetically programmed bacteria to create a cancer diagnostic tool. After it is ingested, this bacteria changes the color of urine to signal the presence of a tumor in the body.
Jost Franko (Slovenia)
A 21-year-old documentary photographer who focuses on forgotten populations, Jost Franko is interested in the loss of traditional values in the modern world and the often-unseen consequences of conflict and war.
LaToya Ruby Frazier (USA)
LaToya uses photography to investigate issues like Rust Belt renewal, environmental justice, communal history and the line between private and public space. Her works often blur the lines between self-portraiture and documentary.
Tharanga Goonetilleke (Sri Lanka + USA)
A Juilliard-trained Sri Lankan opera singer, Tharanga has sung internationally — including with the New York City Opera and the Symphony Orchestra of Sri Lanka. She is committed to sparking love of opera in both South Asia and the United States.
David Hertz (Brazil)
A popular chef, David is the founder of Brazil's first socio-gastronomic organization, Gastromotiva, which brings culinary education to favela residents, to create employment and empower communities.
Jonathan Home (Switzerland)
Jonathan is a physicist working to build a quantum computer, attempting to achieve high-precision control of individual atoms in order to build up quantum systems, atom by atom.
Nizar Ibrahim (Germany + Morocco)
Paleontologist Nizar scours the Sahara Desert and Northern Africa for clues to what things were like there in the Cretaceous period. He has spearheaded the search for the semi-aquatic dinosaur spinosaurus.
Jedidah Isler (USA)
Jedidah is an astrophysicist who studies blazars — the hyperactive supermassive black holes at the center of massive galaxies. She is also working to make science, technology, engineering and math accessible to new communities.
Matt Kenyon (USA)
Matt uses sculpture and a wide range of media to explore the effects of global corporations, military-industrial complexes and the line between human and artificial life.
Danielle N Lee (USA)
This behavioral biologist researches the ecological and evolutionary behaviors of African giant pouched rats. A popular blogger for Scientific American, she uses hip hop to teach science.
Cosmin Mihaiu (Romania + UK)
The CEO and co-founder of MIRA Rehab, Cosmin has developed a software platform that engages patients in interactive, therapeutic games. The goal: to make physical rehabilitation fun.
Lerato Mokobe (South Africa)
Lerato is a 19-year-old slam poet who explores social injustice and gender identity issues through fast-flung words. She is the founder of Vocal Revolutionaries, a volunteer-run literary organization that empowers African youth.
Patience Mthunzi (South Africa)
A "biophotonics" physicist, Patience is working to discover medical applications of laser technology, including the targeted treatment of HIV and cancer.
Sarah Sandman (USA)
Sarah uses design to create social experiences that bring people together. Take for example, the Gift Cycle project, through which she helped neighboring communities exchange gifts of art.
eL Seed (Tunisia + France)
el Seed blends the modern art of graffiti with the ancient art of Arabic calligraphy, all with an eye to encouraging peaceful expression and social change.
Aomawa Shields (USA)
This astronomer and astrobiologist studies the climate and habitability of planets around low-mass stars. A classically trained actor, Aomawa also engages young girls in astronomy using theater and writing.
Trang Tran (Vietnam)
A social entrepreneur, Trang is the co-founder of Fargreen, which empowers local rice farmers to use biowaste to grow high quality mushrooms. The goal: reduce greenhouse gas emissions and improve livelihoods.
We're also excited to share our new class of Senior Fellows for TED2015. We honor our Senior Fellows with an additional two years of engagement in the TED community, offering continued support to their work while they in turn give back and mentor new Fellows and enrich the community as a whole. They perfectly embody the values of the TED Fellows program.
Negin Farsad (USA + Iran)
An Iranian-American stand-up comedian, Negin is the director of The Muslims Are Coming!, a film that follows Muslim-American comedians on the road as they perform, meet locals and counter Islamophobia. She's just finished her fourth film, 3rd Street Blackout, and is already working on a new one, as well as a book and a project to turn dilapidated phone booths in New York City into #NewStereotype generators.
Somi (Rwanda | Uganda + USA)
Somi is an East African soul-jazz vocalist and songwriter, as well as the founder of New Africa Live, a cultural space for contemporary African artists. She released her latest album, The Lagos Music Salon, on Sony Music and is working on producing the first Modern African Music & Arts Festival (MAMAfest) in New York City.
Christine Sun Kim (USA)
Christine uses the medium of sound through technology to investigate and rationalize her relationship with noise and spoken language. A Korean-American artist and educator, she is working on a number of new sound installations, as well as a new listening device in which your speed of walking affects the audio you hear.
David Lang (USA)
The co-founder of OpenROV, which makes low-cost, open-source underwater robots, David has created a community of DIY ocean explorers. He has just launched OpenExplorer, a platform for citizen-powered exploration and conservation.
Kristen Marhaver (USA + Curaçao)
Kristen is a coral reef biologist and science communicator based in Curaçao, who studies the reproductive biology of threatened Caribbean corals. She's currently developing bacterial probiotics, engineered settlement surfaces, and preservation methods for corals while continuing her advocacy work in marine conservation.
Ed Ou (Canada + Taiwan)
An award-winning Canadian documentary journalist, Ed focuses on stories from the Middle East, the former Soviet Union, Africa and the Americas. Recently he's covered unrest in Ukraine and Egypt, and is now working with indigenous groups in the Arctic, capturing their relationship with a shifting geopolitical landscape, food security and global warming.
Will Potter (USA)
Will covers the animal rights and environmental movements. An investigative journalist, he examines how whistleblowers and nonviolent protesters have come to be treated as "terrorists" in post-9/11 America. He's working on a project to use drones to document factory farms in defiance of ag-gag laws.
Safwat Saleem (Pakistan + USA)
A Pakistani graphic designer, filmmaker and artist, Safwat uses humor to tell stories of people (and creatures) who have the odds stacked against them. Safwat's work has recently gotten distribution in Europe, and he is now working on two major art installations exploring race and identity in America.
Shivani Siroya (USA + India)
Shivani is the Indian-American founder and CEO of InVenture, a mobile technology and data science company that upends the traditional credit-scoring system by putting power into the hands of consumers via their mobile phone. She is now working to launch and test a new application that instantly scores applicants and delivers real-time credit to individuals who lack access to formal financial services.
Christopher Soghoian (USA)
A privacy researcher and activist, Christopher focuses on government surveillance and cybersecurity. He is the Principal Technologist with the ACLU's Speech, Privacy and Technology Project.