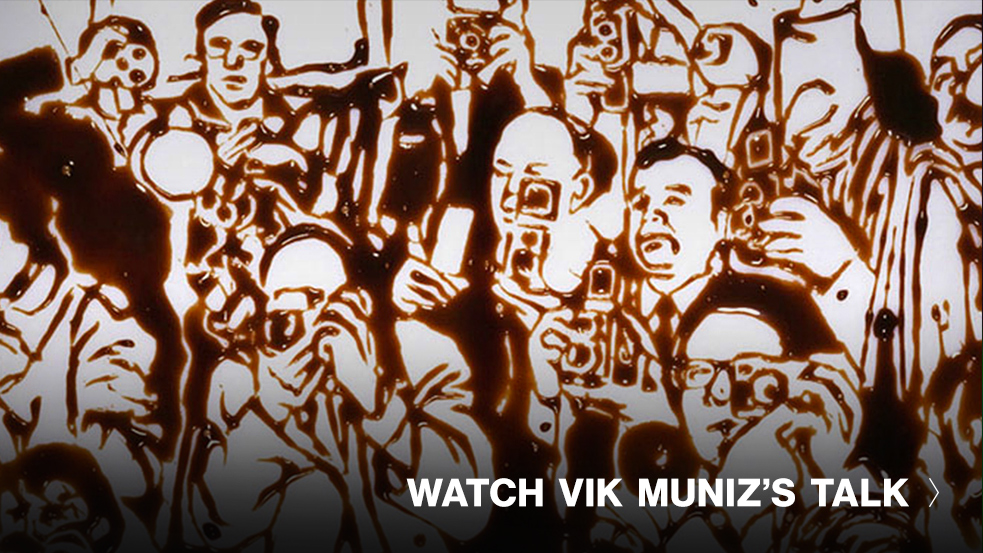 As usual, the TED community has lots of news to share this week. Below, some highlights.
A subway line with museum-worthy art. After 45 years of construction and $4.5 billion spent, the first section of New York City's Second Avenue subway line opened on January 1 with four stations. Maybe the best feature of the new line? The amazing artwork decorating the walls of the new stations, including Vik Muniz at the 72nd Street station. Muniz was one of four artists chosen from 300 applicants to turn a station into an art installation. (Watch Vik's TED Talk)
A silver mural for Dubai. Artist eL Seed is wrapping up work on his first public-art project in the city that he calls home, Dubai. On the walls of the city's Green Planet Building, the mural is done in his signature calligraphic style using iridescent silver spray paint, so that the color of the mural changes depending on the time of day and angle from which it's viewed. The work spells out the words of the poem Positive Spirit, written by Sheikh Mohammed bin Rashid, the Vice President and Prime Minister of the United Arab Emirates and Ruler of Dubai, with a message about the importance of faith and the resolve it takes to fulfill your dreams. (Watch eL Seed's TED Talk)
A mission to asteroids. Dedicated to unlocking mysteries of the solar system through shorter, more focused missions, NASA's Discovery Program announced on January 4 that they were launching two new missions to asteroids in a search for clues about the early solar system. The projects, Lucy and Psyche, will respectively study the Trojan asteroids behind Jupiter and will send an orbiter to 16 Psyche (hence the name), a massive metallic object in the asteroid belt, as detailed by the Washington Post. According to NASA's Planetary Science Director and TED speaker Jim Green, these missions will "help us understand how the sun and its family of planets formed, changed over time, and became places where life could develop and be sustained — and what the future may hold." (Watch Jim's TED Talk)
"I don't think we're free in America." In order to confront and reclaim this country's long history of racial violence, the Equal Justice Initiative launched a "Lynching in America" initiative–a comprehensive record of racial terror lynching–and has plans for a memorial in Alabama dedicated to victims of lynching. In an interview in The Intercept, director of the Equal Justice Initiative Bryan Stevenson discusses the urgency of facing this long history of violence in the wake of this country's civil unrest: "I think we're all burdened by this history of racial injustice, which has created a narrative of racial difference, which has infected us, corrupted us, and allowed us to see the world through this lens. So it becomes necessary to talk about that history if we want to get free." (Watch Bryan's TED Talk)
In search of the perfect surf. Surf photographer Chris Burkard's upcoming documentary Under an Arctic Sky follows six adventurous surfers who set sail along the frozen shores of Iceland in the midst of the worst storm the country has seen in twenty-five years. The film is due for release in early 2017. (Watch Chris' TED Talk)
Stem cell science: from bench to bedside. On the 7th and 8th of January, Susan Lim co-chaired the 2nd Nucleus Forum of the International Society for Stem Cell Research. The forum, attended by scientists and business and investor leaders in biotech and healthcare, was a discussion on ways to help bring breakthrough stem cell science from the bench to the bedside. The forum also discussed the new 21st Century Cures Act, signed into law by President Obama on December 13, and brought together the stem cell and gene editing communities, with Lim's fellow TED speaker and CRISPR pioneer Jennifer Doudna also in attendance. (Watch Susan's TED Talk and watch Jennifer's TED Talk)
Empathy, not sympathy. In the aftermath of Donald Trump's election and the success of Brexit in the United Kingdom, democracies around the world have experienced a populist backlash against politics as usual. However, it would be unfair, Michael Sandel writes in Project Syndicate, to analyze these results as nothing more than racism, xenophobia, or economic discontent. Rather, they come from grievances related to social esteem, and the failure of establishment parties to properly engage with those relevant voters. Sandel argues that, moving forward, progressive parties must "learn from the populist protest that has displaced them – not by emulating its xenophobia and strident nationalism, but by taking seriously the legitimate grievances with which these sentiments are entangled." (Watch Michael's TED Talk)
Have a news item to share? Write us at contact@ted.com and you may see it included in this weekly round-up.