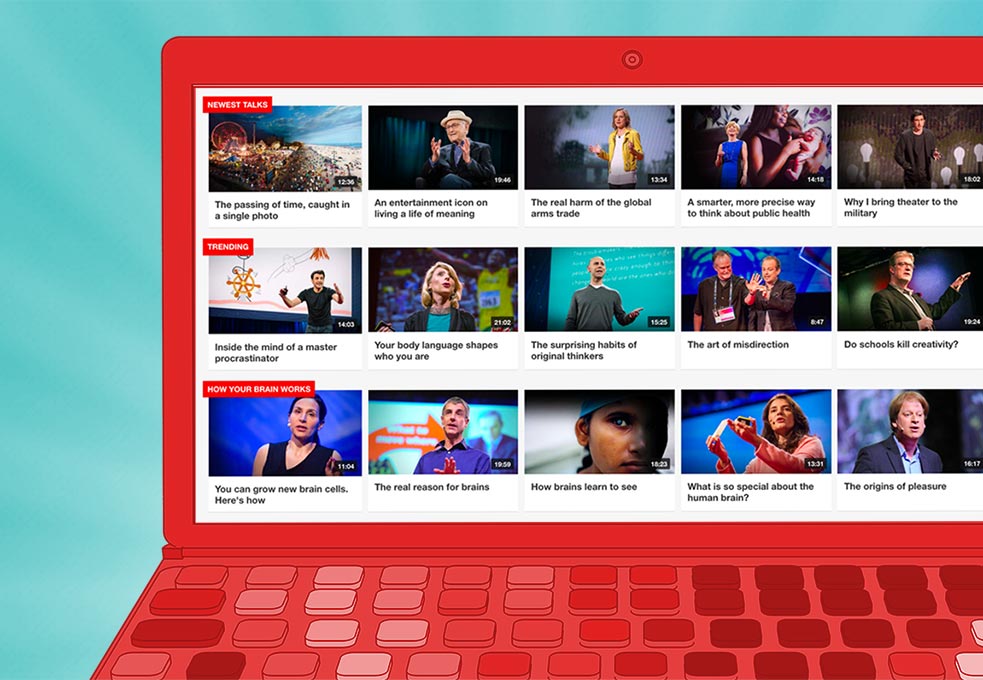 This month, TED celebrates a very special anniversary — ten years since we published our first six TED Talks online. It was a bold, some said foolhardy experiment to take what happened at a small conference in Monterey, California, and share it with anyone who might be interested.
And boy, were you interested! Because of you, TED Talks have become something of a global phenomenon, garnering billions of views, making stars of our speakers and their ideas (and yes, even earning us a parody or two). It's been an amazing journey — and now I'm excited and proud to share the latest step. Today, you can see our fresh new homepage design, the visual manifestation of our ongoing work to make sure that TED remains as relevant and vital as it was when we shared those first talks in 2006.
Here's what we're most excited about:
1. Easy, fast access to our extensive archive of great ideas. In the old system, new was king. We'd publish a "Talk of the Day," and within a week or so, that talk had fallen off the homepage and gone to live its longtail life. With our new structure and design, we're presenting multiple horizontal "ribbons" of talks, each with a different angle, as well as multiple playlists with tighter focus. This means we can highlight and surface more of our speakers' great ideas as and when they're most relevant, even if they're not the newest talk on the block.
2. Much more varied content. With the new design, we can put together some surprising combinations of talks on our homepage, and change it up regularly to surface amazing talks in particular niches. For instance, currently we're highlighting talks about mind-blowing science, breakthrough technology, leadership, creativity, happiness and more. But the talks highlighted in each ribbon may change on a daily basis, and the ribbons themselves can be rotated to include material from every niche of TED's fast-growing archive.
3. A personalized experience for all. Not everyone is interested in every idea, and that's just fine. We're working hard to personalize TED.com so we can make smart recommendations of the talks you're likely to love. This is a work in progress, but know that we're working hard to tailor your experience. Over time, you'll be seeing ribbons of talks fine-tuned for your interests.
4. Deeper investment in curation. To support our new design, we're hiring specialist curators in several key fields. They'll help identify the best speakers to bring to the TED platform, and the best talks to highlight each day on our homepage.
There's so much more to come, but I wanted to share our excitement at this new vision for TED. Already from our testing, we've seen some outstanding results. But while we love to pore over data and stats, more than anything, improved numbers mean more ideas spread, and that's at the heart of everything we do. So, thank you. Thank you for your ongoing attention and support. I hope you like the first taster of TED.com's new chapter. Now, go find the talk that's right for you.