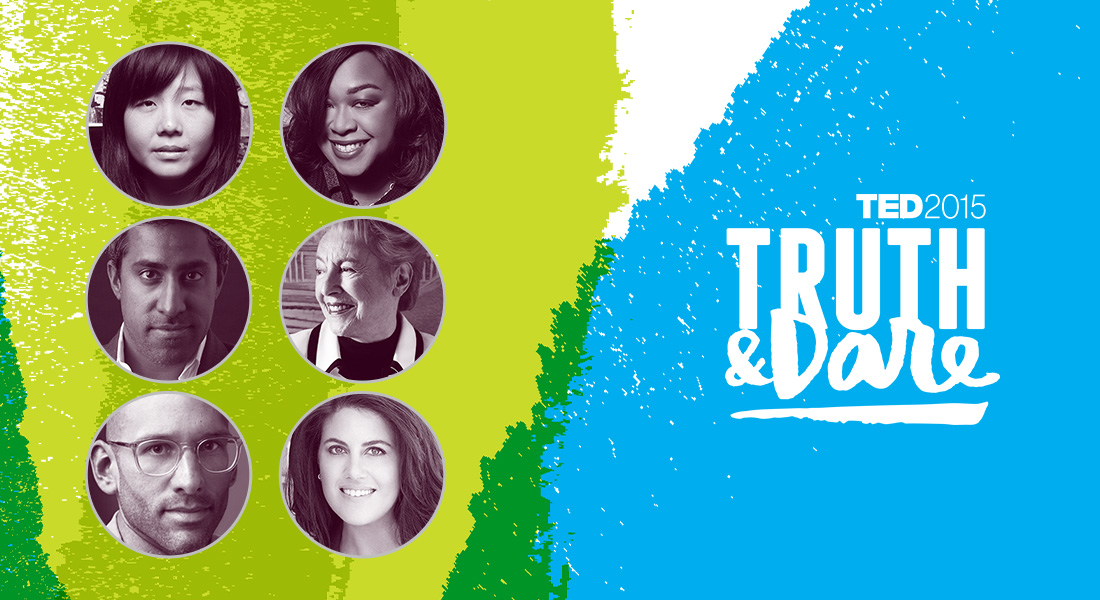 The phrase "truth or dare" is a false binary — facing the truth often requires daring action, and vice versa. That's why, at TED2015: Truth and Dare, the two go hand-in-hand. TED2015 happens March 16-20 in Vancouver and Whistler, and we dare to think this will be the most provocative, invigorating, mind-shifting TED yet.
The 58 speakers on our lineup (soon to be joined by a few more) will be questioning received wisdom in search of deeper truth, richer understanding, better questions — and sharing their visions with us. Who has the ideas that will create a future we actually want? They're out there. And we need to hear from them like never before.
Visual thinkers, check out our program guide of speakers. And for the completists among you, read much more about each speaker in our A to Z speaker guide. And stay tuned to the TED Blog for full coverage of the conference as well as behind-the-scenes goodies.
Session 1: Opening Gambit
We start with a session all about reframing the things we think we know.
As the Prime Minister of Australia, Kevin Rudd helped keep the country out of a recession. Now, he studies alternative paths for US-China relations, and has come to an ominous conclusion: conflict is on the horizon.
David Rothkopf is the CEO and Editor of FP Group, which owns Foreign Policy, and the author of the book National Insecurity. He helps people navigate the complexities of our geopolitical landscape — and find opportunities within them.
The CEO of Carbon3D, Joseph DeSimone has made breakthrough contributions to the field of 3D printing.
Abe Davis is a creator of the "visual microphone," an algorithm that takes the vibrations of ordinary objects in video footage — say, a potato chip bag — and extracts the audio track of what's going on around them.
Two saxophone players and a drummer, Moon Hooch whip up a raw, infectiously danceable sound..
Marina Abramović's iconic performance art explores the relationship between the artist and audience. She's been cut, burned, and nearly shot — but her boldest work yet is an institute dedicated to transformation through art.
.
Session 2: What Are We Thinking?
A look at how we perceive the world and how we can transcend our assumptions …
Cognitive researcher Laura Schulz is helping change our understanding of what babies know — and how early they know it.
After a severe head injury, Jason Padgett began to see the world as a web of complex shapes. His eye-popping geometric drawings capture this unique perspective.
David Eagleman decodes the mysteries of our brains. "Somehow our thoughts, our hopes, and our dreams are contained in these three pounds of wet biological material," he has said.
Daniel Kish is a pioneer of human echolocation, a sound-based tool that gives visually impaired people a new way to know — and navigate — their surroundings.
Our visual perception has been guided by millions of years of natural selection. Donald Hoffman studies how this influences every aspect of our everyday reality.
.
Session 3: Machines That Learn
Explore the possibilities of artificial intelligence, and how it could transform … pretty much everything.
Fei-Fei Li directs Stanford's Artificial Intelligence Lab and Vision Lab. There, she thinks about some of AI's thorniest problems — like how machines can develop language processing and image recognition.
Through his startup Second Spectrum, Rajiv Maheswaran uses data analysis tools to help basketball teams up their game.
Chris Urmson develops self-driving cars that thrive in both urban and off-roading environments. As the Director of Self-Driving Cars at Google[x], his team has developed cars that have driven over three quarters of a million miles.
Mathematician and code breaker Jim Simons had already revolutionized geometry when he founded Renaissance hedge fund. Now he is mastering yet another field: philanthropy.
At Oxford's Future of Humanity Institute, Nick Bostrom asks big questions. For example: What does it mean to be human? And can we improve our human nature with technological enhancements?
.
Session 4: Out of This World
In this session, space-enthusiasts will travel to Mars, exoplanets and Comet 67P/Churyumov-Gerasimenko.
In October of 2014, Alan Eustace leapt to earth from the edge of the stratosphere wearing only a spacesuit. In the process, he broke Felix Baumgartner's record — and might just have revolutionized the commercial space industry.
Sara Seager's research led to the discovery of the first planet outside our solar system with an atmosphere. She is now on the hunt for a twin Earth.
As manager of the Rosetta mission — which landed a probe on a comet — Fred Jansen is in charge of a project that could be instrumental in uncovering clues to the origins of life on earth.
Nathalie Cabrol explores one of Earth's most extreme environments: high-elevation lakes and deserts in the Andes. She does this to research technologies for future missions to Mars.
Writer and technologist Stephen Petranek looks at what is emerging, and predicts which breakthroughs will become fixtures of our future lives.
.
Session 5: Life Stories
The speakers in this session have led the kind of lives that would make tremendous biopics.
Journalist Anand Giridharadas, author of the book The True American, writes about people and cultures caught amid the great forces of our time.
Dame Stephanie Shirley used to go by "Steve." Because when she launched her software company in 1962, people were more likely to respond to a man than to a woman.
She's invented satellite radio, developed life-saving drugs and is working on digitizing the human mind. Martine Rothblatt has a knack for turning visionary ideas into commonplace technology.
An 11-year-old piano prodigy from Indonesia, Joey Alexander has a passion for jazz — a genre he discovered listening to his father's records at home in Bali.
Ten years ago, Dave Isay founded StoryCorps, an initiative to archive interviews of everyday people. The 2015 TED Prize winner, he has a bold wish for the world to take the art of listening to the next level.
.
Session 6: Radical reframe
Yes, nature has laws. But in this session, we'll rethink many of them.
The author of The Emperor of Maladies, Siddhartha Mukherjee wrote a 4,000-year biography of cancer. He also works to discover the link between stem cells and malignant blood disease.
Nicknamed "scary disease girl," Maryn McKenna investigates drug-resistant diseases and other terrifying public health challenges. Her new book takes a look at the relationship between food production and antibiotics.
Pamela Ronald develops rice that will resist disease and withstand major environmental stress. She embraces both sustainable agricultural practices and genetically improved seeds, with an eye toward enhancing food security.
Lawyer Steven Wise seeks to grant cognitively advanced animals fundamental rights, by challenging our notions of "personhood."
Daredevil Chuck Berry wasn't a pioneer of rock n' roll — but he was the first person to skydive using only a tent. He also BASE jumps, wingsuits and hang-glides, and was winner of our public callout for a talk on how wearable cameras are changing adventure.
At his startup Magic Leap, Rony Abovitz aims to create magical digital experiences that integrate with the real world when you don a special set of glasses.
.
Session 7: Creative Ignition
From the products in your home to films that keep you on the edge of your seat, creativity in its many forms.
Tony Fadell created the iPod for Apple and, with Nest, is taking aim at technology's most elusive targets: household appliances.
Elora Hardy of ​​Ibuku creates​ ​​bespoke​ ​bamboo homes in her native Bali, cultivating the power of sustainable materials.
Manuel Lima is interested in humanity's long history of visualizing information — from the tree diagram's development in the 12th century to the big data artists of today.
Rodrigo y Gabriela fuse metal, jazz and Latin guitar into an exhilarating cocktail of virtuoso musicianship.
In Chicago, Theaster Gates' leadership of artist-led spaces has catalyzed an evolution in perceptions of poorer parts of the city and their human and cultural resources.
.
Session 8: Pop-Up Magazine
For this session, we've handed over curation to Pop-Up Magazine, a fast-paced event that mashes up stories, film, art and sound.
Minna Choi is the founder and music director of Magik*Magik Orchestra, a made-to-order orchestra that has ranged in size from a single violinist to a 80-piece symphony and choir.
Photographer Alec Soth's projects capture the landscape of Middle America — and the dreams and heartache contained within them.
Stacey Baker, photo editor at The New York Times Magazine, works with photographers all over the world to shape images for the weekly publication.
Known for his insightful writing, Alexis Madrigal is the Silicon Valley Bureau Chief for Fusion, and the author of Powering the Dream: The History and Promise of Green Technology.
Dawn Landes is a singer-songwriter whose thoughtful music is popular with television music supervisors, thanks to her supple voice and restless imagination.
A writer and contributing editor at Wired, Steve Silberman covers science and society. His newest book explores neurodiversity and the link between autism and genius.
Anand Varma's photos tell the story behind the science on everything from primate behavior and hummingbird biomechanics to amphibian disease and forest ecology.
Dana Goodyear is a staff writer at The New Yorker, where she writes about food, culture and technology in the West. She co-founded Figment, an online literary community for young-adult fiction lovers.
With his production company Ten Cent Adventures, Paul Fischer makes short, smart films — and the feature documentary Radioman.
Suki Kim's investigative memoir, Without You, There Is No Us: My Time with the Sons of North Korea's Elite, chronicles her six months undercover reporting from North Korea.
Latif Nasser directs research at NPR's Radiolab, where he has reported on topics that range from snowflake photography to 16th-century self-operating machines.
In their NPR Morning Edition segment Hidden Kitchens, Davia Nelson and Nikki Silva — aka The Kitchen Sisters — take us to secret, unexpected cooking spaces across the United States. These radio producers are dedicated to building community through storytelling.
Documentary filmmaker Sam Green's latest, The Measure of All Things, comes complete with in-person narration and a live soundtrack. His unconventional films also include a cinematic collaboration with indie rock band, Yo La Tengo.
.
Session 9: Just and Unjust
Tough realities — human trafficking, gang violence, bullying — and insight for how we can break through them.
Monica Lewinsky was at the epicenter of a media maelstrom in 1998. Now, she advocates for a safer and more empathic social media environment, drawing from her unique experiences.
Through the International Justice Mission, Gary Haugen fights the global epidemic of everyday violence against the poor, rescuing victims of slavery, trafficking and more.
Sarah Jones is a chameleon on-stage, morphing between roles at a rapid clip. Offstage, she wears just as many hats — as a UNICEF ambassador, firebrand and FCC-fighting poet.
Alice Goffman lived side-by-side with a group of African-American young men in a distressed neighborhood in Philadelphia. Her book about the experience, On the Run, sheds harsh light on a justice system that creates suspects out of citizens.
Clint Smith is a poet and educator whose work blends art, activism and the anxieties of being a kid.
Jeffrey Brown is a Baptist minister who was a key player in the "Boston miracle" that lowered the rate of youth crime and gang violence.
.
Session 10: Building from Scratch
These makers are rethinking the way we create.
Lewis Dartnell is a science writer who imagined how humans could rebuild civilization after a global catastrophe in his book, The Knowledge. Also an astrobiologist, his research focuses on the hunt for microbial life on Earth's neighboring planets.
Fire played a big role in building earth's ecosystems and cultures. Historian Stephen Pyne traces how our relationship to fire has changed over time — and the catastrophic dangers we face due to short-sighted fire management.
Roman Mars is interested in "invisible design," those objects so well-conceived that we barely notice them. With his radio show and podcast 99% Invisible, he spins riveting tales of design.
Neri Oxman's approach is called "Material Ecology." She imagines and creates structures and objects that are inspired, informed and engineered by, for and with nature.
Dustin Yellin's sculptures are three-dimensional collages suspended in glass. Through Pioneer Works, his mammoth Brooklyn art center, he's nourishing new voices in the art world.
.
Session 11: Passion and Consequence
The speakers in this session are propelled forward by a deep fire inside.
Journalist Noy Thrupkaew reports on human trafficking and the economics of exploitation through the lens of labor rights.
For most people, surfing evokes sunny sand and warm, blue water. But Chris Burkard turns traditional surf photography on its head by traveling to remote, risky, and often frigid locations.
Designer Hussein Chalayan's clothes have a techy vibe. He melds technology, politics and architectural forms in runway shows that blur the line between art and fashion.
Teitur laces his deceptively innocent songs with stinging hooks that are sung in English as well as in his native language, Faroese.
The comfort of happy relationships and the thrill of sexual attraction don't always perfectly overlap. In her psychotherapy practice and writing, Esther Perel helps loving couples navigate between the two.
.
Session 12: Endgame
TED2015 will close with our most ambitious session ever: two and a half hours of action-packed talks — several still to be announced.
Kailash Satyarthi won the Nobel Peace Prize in 2014 along with Malala Yousafzai for "their struggle against the suppression of children and young people." He fights hard to protect the rights of child laborers, in India and beyond.
Aloe Blacc is a musician who blends folk and soul to create songs that lift the spirit.
While seeking out the neurological basis of communication and studying the science of laughter, Sophie Scott stumbled upon a surprising second vocation: making audiences laugh as a stand-up comic.
Ellen MacArthur won accolades as a sailor for circumnavigating the world twice — once on her own. But her travels sent her in a new direction: she now advocates for a "circular" economy, where resources and power recirculate and regenerate.
Using empathy and a clear-eyed view of mortality, palliative caregiver BJ Miller pays attention to healthcare's most ignored facet: preparing for death.
Clint Smith is a poet and educator whose work blends art and activism.
With timely and hilarious insights, Baratunde Thurston skewers racial stereotypes and politics-as-usual — and the pundits that perpetuate them.
.
The TED Blog will be your hub for all things TED2015 from March 16 to 20, 2015. Check back regularly for recaps of these talks — as well as glimpses of what's going on behind-the-scenes.
This post originally ran on February 3, 2015. It was updated on March 8 with new speakers and swaps in the session order.