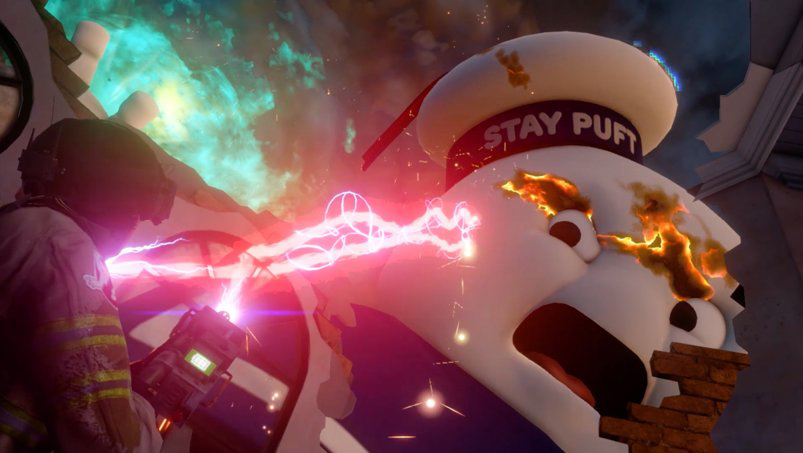 Two years ago, a prototype VR experience re-imagined the way we interact with virtual reality by interweaving the digital and physical space — and one year ago, it held its lines-out-the-door premiere at TED2016. Today, THE VOID has locations in Times Square, New York; Dubai, United Arab Emirates; and Salt Lake City, Utah (where it was conceived) — and plans to expand.
At TED2017, THE VOID brought attendees into the future by giving a nod to our pop-culture past. In groups of four or fewer, participants walked through a Ghostbusters-themed experience, fighting ghouls and avoiding ectoplasm in a ghost-infested mansion.
"Ghostbusters is the breadth of what THE VOID is capable of and a really good team experience," says Curtis Hickman, chief creative officer and co-founder. "It's a good way for people to interact with each other."
What makes the THE VOID different from a regular VR? The creators like to bill it as "hyper-reality," a "4D" experience that engages every sense through interactive surroundings, elements and special effects. Wearing a VR visor, headphones and a haptic feedback vest — untethered by wires — people can experience the feeling of going up in an elevator, be rattled by the sensation of a ghost passing through them and even get a whiff of roasted marshmallow.
For some, coming out of THE VOID takes a little recalibrating and reorienting once the suit comes off. Is this real life?
What is the creators' secret sauce to developing such an all-encompassing experience? It's deceptively simple, dealing heavily in magical theory — a combination of visual, physical, psychological misdirections, says Hickman, which when combined create deep sense of astonishment.
If attendee and press reactions are anything to go by, it achieved that goal.