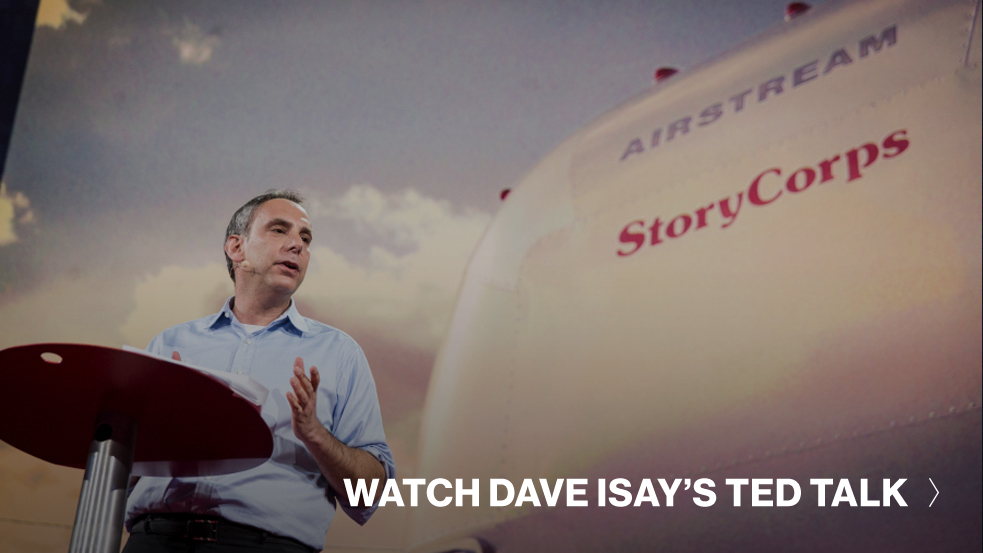 "Tonight, I'm going to make the case that inviting a loved one, a friend or a stranger to record a meaningful interview might just turn out to be one of the most important moments in that person's life — and in yours," says Dave Isay of StoryCorps, stepping to the TED stage to accept the 2015 TED Prize in Session 5 of TED2015.
Isay begins his talk by telling his personal story. At 22, he says, he fell into radio journalism. His newfound calling helped him find a connection with his dad, who he — very unexpectedly — had just found out was gay. After his dad told him about the Stonewall Riots, Isay set out to interview everyone who had been in The Stonewall Inn in Manhattan in 1969, on the night credited with sparking the gay rights movement.
"Recording these interviews, I saw how the microphone gave me the opportunity to go places I might otherwise never would have gone," says Isay, "and talk to people I might otherwise never have spoken to."
Years later, Isay founded StoryCorps and set up a booth in Grand Central Station. There, people were asked to interview someone who mattered to them for 40 minutes. It was instantly obvious how powerful these interviews were. "Many people approach it as: if this was to be our last conversation, what would I want to ask of and say to this person," says Isay. "At the end of the interview, you walk away with a copy, and another copy goes to the American Folklife Center at the Library of Congress."
Isay shares a few StoryCorps interviews. He starts with a classic interview with mom Sarah Littman and her son Josh Littman, who has Asperger's syndrome.
"Did I turn out to be the son you wanted?" Josh asks.
"You've exceeded my expectations," Sarah says. "You have made me grow so much as a parent … because you think differently. I really had to learn to think out of the box with you. You made me more creative as a parent and as a person."
He plays several others, too, including one with Oshea Israel and Mary Johnson. In 1993, Oshea killed Mary's son in a fight at a party.
"My natural son is no longer here. I didn't get to see him graduate … but I'll have the opportunity to see you graduate," says Mary.
"You still believe in me despite how much pain I've caused you," says Oshea. "It's amazing."
Around the theater, people wipe their eyes with their hands.
"A lot of people talk about crying when they hear StoryCorps stories," says Isay. "It's not because they're sad — most of them aren't. I think it's because you're hearing something authentic and pure at this moment when sometimes it's hard to tell what's real … It's kind of the anti–reality TV … I've learned about the poetry and wisdom and grace that can be found in the words of people all around us when we simply take the time to listen."
Isay shares an astonishing fact: that StoryCorps is now the largest single collection of human voices ever gathered. And with this, he comes around to his wish.
"Here is my wish," he says. "That you will help us to take everything we've learned through StoryCorps and bring it to the world so that anyone, anywhere, can easily record a meaningful interview with another human being, which then will be archived for history."
The key to this wish: a StoryCorps app, just released in beta version.
"It has a microphone. It can give you instructions. It can send audio files. Those are the key ingredients," says Isay. "It helps you pick questions, and gives you all the tips you need to record a meaningful StoryCorps interview, and then with one tap upload it."
He wants all of us to record interviews, yes, but to think of efforts that can lead to the collection of stories en masse. "Imagine, for example, a national homework assignment where every high school student studying US history across the country records an interview with an elder over Thanksgiving, so that in one single weekend, an entire generation of American lives and experiences is captured."
With this app, Isay wants to see StoryCorps branch out from the United States and into the world. He'd like to see sweeping initiatives like this all over the globe, to capture the everyday stories so often ignored by the media.
"At this moment, when so much of how we communicate is fleeting and inconsequential, join us in creating this digital archive of conversations that are enduring," he says. "Help us create this gift to our children. This testament to who we are as human beings."
He pauses. "Just maybe, it will help us recognize that simple truth: that every life — every single life — matters equally and infinitely."
Be a part of Dave Isay's TED Prize wish: download the StoryCorps app and start recording stories. And make sure to check out the TED Prize Journal, running every other Wednesday on the TED Blog, to track this wish as it unfolds.