Roman Mars had two ideas for his TED Talk: the talk he thought he should give and the talk he wanted to give.
As the creator of 99% Invisible, a podcast about the design elements in life that usually go unnoticed, Mars felt like his talk should tackle the basic principles of design and how they affect us. But a part of him wanted to focus on his latest obsession: city flags.
"I was a little sheepish to even tell people that I actually wanted to talk about flag design," he said.
He was psyching himself out, worrying about what he thought a TED Talk should be — big, important, inspiring. He wasn't sure what to do. So he decided to test out a sweeping talk on the nature of design at his niece's junior high school, down the hill from where he lives in the East Bay, just outside San Francisco. A group of students gathered in the auditorium to watch him. And it was … awkward. For everyone.
"As a radio producer, I take comfort in keeping my hands busy. I get really antsy if my hands don't have anything to do," said Mars. "Activities like hitting the clicker and pressing the music cue are important. Even holding a script calms me down and makes me feel right."
Clearly the stereotypical sage-on-a-stage TED Talk style wasn't for him. But it sparked an idea: what if he created a live radio show on a table, right on the TED stage?
Mars was nervous about sharing this idea with the TED staff. So he procrastinated … for months.
"I felt honored to be invited to speak at TED. I wanted to be easy," he said. "I didn't want to rock the boat by saying, 'Well, how about a table?' I wanted it to seem like I was a good choice, and that I wasn't demanding."
But when he finally fessed up to TED's curation team, their response shocked him: They loved the talk, and they loved the table.
"It was clearly the talk he wanted to give," said content director Kelly Stoetzel. "It was so much better than the version he thought he was supposed to give."
"It was validating to know they wanted me to be comfortable being me," said Mars. "I realized that TED doesn't have just one style."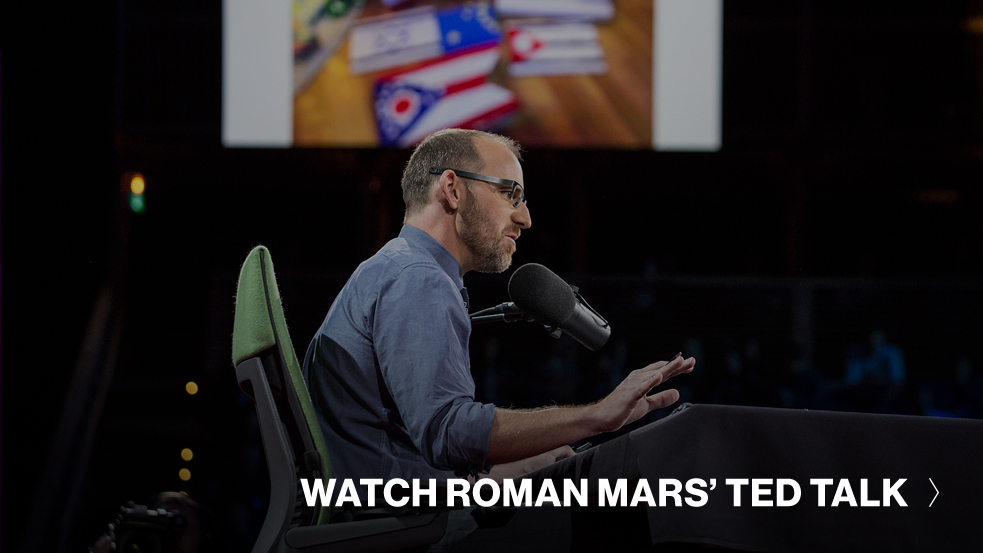 Mars walked onstage at the TED2015 conference in March looking confident despite his nerves. It was his first time being filmed doing a radio piece, not to mention the live audience.
His radio props waited for him on the table: a microphone, a script and a control board that is an instinctual extension of his fingers, cueing sound effects, music and recorded interviews. He took a seat in a rolling office chair.
Right away, Mars addressed the question floating through the audience's minds. "I know what you're thinking. Why does this guy get to sit down?" he said. "It's because … this is radio."
He pressed a button to kick off his music. From there, he introduced the audience to the study of flags, vexillology, and shared five design principles that city flags should follow — but often don't.
"It was a pinnacle of my career," Mars said. "I could have been [onstage] for an hour."
Mars' talk posted on TED.com in May 2015. It has been watched more than one million times so far.
"I'm going to be the flag guy forever," he joked.
Since his talk, Mars has teamed up with Autodesk for a campaign to redesign the San Francisco flag. About 1,200 people signed the petition as of last week, and the hope is that the city will go for it. They're asking 99% Invisible listeners and notable designers to imagine a new, more iconic flag. As Mars told the San Francisco Chronicle, "The right flag could encapsulate what it means to be a resident of San Francisco."
But even those far from his city of residence have reached out about his flag obsession.
"A couple of weeks ago, I was tweeted at about 100 times in one day about my opinion on the redesign of the flag in New Zealand," he said. "The truth is, it's hard to weigh in on their flag design without any of the cultural history of New Zealand in my brain and bones."
New Zealanders even invited Mars to be on the flag design committee. He referred them, as he does others, to vexillologist Ted Kaye of the Portland Flag Association, who Mars interviewed for his TED Talk.
"I'm not the expert," Mars said. "I'm a journalist."