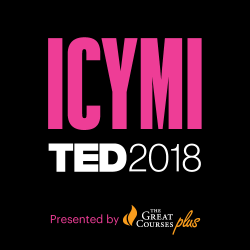 TED2018, themed "The Age of Amazement," kicked off Tuesday with two eye-opening sessions of talks from this year's TED Fellows — with tech and science demos, music, dance and comedy — as well as the opening of exhibits and, of course, a memorable Session 1 full of bold ideas, tough truths and jaw-dropping creative visions.
Here are some of the themes we heard echoing through the opening day, as well as some highlights from around the conference venue in Vancouver.
Is the world getting better or worse? Was 2017 really the "worst year ever," as some would have us believe? Comparing the most recent data on homicide, poverty and pollution with the same measures from 30 years ago, psychologist Steven Pinker shows that we're doing better now in every one of them. The same goes for autocracies, nuclear weapons and deaths from terrorism, all of which have declined since 1988. But progress isn't inevitable; it doesn't mean everything gets better for everyone, everywhere, all the time; and it's not a miracle. From the TED Fellows stage, international security researcher Benedetta Berti makes the case that policies written to stem terrorism after 9/11 haven't actually made us more secure. Too often, officials have viewed global security as a zero-sum game and that the only way to become safer is by compromising human values and rights. "This narrative is flawed and, worse, counter-productive," says Berti, fueling a never-ending cycle of conflict, trauma and radicalization.
Activists tackling our biggest problems. Diane Wolk-Rogers teaches history at Marjory Stoneman Douglas High School in Parkland, Florida, site of a horrific massacre two months ago. In a stirring talk that covered the history of the Second Amendment and the NRA, she asks us to engage with the issue of gun violence — to keep such a mass school killing from ever happening again. And, she says, "If you're not sure where to start, look to my students as role models." From the TED Fellows stage, editor Olga Yurkova tells the story of StopFake.org, which investigates and exposes fake news. She shares two easy ways we can all make sure we're not reading (or sharing) untruth: be skeptical when you come across a story that is exceptionally dramatic, captivating or clickbait-y; and double-check the facts in what you read. "It's on us to find a way to rebuild trust, because fake news destroys it," Yurkova says. And conservation biologist Steve Boyes, a TED Senior Fellow, shared how he's fighting to save the Okavango Delta, the largest undeveloped river basin in the world. "Preserving wilderness is far more than simply protecting ecosystems that clean the water we drink and create the air we breathe," he says. "Preserving wilderness protects our basic human right to be wild, our basic human right to explore."
How #MeToo can become #NoMore. Opening the conference from the main stage, actress Tracee Ellis Ross says we are in the midst of a cultural shift that is being led by women. Their experiences will not be ignored, and women will no longer be held responsible for the deplorable behaviors of men. She invites men in as allies, to be accountable and self-reflective; and asks women to acknowledge their fury instead of being afraid of it. Picking up this idea on the TED Fellows stage, artist Sarah Sandman shares her work, Brick x Brick, in which protesters wear jumpsuits covered with bright patches, each containing derogatory slang about women, and stand in a strong, silent human wall against misogyny. And attorney and TED Fellow Laura Dunn is taking this issue all the way to Washington, DC, with passage of the Equal Rights Amendment, legislation that would ensure full gender equality and protection of gender violence survivors. SurvJustice, her national nonprofit, is devoted to trying to make that happen.
How can we rediscover humanity in our modern systems? Scientist, musician and writer Jaron Lanier was there when the internet was being built — as a free, open, egalitarian space for communication. But haunting his pioneering vision has always been a lurking dark side of control and stratification — because if everything on the net is free, then the money has to come from online advertising. And "what started out as advertising really can't be called advertising any more," Lanier says. "It can only be called behavioral modification." He challenges tech companies to look beyond revenue models favoring virality over credibility, and steers us toward a future where unbounded creativity, equality and love define the human race. "We cannot have a society in which, if two people wish to communicate, the only way that can happen is if it's financed by a third person who wishes to manipulate them," Lanier says to applause. On the TED Fellows stage, journalist and historian Mikhail Zygar grapples with our online identity crisis in a different way, telling the story of Project1917, which reframes history by asking what the internet would've looked like in 1917 Russia. By allowing anyone on the internet to read the daily thoughts and feelings of Igor Stravinsky, Leon Trotsky, Tsar Nicholas II and many less celebrated figures, the project contextualizes and rehumanizes history as it once was and as it could have been.
Asking difficult questions of ourselves and each other. In 2016, Williams College student Zachary R. Wood wrote to two conservative thinkers with whom he deeply disagreed, Bell Curve co-author Charles Murray and commentator John Derbyshire — and invited them to speak on his campus. Wood is the president of Uncomfortable Learning, a college group that specializes in the particular education that comes when we try to understand the other side. "Tuning out opposing viewpoints doesn't make them go away," he contends. "In order to understand the potential of society to progress forward, we need to understand the counter forces." TED Fellow Paul Rucker is also confronting uncomfortable subjects, by curating an unusual collection of objects connected to America's history of slavery. He's made 75 Ku Klux Klan robes, in a range of colors, patterns and fabrics, to unravel the power they hold over him. "If we can confront these objects of our history," Rucker says, "we can diminish the power they hold over all of us."
If public-health superheroes wore capes … Malaria and influenza remain two of the world's most threatening diseases, but TED speakers are laughing in their face. (Kind of.) TED Fellow Faith Osier is creating a vaccine for malaria; specifically, she's looking at people who develop immune responses and trying to learn from how their proteins interact with and kill the plasmodium parasite. Meanwhile, fellow TED Fellow Adam Kucharski is on the trail of the flu. He sees prevention as key to countering future outbreaks, so he and a team have devised a predictive mathematical model that links patterns of human contact (things like hugs and handshakes) to the virus's spread.
What are we going to do about climate change? "Where there are glaciers, there are people, and the two have been influencing each other for the entirety of human history," says glaciologist and TED Fellow M Jackson. If we want to understand what's happening to our world today as our ice is melting, we need to start looking at how the changing landscape of glaciers is already impacting communities around the world from Iceland to Pakistan. Canada's Minister of Science Kirsty Duncan picked up this thread, explaining how climate change information is suppressed or obscured across the world — and how Canada is fighting to keep science open. "We want to send a message that you don't mess with something so fundamental, so precious, as science," Duncan says. In a heartfelt talk about science's mission to push boundaries, she makes the case that we must hold our leaders accountable — and speak up when we see science being suppressed. And back on the Fellows stage, Bangkok landscape architect Kotchakorn Voraakhom told the story of how she helped her sinking city become climate-resilient, designing Chulalongkorn Centennial Park, which opened in 2017 and provides more than recreational space. Like a monkey holds food in its cheek and gradually eats it, the park is a place to hold overflow water when the ground is saturated. "Climate is changing," declares Voraakhom. "The real question is whether we are ready to change, too."
News from the loop. TED's partners are out in full force. Lounges designed by Steelcase and restoration (read: massages!) by Vitruvi offered TEDsters quiet places for impromptu meetings and recharging. At the Altair exhibit, attendees explored the intersection of human creativity, machine learning and simulation-driven innovation — and put their design skills to the test using Altair's software to blueprint an ideal golf driver. At Target's instillation, attendees immersed themselves in a soundscape of diverse stories about the changing meaning of 7pm for a city's inhabitants. At the Tech Playground, visitors got a hands-on look at some amazing new technology, from augmented workplaces and companion droids to (micro) literature and (invisible) art. And at the Food Trends Lab, attendees sampled health elixirs, fresh juices, plant-based foods and innovative sweets and savories; today's menu included puffed lily pad seeds from Lily Puffs, banana milk smoothies from Moola, kombucha floats from Betterwith and plant-based cheese by Blue Heron. Six different local coffee roasters (and one tea partner) kept everyone awake long enough to take it all in.
A Welcome party to remember, to close the day. Complete with rappelling dancers and fireworks on the bay, this year's opening party was a bash to be remembered.