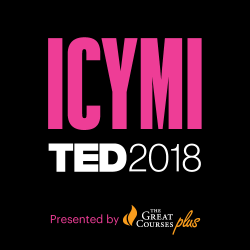 More than 100 speakers — activists, scientists, adventurers, change-makers and more — took the stage to give the talk of their lives this week in Vancouver at TED2018. One blog post could never hope to hold all of the extraordinary wisdom they shared. Here's a (shamelessly inexhaustive) list of the themes and highlights we heard throughout the week — and be sure to check out full recaps of day 1, day 2, day 3 and day 4.
Discomfort is a proxy for progress. If we hope to break out of the filter bubbles that are defining this generation, we have to talk to and connect with people we disagree with. This message resonated across the week at TED, with talks from Zachary R. Wood and Dylan Marron showing us the power of reaching out, even when it's uncomfortable. As Wood, a college student who books "uncomfortable speakers," says: "Tuning out opposing viewpoints doesn't make them go away." To understand how society can progress forward, he says, "we need to understand the counterforces." Marron's podcast "Conversations With People Who Hate Me" showcases him engaging with people who have attacked him on the internet. While it hasn't led to world peace, it has helped him develop empathy for his bullies. "Empathizing with someone I profoundly disagree with doesn't suddenly erase my deeply held beliefs and endorse theirs," he cautions. "I simply am acknowledging the humanity of a person who has been taught to think a certain way, someone who thinks very differently than me."
Audacious ideas for big impact. The Audacious Project, TED's newest initiative, aims to be the nonprofit version of an IPO. Housed at TED, it's a collaboration among some of the biggest names in philanthropy that asks for nonprofit groups' most audacious dreams; each year, five will be presented at TED with an invitation for the audience and world to get involved. The inaugural Audacious group includes public defender Robin Steinberg, who's working to end the injustice of bail; oceanographer Heidi M. Sosik, who wants to explore the ocean's twilight zone; Caroline Harper from Sight Savers, who's working to end the scourge of trachoma; conservationist Fred Krupp, who wants to use the power of satellites and data to track methane emissions in unprecedented detail; and T. Morgan Dixon and Vanessa Garrison, who are inspiring a nationwide movement for Black women's health. Find out more (and how you can get involved) at AudaciousProject.org.
Living means acknowledging death. Philosopher-comedian Emily Levine has stage IV lung cancer — but she says there's no need to "oy" or "ohhh" over her: she's OK with it. Life and death go hand in hand, she says; you can't have one without the other. Therein lies the importance of death: it sets limits on life, limits that "demand creativity, positive energy, imagination" and force you to enrich your existence wherever and whenever you can. Jason Rosenthal's journey of loss and grief began when his wife, Amy Krouse Rosenthal, wrote about their lives in an article read by millions of people: "You May Want to Marry My Husband" — a meditation on dying disguised as a personal ad for her soon-to-be-solitary spouse. By writing their story, Amy made Jason's grief public — and challenged him to begin anew. He speaks to others who may be grieving: "I would like to offer you what I was given: a blank sheet of paper. What will you do with your intentional empty space, with your fresh start?"
Can we rediscover the humanity in our tech?  In a visionary talk about a "globally tragic, astoundingly ridiculous mistake" companies like Google and Facebook made at the foundation of digital culture, Jaron Lanier suggested a way we can fix the internet for good: pay for it. "We cannot have a society in which, if two people wish to communicate, the only way that can happen is if it's financed by a third person who wishes to manipulate them," he says. Historian Yuval Noah Harari, appearing onstage as a hologram live from Tel Aviv, warns that with consolidation of data comes consolidation of power. Fascists and dictators, he says, have a lot to gain in our new digital age; and "it's the responsibility of all of us to get to know our weaknesses, and make sure they don't become weapons in the hands of enemies of democracy," he says. Gizmodo writers Kashmir Hill and Surya Mattu survey the world of "smart devices" — the gadgets that "sit in the middle of our home with a microphone on, constantly listening," and gathering data — to discover just what they're up to. Hill turned her family's apartment into a smart home, loading up on 18 internet-connected appliances; her colleague Mattu built a router that tracked how often the devices connected, who they were transmitting to, what they were transmitting. Through the data, he could decipher the Hill family's sleep schedules, TV binges, even their tooth-brushing habits. And a lot of this data can be sold, including deeply intimate details. "Who is the true beneficiary of your smart home?" he asks. "You, or the company mining you?"
An invitation to build a better world. Actor and activist Tracee Ellis Ross came to TED with a message: the global collection of women's experiences will not be ignored, and women will no longer be held responsible for the behaviors of men. Ross believes it is past time that men take responsibility to change men's bad behavior — and she offers an invitation to men, calling them in as allies with the hope they will "be accountable and self-reflective." She offers a different invitation to women: Acknowledge your fury. "Your fury is not something to be afraid of," she says. "It holds lifetimes of wisdom. Let it breathe, and listen."
Wow! discoveries. Among the TED Fellows, explorer and conservationist Steve Boyes' efforts to chart Africa's Okavango Delta has led scientists to identify more than 25 new species; University of Arizona astrophysicist Burçin Mutlu-Pakdil discovered a galaxy with an outer ring and a reddish inner ring that was unlike any ever seen before (her reward: it's now called Burçin's Galaxy). Another astronomer, University of Hawaii's Karen Meech saw — and studied for an exhilarating few days — 'Oumuamua, the first interstellar comet observed from Earth. Meanwhile, engineer Aaswath Raman is harnessing the cold of deep space to invent new ways to keep us cooler and more energy-efficient. Going from the sublime to the ridiculous, roboticist Simone Giertz showed just how much there is to be discovered from the process of inventing useless things.  
Language is more than words. Even though the stage program of TED2018 consisted primarily of talks, many went beyond words. Architects Renzo Piano, Vishaan Chakbrabarti, Ian Firth and Walter Hood showed how our built structures, while still being functional, can lift spirits, enrich lives, and pay homage to memories. Smithsonian Museum craft curator Nora Atkinson shared images from Burning Man and explained how, in the desert, she found a spirit of freedom, creativity and collaboration not often found in the commercial art world. Designer Ingrid Fetell Lee uncovered the qualities that make everyday objects a joy to behold. Illustrator Christoph Niemann reminded us how eloquent and hilarious sketches can be; in her portraits of older individuals, photographer Isadora Kosofsky showed us that visuals can be poignant too. Paul Rucker discussed his painful collection of artifacts from America's racial past and how the artistic act of making scores of Ku Klux Klan robes has brought him some catharsis. Our physical movements are another way we speak  — for choreographer Elizabeth Streb, it's expressing the very human dream to fly. For climber Alex Honnold, it was attaining a sense of mastery when he scaled El Capitan alone without ropes. Dolby Laboratories chief scientist Poppy Crum demonstrated the emotions that can be read through physical tells like body temperature and exhalations, and analytical chemist Simone Francese revealed the stories told through the molecules in our fingerprints.  
Is human growth exponential or limited? There will be almost ten billion people on earth by 2050. How are we going to feed everybody, provide water for everybody and get power to everybody? Science journalist Charles C. Mann has spent years asking these questions to researchers, and he's found that their answers fall into two broad categories: wizards and prophets. Wizards believe that science and technology will let us produce our way out of our dilemmas — think: hyper-efficient megacities and robots tending genetically modified crops. Prophets believe close to the opposite; they see the world as governed by fundamental ecological processes with limits that we transgress to our peril. As he says: "The history of the coming century will be the choice we make as a species between these two paths." Taking up the cause of the prophets is Oxford economist Kate Raworth, who says that our economies have become "financially, politically and socially addicted" to relentless GDP growth, and too many people (and the planet) are being pummeled in the process. What would a sustainable, universally beneficial economy look like? A doughnut, says Raworth. She says we should strive to move countries out of the hole — "the place where people are falling short on life's essentials" like food, water, healthcare and housing — and onto the doughnut itself. But we shouldn't move too far lest we end up on the doughnut's outside and bust through the planet's ecological limits.
Seeing opportunity in adversity. "I'm basically nuts and bolts from the knee down," says MIT professor Hugh Herr, demonstrating how his bionic legs — made up of 24 sensors, 6 microprocessors and muscle-tendon-like actuators — allow him to walk, skip and run. Herr builds body parts, and he's working toward a goal that's long been thought of as science fiction: for synthetic limbs to be integrated into the human nervous system. He dreams of a future where humans have augmented their bodies in a way that redefines human potential, giving us unimaginable physical strength — and, maybe, the ability to fly. In a beautiful, touching talk in the closing session of TED2018, Mark Pollock and Simone George take us inside their relationship — detailing how Pollock became paralyzed and the experimental work they've undertaken to help him regain motion. In collaboration with a team of engineers who created an exoskeleton for Pollock, as well as Dr. Reggie Edgerton's team at UCLA, who developed a way to electrically stimulate the spinal cord of those with paralysis, Pollock was able to pull his knee into his chest during a lab test — proving that progress is definitely still possible.
Spotting the chance to make a difference. The TED Fellows program was full of researchers, activists and advocates capitalizing on the spaces that go unnoticed. Psychiatrist Essam Daod, found a "golden hour" in refugees' treks when their narratives can sometimes be reframed into heroes' journeys; landscape architect Kotcharkorn Voraakhom realized that a park could be designed to allow her flood-prone city of Bangkok mitigate the impact of climate change; pediatrician Lucy Marcil seized on the countless hours that parents spend in doctors' waiting rooms to offer tax assistance; sustainability expert DeAndrea Salvador realized the profound difference to be made by helping low-income North Carolina residents with their energy bills; and anesthesiologist Rola Hallam is addressing aid shortfalls for local nonprofits, resulting in the world's first crowdfunded hospital in Syria.
Catch up on previous In Case You Missed It posts from April 10 (Day 1), April 11 (Day 2), April 12 (Day 3), and yesterday, April 13 (Day 4).